<![if !vml]>

<![endif]>
Departmental Web-Site: http://www.cityu.edu.hk/ef/
Vol. 1, No. 1, August 2003
| | | | | | |
| --- | --- | --- | --- | --- | --- |
| Editors: | Dr. T. M. Ho | Dr. Vikas Kakkar | Dr. Michael C.S. Wong | Ms. Keiko Shinohara | Mr. Mark M.L. Tsui |
If you have any inquiries or comments related to the newsletter, please call Ms. Lily Yeung at +852 2788 8804.
<![if !vml]>

<![endif]>
Webster's dictionary defines the word learn as "to gain knowledge or understanding of skills<![if !vml]>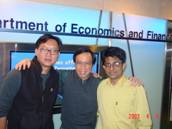 <![endif]> by study, instruction or experience". Economists have also long emphasized the importance of "learning-by-doing" in understanding the accumulation of human capital and economic growth. Professor Terenzini, Director of the Center for the Study of Higher Education at the Pennsylvania State University, puts it thus: "Clearly learning is neither time nor place bound, although the way we organize our curriculum and our course sequences certainly suggests we don't believe the evidence on that. Learning is going on all the time and it's going on in some places we don't want it to go on and some places where we may not think it's going on."
The rapid pace of globalization and the constantly changing work place have changed the learning needs of today's students. To cope with these rapid changes, students need skills in addition to the specific skills required for their area of study and become life-long learners. This has shifted students' learning needs which necessitates a greater emphasis on the whole-person-development of students. We feel that out-of -classroom learning processes are especially important in meeting these changing learning needs by influencing the whole personality of students.
Classroom is a simulated and controlled learning environment in which, even under the best of circumstances, students learn primarily through thinking and experiences of other people. By contrast, outside the classroom, students learn through their own direct experience in the "real world". Learning outside the classroom is therefore an independent source of knowledge and can also be utilized to reinforce what was taught in the classroom.
There are many ways in which teachers can enhance student learning outside the classroom. It is encouraging to note that teachers in the Department of Economics and Finance are increasingly exploring different ways of promoting learning outside the classroom. Some noteworthy examples of these activities include: study tours, internships, reading groups (Books Give Us Wings), mentoring scheme, dinner seminars, and career enhancement project (see table below). We believe that these activities can provide students exposures to different aspects of the highly complex real world and better equip them to face the increasingly uncertain and challenging future. (To-Ming Ho, Vikas Kakkar, and Michael Wong)
Co-Curricular Activities 2002/2003 (organized by EF Department)

Orientation

o Student exchange program

o Student mentoring scheme

o Study tours

o Staff mentoring scheme

o Meeting leaders

o First mentor-mentee meeting

o Dinner seminars

o EF orientation

o Adventure training camp

o Welcoming party for new students

o Books Give Us Wings

o Hiking in the woods

Career Preparation

Learning Support

o Internship program

o Supplemental instruction program

o Career talks

o Tea gatherings (student-staff consultative committee)

o Career enhancement project
<![if !vml]>

<![endif]>
The Garden City
It was my first visit to Singapore. I thank the Economics and Finance department for giving me the chance to participate in the study tour visiting Singapore.
<![if !vml]>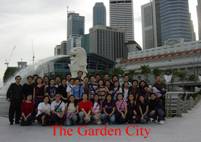 <![endif]>
Singapore gives an impression of being a clean and modern city. During the study tour, I found that this is indeed the case. I think the harsh punishment can effectively deter people from littering in public places.
The business center of Singapore is much smaller than Hong Kong. In my opinion, Singapore's business environment is similar to that of Hong Kong. Both cities offer equal attractiveness to businesses who want to set up regional headquarters in the Asian region. But Hong Kong has the advantage of being a gateway to mainland China, which is a great potential market for worldwide businessman. By comparison Singapore only acts as a gateway to Malaysia and Indonesia. In this aspect, Hong Kong gets an advantage of the trend for increasing investment in mainland China.
Transportation System
In terms of the transportation systems, both Hong Kong and<![if !vml]>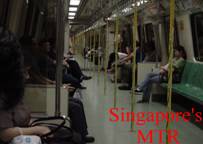 <![endif]> Singapore have a good and efficient system, but Singapore's transportation facilities are much older than those of Hong Kong.
Group Discussion
The group discussions after each day's visit were worthwhile. It gave me a chance to brainstorm opinions and ideas about Singapore with my group mates.<![if !vml]>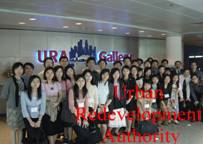 <![endif]>
Unlike an ordinary leisure tour, the study tour gave me a chance to visit government authorities such as the Singapore Tourism Board, and the Urban Redevelopment Authority. It gave me an opportunity to understand more about Singapore's government.
The visit to the Nanyang Technological University also enlarged my horizons. Through communication with local students, I managed to know more about the learning method of Singaporean students and Singapore's education system.
After the study tour, I thought that Singapore is a good place for Hong Kong people to work and live, because of the similar life styles there. Hong Kong people can easily get adapted to Singapore. But, in my opinion, Singapore may not be a good place for study, since its education system and the learning atmosphere are very similar to Hong Kong. So, Hong Kong students will not be able to experience a different learning environment if they studied in Singapore.
<![if !vml]>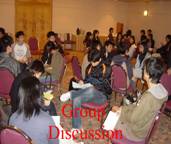 <![endif]>One of the students said at the last briefing that Singapore does not have any entrepreneurs since the Singaporean government did not give much more freedom to its citizens. Freedom is the most valuable asset that Hong Kong possesses. I agree with that, I think we should be optimistic and confident towards our future. Hong Kong still has its advantages overcoming the challenges from our Asian counterparts. I discovered Hong Kong's strengths over Singapore in this tour. (Anita Hui Ka Yan, BBA Business Economics, Year 3)
<![if !vml]>

<![endif]>
The MSc programmes in Banking, Finance and Financial Engineering remain as a popular programme in Hong Kong for financial professionals. In 2002/03, the Department received over 400 applications for the programmes. Around 90 students were successfully admitted to the programmes. Currently over 200 students are studying in the MSc programmes. Details of the student profile can be found at www.cityu.edu.hk/ef.
Although CityU is a young university, we have been able to successfully recruit outstanding students to the MSc programmes who graduated from top-rated universities in the world, such as Stanford, UCLA, Southern California, Carnegie-Mellon, Wisconsin-Madison, McGill, Toronto, LSE and New South Wales. Also, many of our MSc students gained their experience in leading financial institutions, such as Morgan Stanley Dean Witter, Goldman Sachs, Salomon Brothers Smith Barney, UBS, HSBC, CS First Boston, BNP Paribas Peregrine, Credit Lyonnais, Societe Generale, and State Street Bank. A number of our MSc students also gained professional experience in other financial centers, such as New York and London. This unique student community enriches the mutual leaning among our MSc students.
The reputation of an academic programme strongly depends on the quality of students and their career prospects. How to recruit quality students to join the MSc programmes is always at the top agenda of the Department. In 2002/03, the Department spent much effort in screening and interviewing MSc applicants. This effort will continue in the coming years. To attract more quality MSc students, the Department has arranged some scholarships to MSc applicants. Currently the Department has an agreement with the Hong Kong Institute of Bankers (HKIB) to sponsor two outstanding mainland bankers every year to study in the MSc(Banking) programme. Effective in 2003/04, the Department will offer four to five MSc scholarships to outstanding applicants, with each scholarship amounting to HK$40,000. The Department will continue its effort in acquiring additional scholarships to support quality students to join the MSc programmes.
Hong Kong is an international banking and financial center and she has sufficient conditions to become an international education center. In the coming months, the Department will promote the MSc programmes in Shanghai, Taipei and Singapore. To cope with our new strategy of student recruitment, the MSc programmes will be offered in both part-time and full-time study modes. This will enable non-local students who purse the full-time mode to complete their study in 12 months.
<![if !vml]>

<![endif]>
<![if !vml]>

<![endif]>
Orientation
First Mentor-Mentee Meeting, 16 August 2002
EF Student Orientation 2002, 28 August 2002
Welcoming Party for New EF Students and New Teaching Staff, 13 September 2002
Hiking in the Wood (for Postgraduate Research Students), 9 November 2002
Hiking in the Wood (for BBA students), 22 February 2003
Learning Support
Books Give Us Wings, Summer Term 2002
Zhongshan University(中山大學)Study Tour 2002, 19 - 20 October 2002
Public Lecture: "Chinese Fad of Prof. Steven N. S. Cheung(中國張五常熱)", 4 November 2002
Adventure Training Programme, 30 – 31 December 2002
Supplemental Instruction (SI) Scheme for Economics I (FB2400), Sem. A, 2002/03
Books Give Us Wings, Sem. A, 2002/03
Singapore Study Tour 2003, 6 – 10 January 2003
Lecture on Creativity by Dr. Leo P. K. Yam (任伯江), 18 February 2003
Meeting Leaders: Dinner with Dr. Leo P. K. Yam (任伯江), 18 February 2003
Student-Staff Consultative Committee Meeting (Tea Gathering), 4 March 2003
Meeting Leaders: Lunch with Mr. Jan Hung-Tze(詹宏志), 5 March 2003
Lecture on Creativity by Mr. Jan Hung-Tze(詹宏志), 5 March 2003
Books Give Us Wings, Sem. B, 2002/03
Supplemental Instruction (SI) Scheme for Economics II (FB2401), Sem. B, 2002/03
Creative Poster Award Competition, Sem. B, 2002/03
Career Preparation
Tianjin(天津)Internship Programme, 26 June 2002 – 31 July 2002
Dinner Seminar: "How I Obtained My First Job in the Present Difficult Times? – EF's 2002 Graduates Share Their Unforgettable Experiences With You", 4 October 2002
Money Concepts Internship Programme, 23 December 2002 – 11 January 2003
Career Enhancement Project, Sem. A, 2002/03
Alumni
Photo-taking session – 2003 BBA Business Economics Graduates, 28 April 2003
Dinner for Alumni Representatives 2003, 13 June 2003
Teaching
Departmental Retreat, 1 March 2003
Second Round Teaching and Learning Quality Process Review (TLQPR), 31 March 2003 – 1 April 2003
Seminar: "Teaching and Learning in Economics and Finance – A Panel Discussion", 29 April 2003
Detail of these activities can be found in the EF's Virtual Learning Support Centre (VLSC) web site which is located in the EF's Departmental web site http://www.cityu.edu.hk/ef/ under the column "Teaching"