Proudly powered by CityU MBA, SHARP Forum is a thought-provoking platform where thriving business executives, prominent government officials, prestigious scholars, inspiring entrepreneurs, influential celebrities, and renowned experts are invited to:
Spread inciting ideas, insightful perspectives, and inspirational experiences;
Stretch boundaries of novel concepts, evolving issues, and cutting-edge solutions.
Recent and Upcoming Forums

(
All are welcome
to register. Walk-ins are subject to space availability)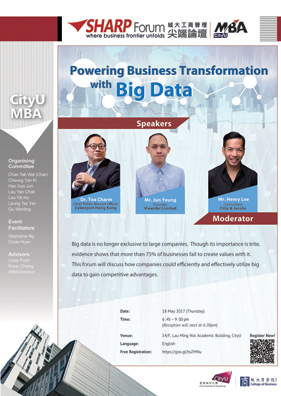 Powering Business Transformation with Big Data
Big data is no longer exclusive to large companies. Though its importance is trite, evidence shows that more than 75% of businesses fail to create values with it. This forum will discuss how companies could efficiently and effectively utilize big data to gain competitive advantages. ​
Speakers:
Dr. Toa Charm, Mr. Jun Yeung, Mr. Henry Lee
Date & Time:
18 May, 2017 (6:45-9:00pm)
Venue:
14/F, Lau Ming Wai Academic Building, CityU
---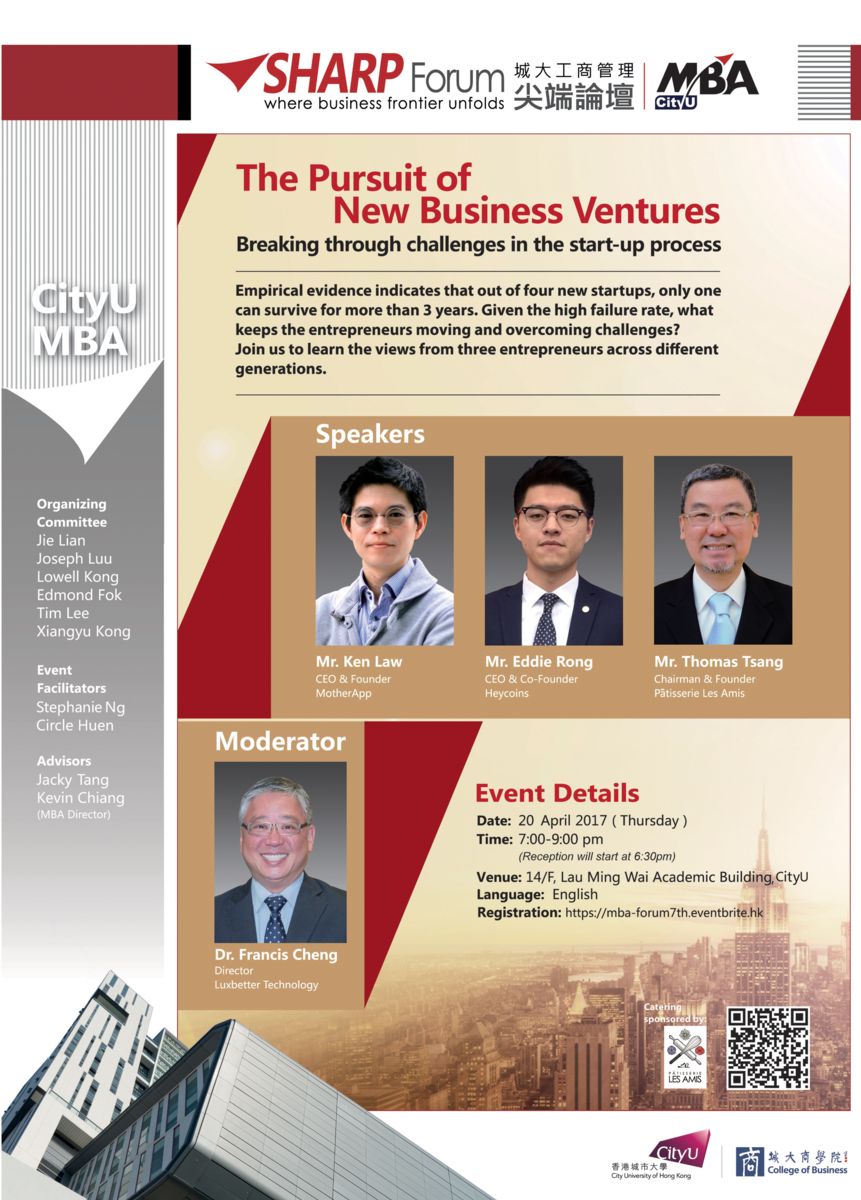 The Pursuit of New Business Ventures
Breaking through challenges in the start-up process
Empirical evidence indicates that out of four new startups, only one can survive for more than 3 years. Given the high failure rate, what keeps the entrepreneurs moving and overcoming challenges?
​Join us to learn the views from three entrepreneurs across different generations.
Speakers:
Mr. Thomas Tsang, Mr. Ken Law, Mr. Eddie Rong, Dr. Francis Cheng
Date & Time:
20 April, 2017 (7:00-8:30pm)
Venue:
14/F, Lau Ming Wai Academic Building, CityU
---
ArtificiaI Intelligence:
End of Humanity or The Beginning of A New Era?
AI is everywhere and its influence is growing exponentially. Dr. Chun will explore the journey of AI research & development, and examine modern AI in layman terms, including technologies such as deep-learning, speech recognition/generation, chatbots, robots, etc. He will share some of his award-winning AI examples created for Hong Kong corporations and look at what the future might hold for AI & humanity. Mr. Fung will introduce a cloud-based AI system for maintenance – JACC by leveraging AI, Big Data & IoT that makes general technicians perform high-skilled maintenance work easily & efficiently. A use case on Bus Infotainment System will be shared.
Speakers:
Dr. Andy Chun, Mr. Spencer Fung
Date & Time:
10 April, 2017 (7:00-8:30pm)
Venue:
14/F, Lau Ming Wai Academic Building, CityU
---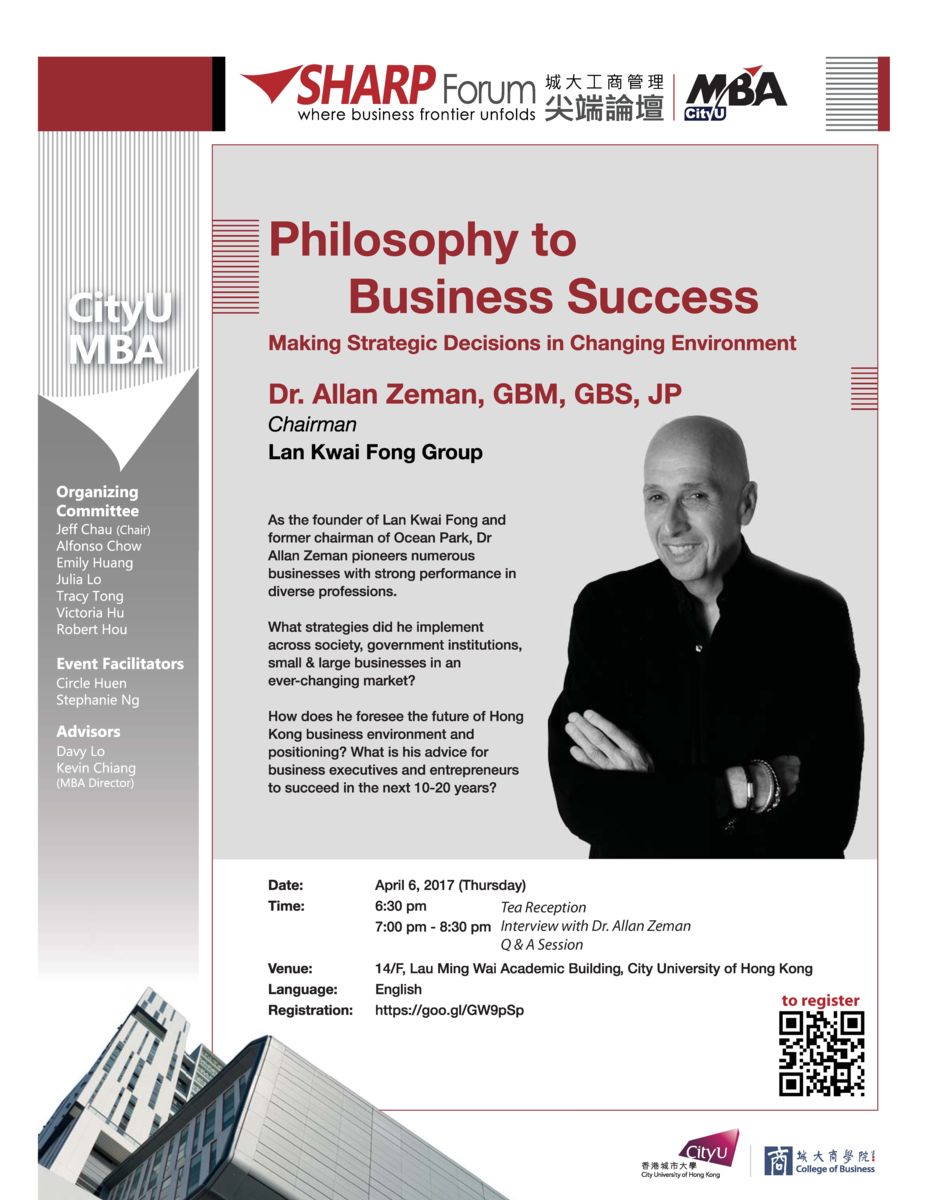 Philosophy to Business Success
Making Strategic Decisions in Changing Environment
As the founder of Lan Kwai Fong and former chairman of Ocean Park, Dr Allan Zeman pioneers numerous businesses with strong performance in diverse professions.
What strategies did he implement across society, government institutions, small & large businesses in an ever-changing market?
How does he foresee the future of Hong Kong business environment and positioning? What is his advice for business executives and entrepreneurs to succeed in the next 10-20 years?
Date & Time:
6 April, 2017 (7:00-8:30pm)
Venue:
14/F, Lau Ming Wai Academic Building, CityU
---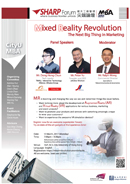 Mixed Reality Revolution - The Next Big Thing in Marketing
MR is booming and changing the way we see and remember things like never before.
- Want to know more about Augmented Reality (AR) & Virtual Reality (VR) applications for various business and event projects?
- Want to promote products with something amazingly unique to WOW your customers?
- Want to experience VR simulation devices?
​
Register now for an awesome experiential forum! Try the gadgets at the Experience Zone.
Speakers:
Mr. Deng Hong Chun, Mr. Peter Yu, Mr Ralph Wong
Date & Time:
13 March, 2017 (7:00-9:00pm)
Venue:
14/F, Lau Ming Wai Academic Building, CityU
---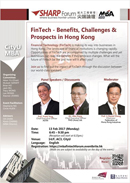 FinTech - Benefits, Challenges & Prospects in Hong Kong
Financial Technology (FinTech) is making its way into businesses in Hong Kong. The landscape of financial institutions is changing rapidly. Opportunities of FinTech are accompanied by multiple challenges and yet businesses can reap the benefits if they embrace changes. What will the future of Fintech be like and how will it affect you?
Join us to find out the impact of FinTech through the discussion between our world-class speakers.
Speakers:
Prof. Frank Tong, Mr. Alex Kong, Prof. Ir. Daniel Cheng
Date & Time:
13 February, 2017 (6:45-9:30pm)
Venue:
14/F, Lau Ming Wai Academic Building, CityU
---
Navigating the Future of Supply Chain in Hong Kong
Reshaping Logistics Industry through Disruptive Innovations
What will the future of Hong Kong's logistics marketplace look like when unprecedented technological breakthroughs continue to make evolutionary impact on customers' last-mile delivery expectations and drive revolutionary transformation of new business models for collaborative efficiency? Take a closer look at how the answers to this open question provide opportunities for start-ups and scale-ups thru a discussion between a veteran government official and a legendary start-up founder of the sector.
Speakers:
Mr. Shing-yuk Chow, Mr. Benjamin Wong, Mr. Henry Ko
Date & Time:
16 January, 2017 (7:00-9:00pm)
Venue:
14/F, Lau Ming Wai Academic Building, CityU
---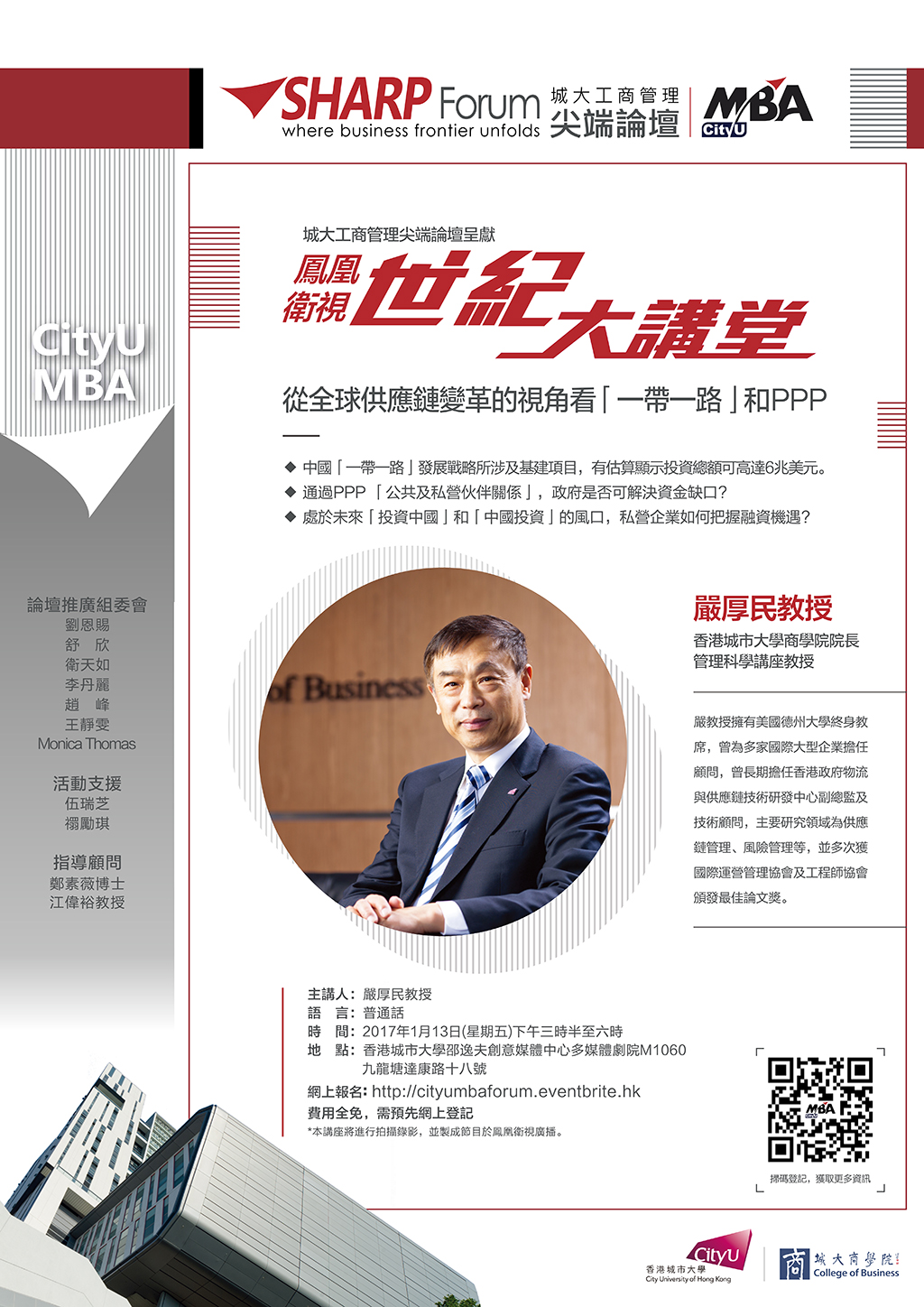 城大工商管理尖端論壇呈獻: 鳳凰衛視世紀大講堂
從全球供應鏈變革的視角看一帶一路和PPP
- 中國「一帶一路」發展戰略所涉及基建項目,有估算顯示總投資可高達6兆美元。
- 通過PPP「公共及私營伙伴關係」,政府是否可能解決資金缺口?
- 處於未來「投資中國」和「中國投資」的風口,私營企業如何把握融資機遇?
日期:
2017年1月13日(周五) 下午3時30分
地點:
香港城市大學邵逸夫創意媒體中心多媒體劇場M1060
---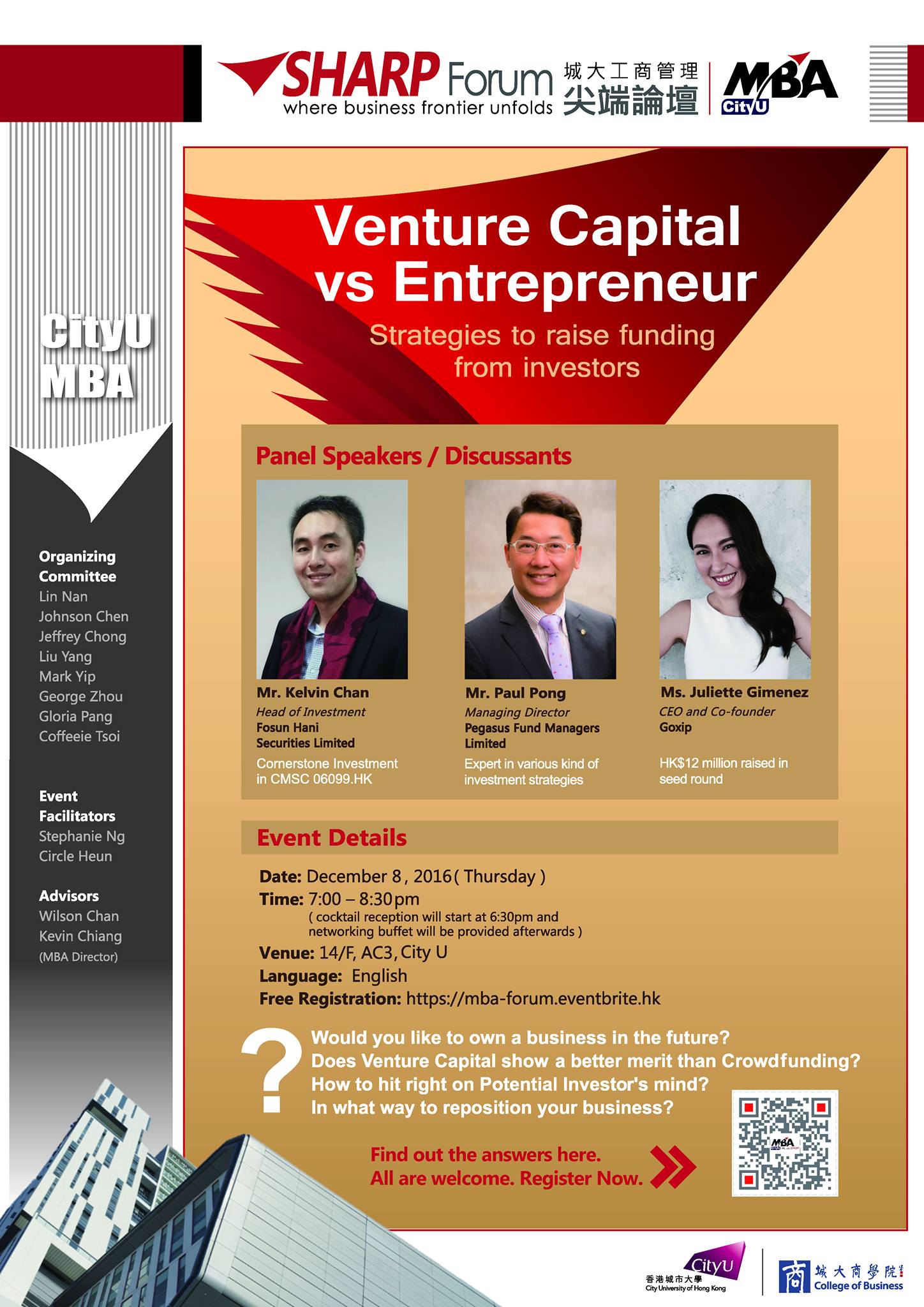 Venture Capital vs Entrepreneur
Strategies to raise funding from investors
Would you like to own a business in the future? Does Venture Capital show a better merit than Crowdfunding? How to hit right on Potential Investor's mind? In what way to reposition your business? Find the answers here...
Speakers:
Mr. Kelvin Chan, Mr. Paul Pong, Ms. Juliette Gimenez
Date & Time:
8 December, 2016 (7:00-8:30pm)
Venue:
14/F, Lau Ming Wai Academic Building, CityU
---
The Digital Tsunami
Surviving & Thriving Through Digital Disruption
Gain insights into how the current and next waves of digital evolution bring new challenges and opportunities in business from the interactive sharing and in-depth discussion among pioneering experts...
Speakers:
Mr. Sean Seah, Mr. Win Mak, Mr. Alan Yip
Date & Time:
1 December, 2016 (6:30-8:30pm)
Venue:
14/F, Lau Ming Wai Academic Building, CityU
Past Forums
Mr George Yuen
Independent Non-executive Director
Industrial and Commerical Bank of Chian (Asia) Limited
Professor Myron Scholes
Chairman
Board of Economic Advisors of Stamos Capital Management
Frank E. Buck Professor of Finance
Emeritus Stanford University Graduate School of Business
Forum Advisors
Mr. Orazio COCO
Wealth Management
AIA Int'l AIG Insurance
Dr. Wilson CHAN
Associate Director
CityU MBA
Dr. CK CHAN
CIO Int'l
Head of Retail Banking, Wealth Mgmt. IT APAC
HSBC
Dr. Soo-May CHENG
Lecturer
Ms. Cynthia HUI
Lecturer
Corporate trainer
Mr. Henry KO
Managing Director
Greater China
Flexport
Dr. Davy LO
Member of the Board of Directors
Astri
Dr. Louis POON
Marketing Director
(ETF & Index)
Samsung Asset Mgmt. (HK) Ltd.
Dr. Jacky TANG
Managing Director
Synintel Institute Ltd.
Advisory Board on Event Management
Mr. Andy LAM


- Manager, Financial Regulatory Authority in HK

Mr. Bruce LEE


- Director, Global Infrastructure Services, Manulife

Ms. Natalie TAM


- Logistics Manager, Juniper Networks

Ms. Carol WONG
- Professional Consultant, CUHK;
- Head of IT & e-Platform Development, CLAP for Youth @JC
Mr. Daniel YING
- Managing Director, Achievers International Ltd;
- Accessor, Coach & Accredited Mediator of Cross-Border Mediation
Mr. Stanley ZHENG


- Director, WeFi