Awards in Project Management 2017
22 November 2017
Brief intro of Project Management Institute (PMI) HK
The PMI Hong Kong Chapter is part of the leading not-for-profit professional membership association for the project management profession. It provides a forum for project managers to promote the principles of the PMI through networking with other project managers, sharing project experiences, providing and receiving training, and supporting project management professionals in their certification efforts.
Student PM Awards - Merit
Business Digital Marketing Campaign Project
The purpose of this project is to improve project sponsor's current digital marketing campaign performance by implementing search engine optimization , search engine marketing and email direct marketing in two locations, Hong Kong and Taiwan. Meanwhile, the potential of establishing new promotional channels and campaigns in Mainland China would be investigated through web-research, prototyping and internal experiment.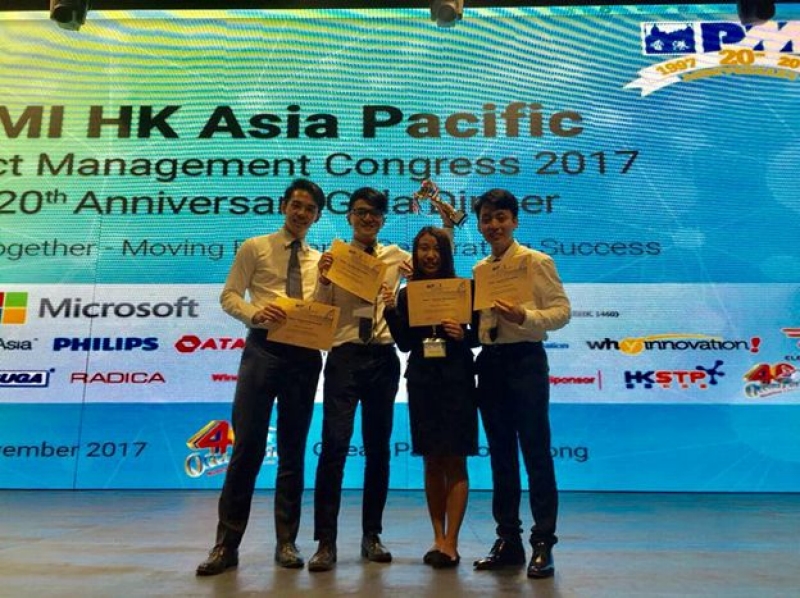 Team members
IFMG – Suen Cheuk Wing Kevin
IFMG – Tam Chak Fung Jason
IFMG – Fong Sum Yi Natalie
IFMG – Ng Man Lung Kyle
Certified Associate in Project Management (CAPM®) Award
The CAPM® exam is an entry-level exam in project management offered by PMI. It can demonstrate one's understanding of the fundamental knowledge, terminology and processes of effective project management.
GBSM – Ho Man Chun Kelvin