TEDxCityUHongKong2017 (Sat, Nov 25, 2017)
29 January 2018

TEDxCityUHongKong was held for its second year with 8 distinguished speakers: Prof. Jian Lu, Lori Granito, Sonia Samtani, Neelam Tewar, Sidhant Gupta, Dagmar Boettger, Kinni Mew, and Tome Tse. More than 200 live audiences joined the event, and each brought home with them inspiration and new thoughts.
The theme of this year event was "Pushing the Envelope". It is a phrase used in an aeronautic context by test pilots who were determining just how far it was safe to go with the aim of doing better than before. As students, the envelope symbolizes the upper and lower limits of the various factors in our life, whether it be academic, career or personal decisions. The pushing of envelope is a process of developing our inner strengths, which is the source of transformation that brings about good deeds.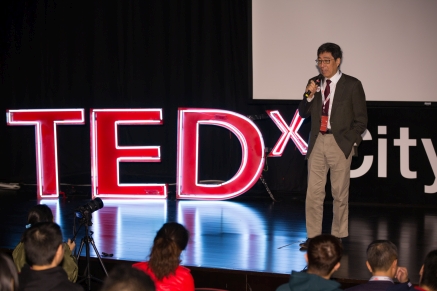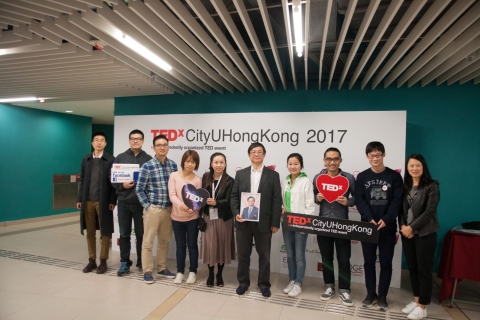 In university, we want to encourage actions for the greater good. In an era of time where we see intra- and inter-personal conflicts in the society, we don't want to merely do the talking, we want to be action takers. By sharing the speakers' ideas, actions can be inspired and nurtured. The mindsets and attitudes the speakers aspired to share across, would get radiated into the society.
In their talks, Prof. Jian Lu explored the frontier of nano technology and demonstrated how researchers can exceed the limitation through innovation; Sonia Samtani shared about how to live with, and mediate between the current self and the past self; Lori Granito shared about how to break away from entrepreneurial fear; Sidhant Gupta talked about how we can use our free time fun and effective, to accomplish meaningful things; Dagmar Boettger analyzed and explained how we can face the changes in the business environment; Kinni Mew shared his very personal story about overcoming physical limitation; Neelam Tewar shared her journeys of micro-death; and Tom Tse explains how the education can be changed for the better, for students, and society.
Grease made a marvelous musical performance, and Koala Yip and her team also performed a very spiritual, sensational contemporary dance.
The event was a success. And a big part of it is thanks to the efforts and dedication of the organizing team. The organizing team was composed of around 30 members, led by Rosen Wong Yat Kwan for the second year since the founding of the team. Members of the team all worked exceptionally hard for the event, and thanks to the support of the EDGE office and sponsors, the event was able to accomplish remarkable result.
BBA – Information Management (Business Intelligence Stream) Student
Rosen Yat Kwan Wong
Final Year (BBAU3 Cohort 2015)