Champion of the UBS Group Chief Operating Officer (GCOO) Case Challenge (HK) 2018
12 August 2018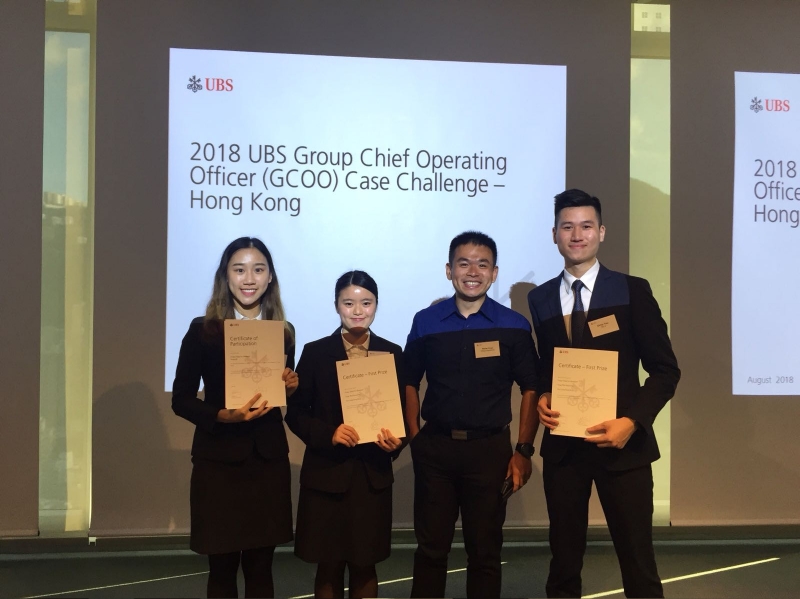 Congratulations! Our students won the championship of the UBS Group Chief Operating Officer (GCOO) Case Challenge (HK) 2018.
The team consists of three team members from CityU: 
Fung Ching Yee, Margaret (IFMG/ISA)
Tang Wai Kwan, Kitty (IFMG/ISA)
You Long Fung, Dicky (EF)
Brief introduction of the GCOO Case Challenge
The UBS Group Chief Operating Officer (GCOO) Case Challenge 2018 is organized annually by UBS to have students develop solutions based on real-life situations. Participating students are expected to have strong technical problem-solving and analytical skills. This year, there were over 120 registrations from universities in Hong Kong and Singapore.  5 teams were shortlisted for the final presentation to industry experts. On 8 August, UBS held the final presentation session and our team won the Champion and was awarded a UBS internship opportunity.
The Project
To tackle the current bottlenecks associated with the saturation of the HNW and UHNW markets, rapid-changing regulatory risk from KYC, the long turnaround time and backlog problem of the onboarding procedures, the team proposed a RegTech solution incorporating automation, AI and blockchain technology to redesign the existing workflow, so as to enable organizations in different industries and sizes to mature their onboarding processes in wealth management. They provided a 24/7 solution whereby the client could make use of an AI Chatbot to start their onboarding journey anytime, anywhere.