Dr Weiquan Wang is Associate Professor in the Department of Information Systems. He obtained his PhD in management information systems from the Sauder School of Business, The University of British Columbia. Dr Wang took up the position of Associate Dean (Undergraduate Programmes) in October 2015.
The BBA is the College's flagship programme. It serves the largest community of business students in Hong Kong, some 800 in the 2015 cohort, attracts over 400 exchange students every year, sends a similar number outward-bound to all corners of the globe, and provides hundreds of internship and summer programme opportunities. The programme attracts top students, achieves impressive placement, and is well known for adapting to changing market needs. The role of the university is changing fast in the Internet+ era, and the BBA is moving with the times. As Dr Wang says:
"In the age of instant search, what is the purpose of a university? For developing work-related skills? Not exactly. It's to help students grow personally and intellectually by broadening their minds in a global setting and to spark in students a passionate interest that will help them lead truly meaningful lives. That's where the real benefits lie."
To remain competitive undergraduate education constantly has to reinvent itself, and over the past few years this has meant significant changes. In 2015 two new initiatives were launched: the BSc in Computational Finance, and the BBA in Global Business. These elite programmes will accept their first cohorts in 2016 with quotas capped at just 25 students each. Entrance requirements are demanding and both majors are attracting top students. For the successful students, the reward is a place on a top programme, from a leading ranked university, answering to leading edge demand.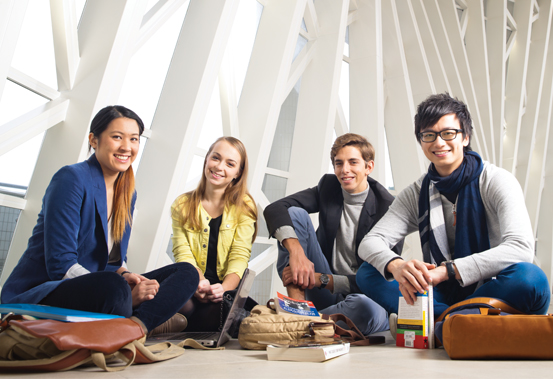 Computational Finance
The BSc in Computational Finance targets applicants with a strong interest in quantitative programming and analytical skills in finance. It aims to give students a competitive edge in starting a financial career. Students build skills in four key domains: finance, mathematics, statistics, and computer science, offerings graduates with the hard skills much prized in today's workplace. They develop a knowledge of financial markets, financial product design, risk management, and asset management. Expertise is also built up through financial analysis, calculus, linear algebra, statistics, and optimisation methods. With such a comprehensive skills set, graduates are well positioned for top careers in the financial industry.
Global Business
The BBA in Global Business is designed to address demand for graduates with a global business foundation, and skills sets in negotiation, business culture, law, strategy, and China business courses. Students benefit from advanced courses in entrepreneurship, business consulting, and experience a residential trip. In the final year students consolidate their skills in a Global Business Consultancy Project. This BBA offers a globally oriented curriculum and opportunities for students to develop an international mindset, think strategically, and contribute to companies doing business internationally.
Students' leadership and teamwork skills are enhanced by working with people from different cultures on boot camps, study tours, executive forums, structured exchange programmes, internships, international case competitions and global leader mentoring. Students also enjoy two exchange study opportunities – tentatively one in North America and another in Europe.
Internationalization
Diversity in the classroom is a big deal on the BBA and the 400+ exchange students who come to study at the College of Business each year help drive dynamic class interaction. The BBA also recruits international students. Student diversity has also recently been enhanced by launching the BBA Joint Degree programmes with National Taiwan University in Accountancy and Business Economics, and with Columbia University in Business Economics. Last year, the Columbia programme offered scholarships to 12 undergraduate students, with Chow Sang Sang Holdings funding the students in their third- and finalyear of study in the United States.
Internship
Internship is the gateway to the professional world. The College has worked intensively to establish contacts with leading businesses for its undergraduate students. The Department of Accountancy, for example, showcases its internship programme every year. Last year the theme was From Potential to Professional. The event was set up to showcase interns' work and their takeaways in the forms of videos, storybooks, and posters.
"The internship inspires our students to discover real business practices beyond classroom training such that they can prepare themselves further for the challenges and success ahead," said Professor Cheong-heon Yi, Acting Head of the Department of Accountancy.
Cindy Chau, a PricewaterhouseCoopers Hong Kong intern, won one of the Outstanding Interns of the Year Awards:
"The internship helped me discover the business world, and was an eye-opener into the operations of different sectors in Hong Kong such as minmetal trading, electronic equipment sales, etc. I didn't have much practical knowledge at the beginning, but I learned to be more professional and adapt to changing environments during the internship."
Summer programmes
Last summer over 120 BBA students left Hong Kong on summer programmes in Canada, Australia, New Zealand, the United States, South Africa and Laos.
Partner universities arranged language courses and volunteer placements for the students for six weeks.
Sally Lee was one of 75 students taking part in the Cultural and Language Immersion Scheme in New Zealand:
"I worked in the Salvation Army family store as my volunteer placement. It was probably one of the best experiences of my life. I am so pleased to have this chance to understand the culture and social issues there."
With such a multifarious programme offering, the College of Business looks forward to welcoming a new cohort of students to the BBA in the autumn of 2016.