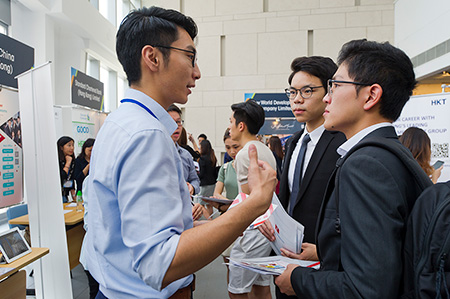 S&P 500 and multinational companies were among the 32 leading corporates participating in CB's Business Career Fair 2018 in early September. The companies represented a wide range of industries including banking, IT, accounting, property, retail, hospitality, logistics, etc.
In his opening remarks, Professor Houmin Yan, Dean of the College, expressed sincere gratitude to all the participating companies. He emphasised that the College is determined to nurture students into competent business professionals, equipping them with knowledge of the latest technology trends.
Professor Albert Ip, Convenor of the Business Career Development Advisory Committee, shared that the College offers all-rounded training, a broad-based curriculum, and a full range of career advising services to help students better plan for their future.
This third consecutive annual Business Career Fair was organised by CB's Business Career Development team, providing an excellent platform for students to get up to speed with job market information and learn about job opportunities from potential employers.