Since President Xi Jinping first proposed the Belt and Road Initiative some five years ago, the Hong Kong government and business community have shown great interest in this transformative national strategy. The BRI indeed calls for Hong Kong and mainland enterprises to work side by side and develop business opportunities (拼船出海), taking advantage of Hong Kong's sound financial regulatory framework and legal system. A large number of Chinese state-owned enterprises have responded to President Xi's call, and formed joint ventures in Belt and Road countries, especially in the areas of transportation and logistics infrastructure projects. Leading SOEs have also listed on the Hong Kong Stock Exchange, with the market values of mainland companies representing over two-thirds of the Hong Kong Stock Exchange's capitalisation.
The Research Centre on One-Belt-One-Road at City University of Hong Kong has carried out a series of in-depth studies for a group of Chinese SOEs who have developed projects in Belt and Road countries. We are studying these SOEs with regard to their investment strategies, financial models and corporate governance. We also investigate whether business models originally used in China can be reapplied to projects in BRI countries. More importantly, we ask what have they learned from past successes and how can this be adapted in BRI countries? One of the SOEs we are collaborating with is China Merchants Group, a conglomerate with a rich history in shipping and innovative port development.
China Merchants Group has a rich lineage of "firsts"
Headquartered above Hong Kong Macau Ferry Terminal in Hong Kong, China Merchants Group was founded as part of the Self-strengthening Movement in the Qing Dynasty back in 1872, and has played a pioneering role in China's national industry and commerce ever since. Amongst many "firsts", CMG set up China's first merchant fleet, first bank, and first insurance company. Today, the conglomerate has three major lines of business: infrastructure, investment and capital operation. Its infrastructure business includes ports, roads, shipping logistics, real estate, zone development and trade. Since 1978, China Merchants Port, a CMG company, has invested and operated key ports in the Greater Bay Area, successfully developing an influential business model known as Port-Park-City.
The Port-Park-City model has potential to be adopted around the world
With a forty-year track record, the Shekou Merchants Economic and Technological Development Zone has led the way with an integrated port, industrial park, finance and city operation. CMPort's Shekou development can be divided into five phases: port operations, industry park development, integration of manufacturing and city development, industrial transferring, and urban service development. Port-Park- City proved so successful that CMPort expanded the model to 42 cities throughout China, and has actively participated in the Go-global and Belt and Road Initiatives. The most notable recent investment is in the Hambantota International Port Group (HIPG), Sri Lanka, which is a public-private partnership project with the Government of Sri Lanka.
Hambantota's strategic location could make it a global hub
Hambantota port occupies a pivotal point on the southern coast of Sri Lanka, just ten nautical miles from the busiest international shipping route in the Indian Ocean, and is close to the emerging manufacturing power house and market of South Asia. CMPort aims to provide port and maritime services along with an integrated logistics platform, and a port-related industrial zone and business incubator. An excellent location and economic hinterland give the Hambantota port great potential to become a global hub. However, this is not to assume that past success of the Port-Park- City model can be simply replicated. The question is how the model can be adapted to the new competitive environment.
China is moving from trading in goods to trading in tasks
What made the Port-Park-City model successful in Shekou, the Greater Bay Area, and China? Prominent factors include global trade and manufacturing demand, strategic location and a wide portfolio of ports, direct access to funding and financial support of the Hong Kong Stock Exchange, as well as governmental support. Indeed, the overall Asian supply chain and manufacturing sectors have gone through remarkable developments both before and during China's BRI.
According to WTO research findings, China has been upgrading its production and shifting lower valueadded production to more labour-intensive countries such as Bangladesh and Burma. The underlying trend is from trading in goods to trading in tasks. The former enhances the wider Asian manufacturing base whilst the latter increases both inward and outward processing activities. If this trend continues, countries such as India, Bangladesh and Sri Lanka, where manufacturing represents less than 15% of GDP, have potential to catch up to the Asia average of 30%.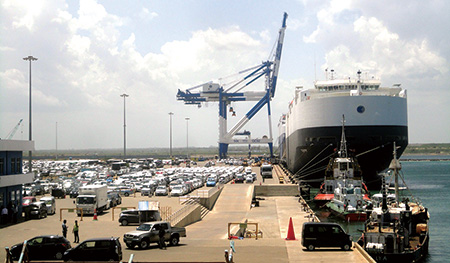 A car carrier ship berths at Hambantota port on the South Coast of Sri Lanka (Dinesh De Alwis / Wikimedia Commons / CC BY-SA 4.0)
Listing rules create transparency and trust
CMPort is listed on the Hong Kong Stock Exchange, where both listing rules and the executive compensation plan play an important role in corporate governance. Listing rules, for instance, require companies to disclose information on major transactions, share changes, acquisitions and substantial disposals with a matrix of measures such as assets ratio, profits/revenue ratio, equity ratios and etc.
For the HIPG transaction, CMPort invested US$1.12 billion, about 6.6% of its then total assets. The company's total assets stood at HK$132 billion as of December 2017. Clearly, listing rules in Hong Kong impel companies to be transparent to both market and investors. Executive compensations depend directly on revenue/ profit targets and share performance on the stock market. Accordingly, executives have strong incentives to make the company profitable.
Hong Kong listed SOEs will play a crucial role in BRI
Our initial study reveals the critical role of Hong Kong's financial and legal service industries in underpinning the expansion of China SOEs on to the world stage. In addition to responding to the HKSAR's call for working side-by-side to develop business opportunities, the study highlights the special role of the Hong Kong governance framework for those SOEs listed in Hong Kong, and the significant implications for Hong Kong's participation in national Belt and Road Initiatives. Beyond the slogans of the BRI, Hong Kong's regulatory framework offers a transparent environment where all parties can feel secure that due process will be carried out. The Research Centre on One-Belt-One-Road at City University plans to continue research into Hong Kong-listed SOEs investing in Belt and Road countries, in particular how listing rules in Hong Kong and corporate governance structure influence investment decisions, and how SOE stock prices respond to Belt and Road investment.
---
Davos World Economic Forum
Dean Houmin Yan spoke at the third Belt and Road Davos Forum in January 2019.
The Annual World Economic Forum was held in Davos, Switzerland, in January, bringing together leaders of governments, international organisations, and businesses from around the world. The overarching theme was "Global 4.0: shaping the global architecture of the fourth industrial revolution era."
Davos attracted world leaders such as German Chancellor Angela Merkel, Japanese Prime Minister Shinzo Abe, UN Secretary-General Guterres, IMF President Lagarde, and business leaders including Microsoft founder Bill Gates, Alibaba Chairman Jack Ma, and Uber CEO Dara Khosrowshahi. From China, Chinese Vice President Wang Qishan, and Hong Kong Chief Executive Officer, Carrie Lam, were in attendance.
Dean of College of Business Professor Houmin Yan attended the forum, and was invited to give a presentation at the third "Belt and Road Davos Forum". Professor Yan spoke on "One Belt, One Road Strategy and the Asian Supply Chain – The Role and Governance of Chinese State-Owned Enterprises".
This edition of the Davos Forum had a special focus on a geopolitically diverse world, and the major changes that are taking place in international relations. The Belt and Road Initiative plays an integral part in these changing dynamics, and there were frank and constructive discussions on how to drive future collaboration.