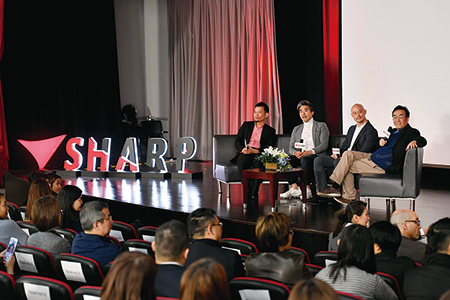 The College's Master of Business Administration (MBA) programme kicked off this year's first SHARP Forum on 28 January 2019. Entitled "Unlock the Power of KOL Marketing with AI and Blockchain", the talk was a great success with a full-house attendance of over 300 participants.
The SHARP Forum invited media veterans and renowned online influencers including Mr Chip Tsao, columnist and broadcaster; Mr Vincent Tsui, Founder and CEO of Toast Communications; Mr Ben Chien, Greater China Managing Director of AnyMind Group; and Mr Tadi Dong, Greater China Operation Director of FansTime, to share in-depth insights on the rising trend of KOL (Key Opinion Leader) marketing. Speakers also discussed how new technologies such as AI and blockchain are applied to hit the target markets.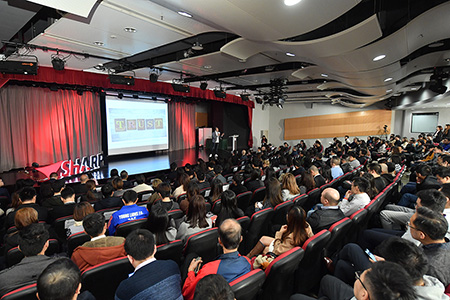 The talk started with Mr Tsui's sharing on successful KOL marketing campaigns, followed by an interactive talk by Mr Chien who discussed how technologies help assess KOL's performance. Mr Dong talked on blockchain while Mr Tsao shared his insights and personal experience on KOL marketing and social media. The last part of the event was a highlight where guest speakers had an exchange with each other and the audience in the panel discussion and Q&A section.
SHARP forum is a thought-provoking platform where thriving business executives, prominent government officials, prestigious scholars, inspiring entrepreneurs, influential celebrities, and renowned experts are invited to share inciting ideas, insightful perspectives, and inspirational experiences; as well as to discuss novel concepts, evolving issues, and cutting-edge solutions.