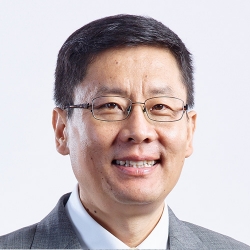 | | |
| --- | --- |
| Date | 20 April 2017 (Thursday) |
| Time | 6:30 - 8:30pm |
| Venue | Multi-function Room 19/F, Lau Ming Wai Academic Building, CityU |
| Language | Putonghua |
The Coming 5G Mobile Communications Opportunities and Threats
呼之欲出的第五代移動通信-商機與危機
Prof. XUE Quan 薛泉教授
Associate Head and Chair Professor of Microwave Engineering
Department of Electronic Engineering
City University of Hong Kong
香港城市大學
電子工程學系副主任及講座教授
[
Biography
]
Since the invention of wireless communication using electromagnetic wave, we have been moving to a world of enjoying the convenience of both "lineless" and "on-line" for information exchange.
Since 1980s, the modern wireless communication techniques have come all the way from the 0th Generation to the current 4th Generation. Now, specialists from academy, industry and government are all promoting the 5th Generation (5G) mobile communications.
Then what is 5G? Is it just an updated version of 4G or a brand new concept of wireless implementation?
The seminar will review the history of wireless communication from the beacon-fire to the 5 generations of wireless communications (0G, 1G, 2G, 3G, 4G) and look into the coming new generation, name the 5G. Technique features, as well as the opportunities and threats, of 5G will be discussed.
自從以電磁波為傳輸媒介的無線通訊技術被發明以後,人們開始能夠擺脫電話線的束縛,享受"無牽無掛"但同時又"總是線上"的資訊交流。
在經歷了移動通信從第〇代直到第四代的變遷進化以後,學術界和工業界告訴大家,他們正在研究和開發第五代移動通信的技術和設備。什麼是第五代移動通信?它是第四代移動通信的技術理所當然的技術升級版,還是人類幾千年無線通訊歷史中一次全新的、概念性的革命?
報告將回顧從古代中國發明的"無線數位化無線通訊技術"-烽火通信,到現代移動通信的無線通訊發展的技術特點,包括第〇代移動通信,第一代移動通信,第二代移動通信,第三代移動通信,以及第四代移動通信。展望目前業界廣為關注、同時又備受期待的第五代移動通信技術,也就是大家通常說的5G概念。進而分析5G能為我們未來的通信帶來什麼變革,如何改變我們的生活模式。與此同時,也和大家一起讨论我們在享受一代代移动通信进步的同时,需要付出什麼樣的代價。