Representatives from the European Bank for Reconstruction and Development (EBRD), a multilateral developmental investment bank with major investments on environmentally sound and sustainable projects, delivered a special presentation on its Transition Report 2018-19 at the College on 8 March. The report is an annual analysis covering macroeconomic overview of the EBRD regions and its structural reforms in the past year.
In his welcome remarks, Dr Raymond Wong, Associate Dean of the College, thanked EBRD for arranging this presentation for the College, he said "The Transition Report discusses how demography, technology and migration are altering the economy, with insights on the recent development in countries along the Belt-and-Road where EBRD operates. I am sure that all of us would gain valuable knowledge from the presentation." Speaking on the Belt-and-Road initiative, Dr Wong also shared some recent development of the College that aims to enhance students' understanding on the issue.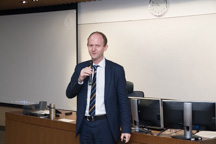 The presentation started with a corporate video of EBRD, followed by a sharing by Mr Richard Jones, AIIB-EBRD Business Development Director, who introduced about EBRD. He also talked about some investment cases of EBRD along the Belt-and-Road countries such as Kazakhstan, Turkey, Belarus and more. In addition, he shared about career and internship opportunities at EBRD.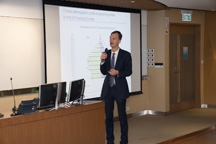 The second part of the presentation was addressed by Dr Alexander Plekhanov, Director for Transition Impact and Global Economics of EBRD. In his presentation, Dr Plekhanov talked about the detailed findings and some interesting figures in the Transition Report. To name one example, statistics showed that average working skills of people declined in their mid-30s and richer life-long learning opportunities are therefore needed to help older employees upgrade their skills.
Highlights of the event was the QA section where Mr Jones and Dr Plekhanov shared tips on building a CV, and how EBRD strived balance between new ideas and commercial interest. They also opined that ICT-related skills are important nowadays, and everybody should keep abreast of the latest technological trend.
EBRD's Transition Report 2018-19 is available here.