Students & Alumni Sharing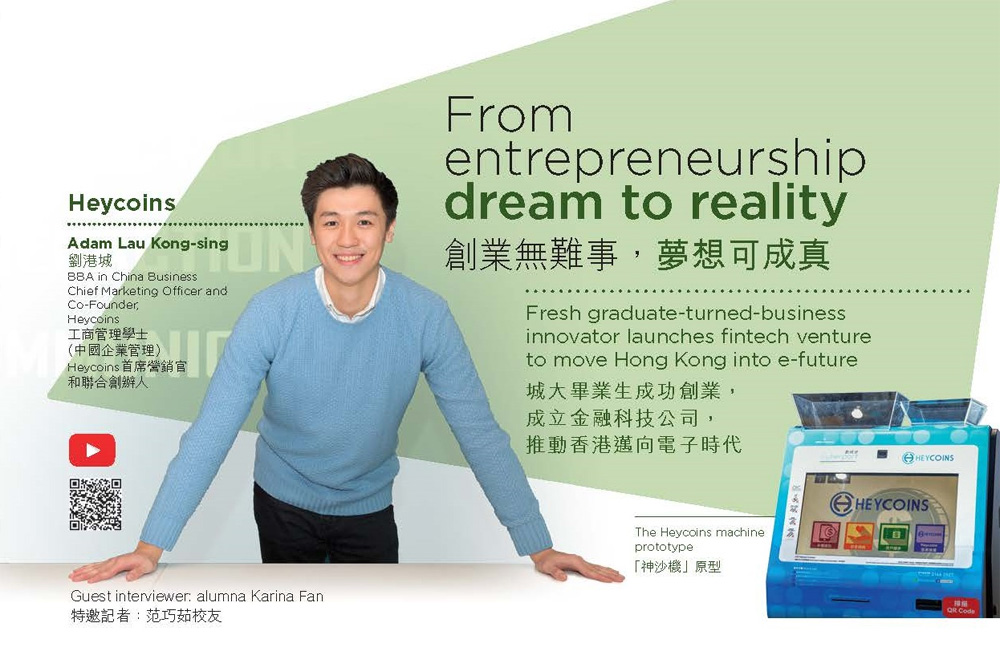 主動學習 掌握時間管理
吳淑敏
工商管理學士(商業分析)課程四年級學生
交流目的地:加拿大滿地可
就讀院校:Concordia University
在交流期間修讀金融學與市場學,除了在迎新活動結識了當地朋友外,也跟隨戶外活動興趣小組的組員一起遠足。適逢長假期,我她更會前往加拿大其他地方,以至美國紐約觀光,體驗不同地方的文化差異。





整個交流經驗給我最大的啟發是關於學習方法。當地學生在上課或討論小組習作前,定會做好準備,如看書備課或上網找資料,這是深入的自學過程,有助增強記憶,我希望自己將來亦能做到。課外經歷使我變得更主動與人溝通,現在,甚至主動找組員商討小組習作。還有,在當地生活和學習上學懂及掌握時間管理,自返港後,也經常運用這些技巧。
提升閱讀技巧
戴東兒
工商管理學士(商業分析)課程四年級學生
交流目的地:荷蘭馬斯特里赫特
就讀院校:Maastricht University
我於當地院校唸市場學與經濟學,並爭取機會在課餘閒逛校園附近的市集,甚至跟其他交流生結伴前往首都阿姆斯特丹遊覽,更乘坐火車到較遠地方觀光。由於荷蘭市民喜歡以單車代步,所以,我也入鄉隨俗,租用單車返學或前往鄰近地方。





當地教師在課堂上不派發講義,學生上課前需先行閱讀60 多頁的學習材料,課堂主要為分組討論。現在,我的閱讀技巧提升了,讀得較快之餘,也會作思考和分析。當地學生鼓勵我主動表達意見,使我培養相關的學習態度。因為多聆聽不同的英語口音,我現在無懼跟不同國籍或帶有不同英語口音的人士溝通,增加我申請外資公司職位的信心。
敢於用英語表達意見
黃煥賢
工商管理學士(商業分析)課程四年級學生
交流目的地:德國法蘭克福
就讀院校:European Business School International University Schloss Reichartshausen
我平日在校園研習商業知識,總愛趁着周末前往鄉郊或參加美食節,感受外國飲食文化。我亦曾於博物館日參觀不同主題的博物館,例如現代藝術及電子遊戲等,藉此擴闊眼界。又會善用長假期,遊覽鄰近德國的丹麥、奧地利和瑞士,接觸各地風土人情。





我認為交流影響了我的學習心態與進修計劃。當地學生主動舉手回答導師提問和分享個人看法與經驗,回到城大後,我也在導修課積極作答。同時,我變得充滿自信地以英語做匯報,相信將來求職面試時,更有信心以英語來表達。我曾親身感受到德國學生對外地學生的熱情和關懷,所以日後或會往外國進修。
Volunteer work in Laos
Tianyu Wang
BBA Accountancy
Location:Laos
Stand out from 3000 job applicants
Jerry Zhang
Graduate -
Department of Information Systems
Client Solutions Analyst - Facebook
Being able to stand out from 3000 job applicants of a MNC is not easy. Courses offered by IS Department helped me in building a solid foundation in areas like SEM, SEO, keyword search, CPC, CPM, etc. The courses are very up-to-date with business trends (e.g. IS4246 Digital Marketing and CRM, GE1206 Accelerating Professional Growth on the Web) which enabled me to impress interviewers from Facebook for my graduate job in Client Solutions Analyst.





To join MNC, global vision is essential, IS Department and CB supports students to explore globally by providing unique internship chances and scholarships, e.g. I have been to USA and South Africa to do cultural exchange, which built up my global soft skills and made me more independent.
Thirst to learn, persistence to fight
Remus Yu
Graduate - Department of Marketing
Manager - Kowloon Commercial Agency
Knight Frank Hong Kong Limited
I can attribute many of my achievements to the University. The unique focus on presentation, sensitivity to current affairs and markets, combined with the encouragement to build on our own passions, put me on a winning path to make significant strides in my career. It is crucial for students to understand that in the market, firms look for young minds with a thirst to learn, persistence to fight and magnetic characters to win business - be confident you can develop these with CityU.
Solid business knowledge and professional trainings
Novi Natalia
Graduate - Department of Accountancy
Senior Associate - Internal Audit (IT Audit), Sun Hung Kai Financial Limited
Throughout my university study, CityU BBA program had offered me with ample opportunities to learn new things. Through various project works, study tours, competitions and student activities organized by the program, I got to work and blend with the local students. Not only did I learn from them about Hong Kong's culture but also the spoken dialect, Cantonese. These, in addition to solid business knowledge and professional trainings provided by the BBA program, have greatly helped me in paving my career path.
Social and communication skills and professional trainings
Karl Chan
Graduate - Department of Management
Deputy Manager - Japanese Corporate Department, Bank of Tokyo-Mitsubishi UF
Business knowledge is undoubtedly crucial for a job in the business sector. I would say social and communication skills are equally important for a successful career, especially when we have to work as a team. CB provided me not only professional knowledge and a broad business sense, but also the chance to develop my interpersonal skills through a series of activities. I found that what I gained from CB is practical and relevant to my workplace.