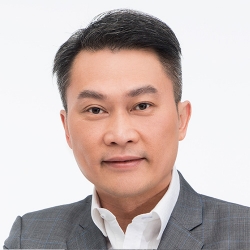 | | |
| --- | --- |
| Date | 14 December 2017 (Thursday) |
| Time | 6:30 - 8:30pm |
| Venue | Eminence Galaxy – Alumni Function Room, 11/F, Lau Ming Wai Academic Building, CityU |
| Language | Putonghua |
Force for good, change the world
善的力量,改變世界
Mr Andrew Fan Ka-fai 范家輝先生
Chairman of China and Strategic Advisor of New Global Opportunity Innovation Team
Nu Skin Enterprises Inc.
如新(中國)董事長暨全球商機創新策略顧問
[
Biography
]
What is charity on earth? Giving 1 dollar to the tramps, or to do a big deal like large scale tree planting and erasing sea pollution?
Most of all, we can help people once, but not in a long term. You teach a man to fish and you feed him for a lifetime; knowledge is the best charity. Charity gathers and spreads our love, soothes our heart. It is catalyst for the social progress; it is also the driving force of our country development balanced.
Good companies give their power to the world, helps people in dilemma. Especially an enterprise with strong sense of responsibility should do.
As a company granted four times of Chinese charity award. How dose Nu Skin gather loves? How can we earn the force for good? Let us find out.
慈善究竟是什麼?是施捨乞討者一分錢,還是植造一片森林,淨化一片海洋?可是我們往往只能幫人一時,助人一刻。真正的慈善,具有可持續性,不僅要授人以魚,更要授人以漁,引導更多人參與其中。慈善能夠傳遞愛心,凝聚力量,慰藉人的心靈;慈善事業是社會進步的催化劑,也是國家平衡發展的推動力。
一個具有社會責任感的跨國企業,對於慈善,應該在全球範圍內以一種可持續發展的公益運作模式進行。更加切實地奉獻善的力量給予這個社會,幫助那些在困境中的人們。
如新(中國)作為榮獲過四屆中華慈善獎的一家企業,向來敢於面對社會問題,承擔一份責任,凝聚善的力量改變世界。我們是怎麼做的?又如何做得更好,讓我們一起探討。