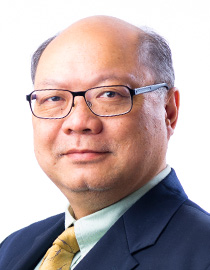 Dr. LEUNG Wai Keung John
梁偉強博士
Associate Professor
10-238, Lau Ming Wai Academic Building, City University of Hong Kong
Research Areas
Service delight
Service quality management
Process management
Simulation methodology applications
Assembly systems performance optimization
Qualifications
PhD - Industrial Engineering (University of Wisconsin - Madison)
EdD - Education (University of Bristol)
MS - Industrial Engineering (University of Wisconsin - Madison)
MS - Information and Computer Science (Georgia Institute of Technology)
Biography
Dr. Leung is currently the Co-Director of Executive MBA program, and an Associate Professor of Marketing at City University of Hong Kong. He has also worked at Department of Management Sciences as an Associate Professor for eight years between 1993-2001. Between 1997-2000, he was the Deputy Director of IT Center for reengineering. He was a winner of the 8th Teaching Excellence Award. He is currently a columnist of Singtao in Hong Kong and is contributing articles in the areas of quality management to China Entrepreneur Magazine in China.
He earned his PhD and MS in Industrial Engineering from the University of Wisconsin at Madison and his MS in Computer and Information Science at Georgia Institute of Technology.
Prior to joining City University, Dr. Leung was an Operations Executive of American Express responsible for reengineering the credit authorization process and optimizing the operations policies for the authorization centers worldwide.
As a Senior Consultant of Eastman Kodak, Dr. Leung was responsible for developing and conducting corporate training courses that focused on improving and controlling the quality of large-scale systems development. His clients included Bell Northern Research (BNR), IBM, Fedex (Federal Express), Lucent Technology, Gilman Engineering, and other Fortune 500 companies.
Dr. Leung has also actively provided consultation and training for more than 80 local companies in Hong Kong such as Hong Kong Bank, Standard Chartered Bank, Hang Seng Bank, Bank of China, Hong Kong International Terminal, Hong Kong Post, St. Honore's Cake Shop, Vitasoy, Sun Hung Kai Property Development, Civil Service and Training Development Institute and SGS (International) Ltd.
Dr. Leung's current research interests are: service strategy and quality management, business process improvement, and customer retention strategy.