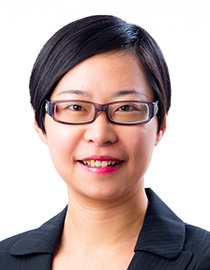 Dr. NG Shuk Wai Raine
吳淑慧博士
Instructor I
10-211, Lau Ming Wai Academic Building, City University of Hong Kong
Research Areas
Marketing communication, consumer behavior
Qualifications
DBA - Business Administration
Master of Arts - Communication
Biography
Ms. Raine NG Deputy Programme Leader (BBA – Marketing) & Instructor 1
Ms. Raine NG has been with City University of Hong Kong since 2007 and her teaching areas include introduction to Marketing, Event Marketing, Selling and Sales Management, Integrated Marketing Communication, Organizational & Personal Image Management and Understanding Persuasion in Everyday Life. Her engaging, passionate and practical teaching style is extremely well received by the students. She has received several teaching-related awards including College Teaching Excellence Award and Student Learning & Development Excellence Awards.
Her research focuses are Marketing Communication and Consumer Behavior. In addition, Ms. Raine NG 's has rich experiences in Sales and Marketing. She has led students to complete more than 70 Company Consultancy Projects. She also takes the key role of planning the promotion and PR activities of Department of Marketing, CityU.

Ms. Raine NG also serves as a Student Career Advisor and College Academic Advisor. She encourages and develops students and also guides them in making career decisions and improving academic performance.
Professional Qualifications
| Qualification | Certifying Organization |
| --- | --- |
| College Teaching Excellence Award | College of Business City University of Hong Kong |
| Student Learning & Development Excellence Award | Dept of Marketing City University of Hong Kong |
| Student Learning & Development Excellence Award | Dept of Marketing City University of Hong Kong |
| Student Learning & Development Excellence Award | Dept of Marketing City University of Hong Kong |
Teaching Areas
Introduction to Marketing; Event Marketing; Integrated Marketing Communication; Selling and Sales Management; Organizational & Personal Image Management, Persuasion
Publications
Journal Publications and Reviews