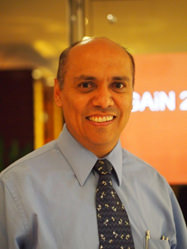 MSc Marketing'13
Yvan Castro
Contact: ycastro@adrachina.org
I am currently working as a Program and Planning Director in the Adventist Development and Relief Agency (ADRA China) based in Hong Kong. My organization is a humanitarian and international charity with a presence in more than 120 countries in the world. It works with environmental protection, public health, and emergency management programs in China. Previously, I have also worked for ADRA as Director in Peru, Bolivia, and Nepal.
When I arrived in Hong Kong, I noticed that my job description and the requirements of my office needed to change; especially the points related to marketing and fundraising. The main focus at that time was on project execution in China. However, I realized there was a big potential to raise funds in Hong Kong so I started to develop a fundraising program. It was quite a new experience for me, with many challenges. Two of the most important challenges were how to gain a good understanding of Chinese culture and how to apply state-of-the-art marketing knowledge in the non-profit sector. Thus, I decided to study a Masters in Marketing.
I chose CityU and it was a privilege to study Marketing there, because CityU is ranked 5th in the Top 50 Universities under 50 years of age QS University Rankings*. At CityU, I came into contact with people from different cultures; I learned different perspectives of marketing, from both the Western and Eastern cultures; I met with professors who had vast experience and were from different top universities around the world. The interactions among students, professors, and companies made the learning experience interesting and rewarding.
My job was blessed with this experience; I applied several concepts, tools, methods, and software I learned at CityU to my work, such as those taught in marketing strategy and planning, applied marketing research, database marketing, electronic marketing, and consumer behavior courses. They changed my perspective of the world and I came to understand that marketing is a process that crosses all the core areas in one organization. My organization went from zero in fundraising in my first year of work to almost 8 million Hong Kong dollars in my third year.
Words of Advice
If you are working in the non-profit sector and you feel the need to improve your knowledge in marketing and business, the College of Business at City University will be a rewarding experience, as it was for me.
*Based on the QS University Rankings: Top 50 under 50; news article: http://wikisites.cityu.edu.hk/sites/newscentre/en/Pages/201306110900.aspx
(Written by Yvan Castro, revised by editor, Aug 2013)