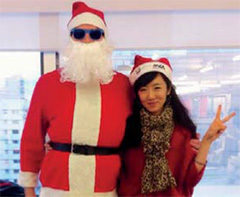 MBA'14
Summer Zhang
After graduating from the CityU MBA programme, I joined Pentland Group as a Sourcing Analyst in the Supply Chain Department. The Pentland Group is a UK fashion company that owns a number of famous European brands such as Speedo, Berghaus, Canterbury of New Zealand, and Boxfresh, with annual sales of US$3 billion and 20,000 employees across 200 countries. Working as a sourcing analyst, my primary responsibilities include execution of new supplier development, supplier performance management, and continuous supply chain process improvement. Having the opportunity of being heavily involved in sourcing and supply chain analytics, I perform data analysis to support the Sourcing Director to enhance category sourcing and margin improvement.
What I like the most about my current job is the opportunity to create and meet new challenges almost every single day. I have the opportunity to look at the company's sourcing & procurement operations from a global perspective and provide analytical support to senior management in making strategic decisions.
After completing my MBA study I have successfully transformed my career from logistics management to sourcing and supply chain management. The CityU MBA has equipped me not just with the skills and knowledge required as an analyst, but also the tools to solve big problems through creative insights that inspire, engage and empower others to make a difference in their career.