BBA Marketing student
Natiss Suen
Natiss won the "Shadow a CEO Programme" organised by Classified Post. She was offered a chance to job shadow Ms Bonnie Chan Woo, Chairperson & CEO of Icicle Group Holdings Limited for three days in December 2018. Icicle Group is a cross-media branding and marketing company publicly traded on the Growth Enterprise Market of the Stock Exchange of Hong Kong.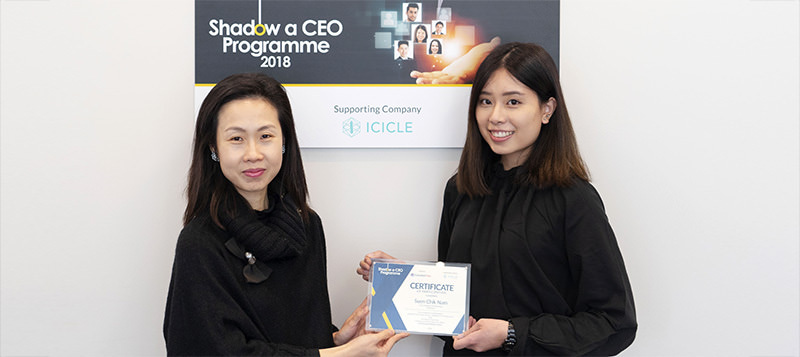 It was a unique and precious experience. During the 3-day job shadow programme, I was involved in different meetings and workshops including team presentations, vendor visit, video shooting workshop, as well as town-hall meetings.
I and my fellow members were assigned a task on the first day - to formulate and execute a 1-year marketing campaign for a sports brand which is new to the China market. It was truly a challenge for me as I did not have much knowledge of the brand or the China market. It made me a bit anxious as we had only 3 hours to do research before presenting the ideas to the senior management. Fortunately, we eventually presented the whole idea successfully. Though no one gave us pressure in this challenge, it was really a practical experience and I could really feel how managers work with tight deadlines every day, and how a company works and operates. 
Shadowing a CEO enabled me to think critically from a manager's perspective, and enhanced my leadership skills at the same time. These are essential elements that we need to equip ourselves with before stepping out into the real business world. I am so grateful to learn from Bonnie, a great and outstanding leader. Bonnie's story has given me lots of inspiration, and I do hope one day, my success story can also inspire others.