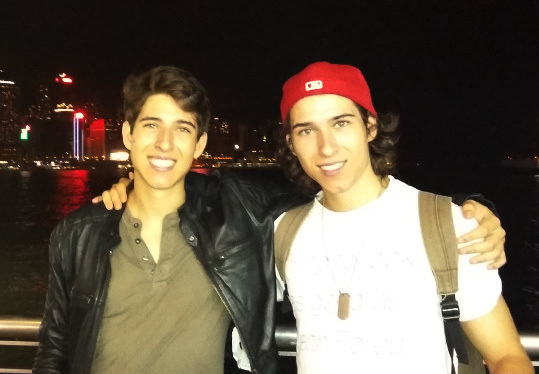 Exchange students
Stefan & Martin Florea
(Twins Stefan and Martin Florea were exchange students from our partner, Goethe University, Frankfurt, in 2015. Here they share impressions of their time at CityU.)
Stefan Florea
A magic diversity
Stefan Florea
Exchange student
My semester at CityU was my second time in Hong Kong – since I had completed a two-month internship in Hong Kong earlier in the year. That had sparked my interest, and as I was really excited about Hong Kong I decided to spend more time and further explore this astonishing city. I was lucky to get the opportunity from my home university to participate in an exchange semester at CityU.
When I arrived in Hong Kong for the first time I was really confused. I had never been in Asia before and also never been in a metropolitan city comparable to Hong Kong. I was shocked by the vast number of people walking on the streets, but this also fascinated me because I could really feel the life and the vibe of the city. At CityU, after I introduced myself and made the first step, my student colleagues were particularly friendly and offered to help me in many situations. I also got to know my fellow students when I joined the university football team. I was basically the only exchange student in the team and after each practice we went for dinner together. My teammates brought me to several local spots and I really treasure the experiences and the insights I gained into local culture.
Hong Kong's diversity was particularly appealing. When I had a free day, I could decide if I wanted to go to the wonderful beaches, go shopping in a big city centre, go hiking in the beautiful mountains or visit some tourist attractions like the Big Buddha. Or do all of this on the same day! This is only possible because Hong Kong has great infrastructure and is amazingly compact. I believe that this is the main reason for Hong Kong's magic.
Overall, the difference in Hong Kong between rich and poor people shocked me. The contrast between Ferraris in Central and Filipino housekeepers sitting on the ground on Sundays was tremendous. But to put it in a nutshell, Hong Kong is a very special city and I am more than happy that I could work and study in this fascinating metropolis and dive into the local culture. I have never seen a city that offers so many possibilities and I will definitely come back some time.
Link: https://www.cb.cityu.edu.hk/CityBusinessMagazine/2016-spring/en/a-magic-diversity
Martin Florea
Stay slim – Keep eating!
Martin Florea
Exchange Student
A number of things surprised me about Hong Kong. Firstly, the teaching methods at CityU are different from German universities where the focus rather lies on theoretical approaches. In contrast, CityU focuses a lot on group projects to foster social and team-working skills and I really liked this more hands-on approach, where I could learn a lot.
I was also surprised by how bureaucratic Hong Kong is. Although I come from Germany, which has a reputation for being bureaucratic, Hong Kong takes things to a new level! It started with the course selection, where I had to complete multiple forms, and continued at the airport where they did not let me onto my plane back to Germany at first because my carry-on baggage was too big. The exact size had to be measured.
I want to mention how much people enjoy eating. Although they all have very slim bodies, they see eating as a hobby and eat very extensively! I still remember how I was on the way to a dim sum restaurant with Hong Kong friends and how they complained about the short time that the table was reserved for us. In fact, the table was reserved for one and a half hours and they told me that they always need a lot of time when having dinner. Whereas it is common in Germany to order your complete meal before starting to eat, Hong Kongers order new dishes while they are eating, which might explain why they need more time for dinner.
Altogether, I am very grateful for my wonderful time at CityU and I think that everyone should visit Hong Kong at least once. It is a life-enhancing experience that I can only recommend.
Finally, we would both like to thank our home university, Goethe University in Frankfurt, Germany, for fostering students to pursue semesters abroad and for making our exchange semester possible. We would also like to thank Miss Ada Kwok, who facilitated our semester in Hong Kong enormously, as well as the Christa & Norbert Walter Foundation and the German Academic Exchange Service who supported our exchange endeavor.
Link: https://www.cb.cityu.edu.hk/CityBusinessMagazine/2016-spring/en/stay-slim-keep-eating