Joint Bachelor's Degree Programme
The Joint Bachelor's Degree Programme in Accountancy between CityU and National Taiwan University (NTU) was launched in 2012 and the first batch of students is graduating in this academic year 2015/16. Five outgoing CityU and four incoming NTU students spent two years at NTU and CityU respectively in the academic years 2013/14 and 2014/15. The first batch of graduating students from this programme is as follows:
| No. | CityU Outgoing Students, Year 4 (2012 cohort) |
| --- | --- |
| 1. | CHAN Hoi Mei |
| 2. | FAN Sum Yi, Ashley |
| 3. | HO Lok Hei |
| 4. | LEU Lok Man |
| 5. | YIP Yan Yi, Phoebe |
We were honoured to have some of them to share their experiences of the programme.
CityU Outgoing Students
CHAN Hoi Mei | Year 4 (2012 cohort)
Dual Degrees, Double Opportunities
School life is so different in Taiwan. In NTU, there are about 400 clubs and societies for students and many of them hold regular activities and gatherings. I joined the Cocktail Club and Chang Hong Martial Arts Club. I made many friends, joined different competitions and traveled around Taiwan. I remember our martial arts training in Green Island where we went snorkeling and took a hot spring bath.

The opportunities provided by this programme were far beyond my expectation. In the winter break of Year 3 in Taiwan, I worked in Deloitte Enterprise Risk Management for two months. In the summer holiday, the NTU Accounting Department directly nominated two of us dual degree students for an internship at KPMG's Taipei Office. Back in CityU, the AC Department organised different workshops and training to improve our résumés and interview skills, and to get us well-prepared for job-hunting. Thanks to the resources and opportunities provided by both universities, I have been doing well in job searching and had some ideal offers.
| Right after the Semester B examination, we were invited back to NTU to attend the graduation ceremony. After the ceremony, it was time to take photos with friends and relatives in the campus! | |
| --- | --- |
NTU has a long winter break that last for more than a month. This gave me the chance to work in two internships (summer and winter) in one academic year.

FAN Sum Yi, Ashley | Year 4 (2012 cohort)
Precious Learning Experiences in Taiwan
Hello everyone! I'm Ashley from the CityU and NTU Joint Bachelor's Degree Programme.

I was attracted by the opportunity to enrich my university life by spending two years at NTU in Taipei. I was able to have plenty of time to explore the whole of Taiwan and understand the core values of Taiwan more deeply, and enhance my language skills. This cannot be achieved by joining exchange programmes for only one semester. I believe that Mandarin is essential for job searching in Hong Kong and helps us stand out from other applicants, so I decided to choose this programme. I have never regretted it despite the numerous challenges I encountered in Taiwan.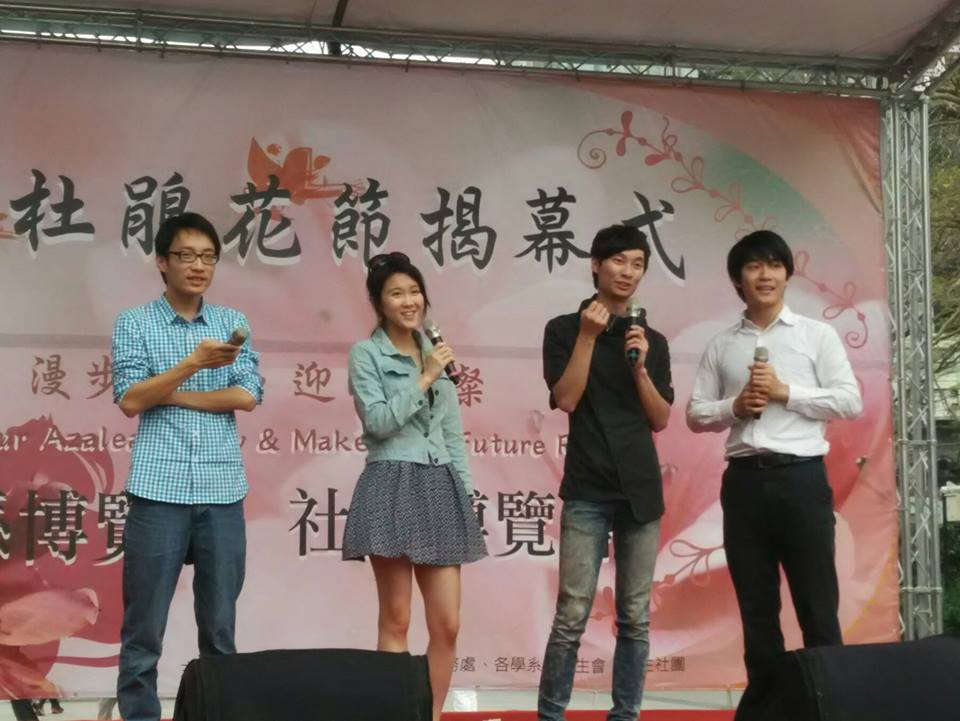 During my two years in Taipei, I worked as a voluntary primary school teacher and hosted the NTU Azaleas Festival. I was so delighted that my Mandarin showed obvious progress and was recognized by NTU. The challenge was experiencing a lot of cultural conflict when teaching the primary students there.

NTU is one of the best universities in Taiwan with outstanding students and excellent teaching teams. Students work very hard for their exams, projects and assignments. They do extremely well in exams. The campus is amazing too. The buildings and facilities are of classic designs. Although it took me two hours to walk around the whole campus, biking every day in the campus was really enjoyable! I was most impressed by NTU's library. Apart from its adorable appearance, it has many self-study seats and a multi-media lecture hall. What's more, I fought against eight exams there. In contrast, CityU adopts quite a lot of advanced technology and provides comfortable lecture halls. Therefore, I have had polarized learning experiences during these four years.

NTU Incoming Students
Four Taiwanese students, Iting, Jennifer, Peter and Titus, were sent from NTU to study at CityU to complete the Joint Bachelor's Degree Programme. After four years of studies, they obtained a dual Bachelor's degree. To enroll in this programme, they had to work extra hard on their GPA and prepare for the TOEFL exam. We are glad to include their joint experience of their studies, especially during their two years at CityU.
| No. | NTU Incoming Students, Year 4 (2012 cohort) |
| --- | --- |
| 1. | CHANG Yu Chen, Jennifer |
| 2. | CHEN Kuan Wei, Peter |
| 3. | LIN I Ting, Iting |
| 4. | YUAN Chu An, Titus |
Precious Learning Experiences in Hong Kong
Truth be told, it was not great ambition that drove us to join this programme, but a simple idea to try new things. We wished to experience an entirely English learning environment, have more interactions with students from all over the world and gain more exposure to this international city. We believed the more we explored uncharted waters, the faster we could learn and grow. For most of us, it was the first time to study abroad and to lead a life outside Taiwan. Therefore, we had some concerns about the culture and language difference, the cost of living, accommodation and healthcare services, and the arrangement of the school curriculum and credit transfer. Fortunately, most of the concerns were resolved with the help of the accounting teachers and fellow students.

The learning environment in Hong Kong was different. The semester was much shorter here (13 weeks) than in Taiwan (18 weeks). We had more presentations and discussions in class and the courses were all conducted in English, which created more opportunities for us to cooperate with not only local people but also other international and exchange students. CityU also offered some interesting courses in which we got the chance to start our own imaginary business. We did not merely come up with ideas but also made detailed plans for putting them into practice. We analysed the strengths and weaknesses of our imaginary business, the opportunities and risks in the market, and even forecasted financial statements. We spent a lot of time together on these kinds of project, making us a better problem-solving team.

Sometimes, we discussed whether we regretted deciding to participate in this joint degree programme and most of the time the answer was "no." Although we had some unpleasant experiences along the way, we thought it was worthwhile and the difficulties have become valuable experiences that made us unique. This programme made up half of our university life and was an unforgettable journey for us, no matter where we are and where we will be heading in the future. Most importantly, we will always have a special place in our hearts for this wonderful memory.