Student Competitions
Name

Cohort

Award

CHAN Hiu Wa, Lydia

2013

AC Department Best Intern Award (2014/15)

BDO Best Intern Award (2015/16)

DUAN Yanlin, Alan

2012

Member of the winning team and Best Video Award in CIMA Global Business Challenge (GBC) Hong Kong 2015

YEUNG Sz Wing, Louise

2015

Member of the champion team and Best Team Spirit Award in ACCA Hong Kong Business Competition 2015

YIP Yan Yi, Phoebe

2012

The Champion of EY Young Tax Professional 2016 Competition

ZHAO Yiting, Tina

2013

Joseph's Catering Service Ltd Outstanding Student Leader Award (2015/16)
Student Experiences
Thanks to the efforts of the faculty and teaching staff, the AC Department has been successful in nurturing the future pillars of society. AC students are always highly regarded by both internal and external parties as they work diligently throughout their academic pursuits. This year, we have invited several students who have demonstrated outstanding performance in out-of-class activities and competitions to share their stories with you.
CHAN Hiu Wa, Lydia | Year 3 (2013 cohort) | Accounting Scholars Programme (ASP) Member
Two Internships in Four-year Studies

Hi all! I am Lydia Chan. The AC Department always exposes students to different learning experiences and helps us identify career perspectives. We are always given opportunities to work as interns and attend different workshops. I have undertaken internships in the Inland Revenue Department (IRD) and BDO Limited during my university life. I also had the chance to work as a leader in a peer-assisted learning scheme using supplemental instruction (PALSI), giving tutorials to Year 1 and 2 students. I was not only able to consolidate my accounting knowledge but also help others achieve good results.
I am so grateful to the College of Business and the AC Department for offering so many learning opportunities and resources to students. I would like to take this chance to thank all the teachers, family, mentors, classmates and friends who assisted me along the way. Because of all your efforts and unfailing support, I received both the AC Department Best Intern Award 2014/15 and the BDO Best Intern Scholarship Award 2015/16. I believe that as long as we have a positive and proactive attitude, and have persistence and passion for what we are doing, we can all fly high and make significant achievements. I am glad that I made the right choice and I enjoy what I am studying now.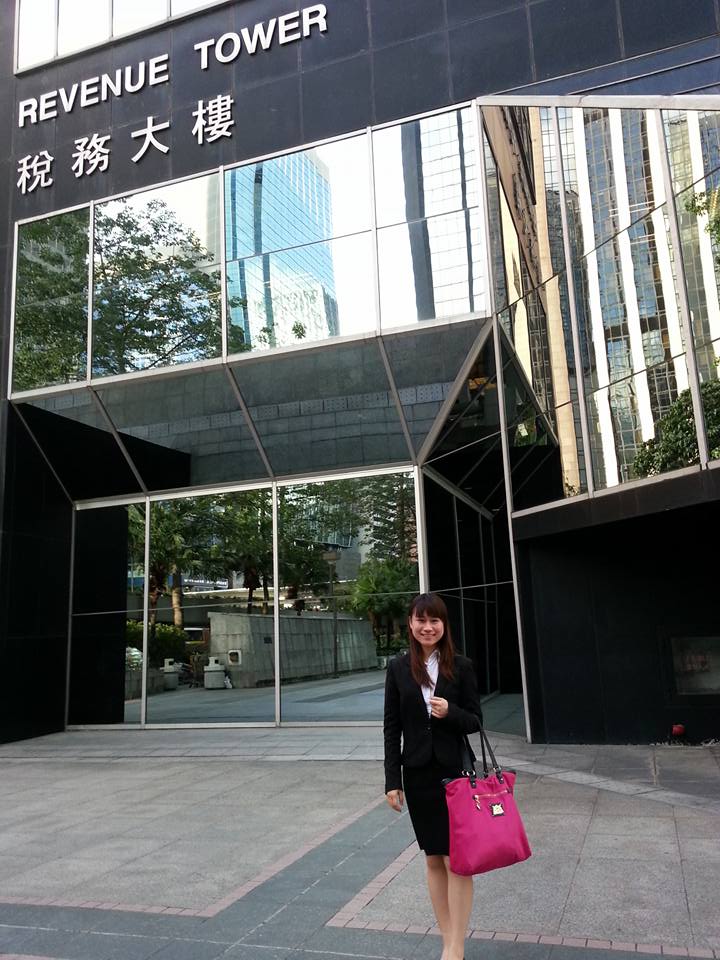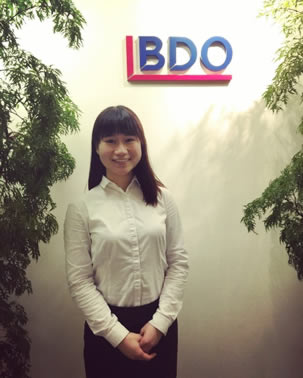 DUAN Yanlin, Alan | Year 4 (2012 cohort)
The Unexpected out of the Expected
Hi everyone, I am DUAN Yanlin, Alan, a fresh graduate from the AC Department. It is an honor for me to share my stories of the past four years with all of you.

Two years ago when I declared Accounting as my major, I never expected that my learning experience would be so fruitful and rewarding. I thought I would be learning in a traditional classroom setting, listening to a lecturer talking, taking notes and finishing my homework. However, I was totally wrong—this is not the right way to learn as a business student, nor is it the way that the AC Department helps students grow. Future business leaders need to obtain not only solid technical skills, but also a global perspective, great communication skills, ample industrial experience and leadership. These attributes simply cannot be learned in class. That is why the Department offers lots of outreach opportunities and I am lucky to have benefited from many of them.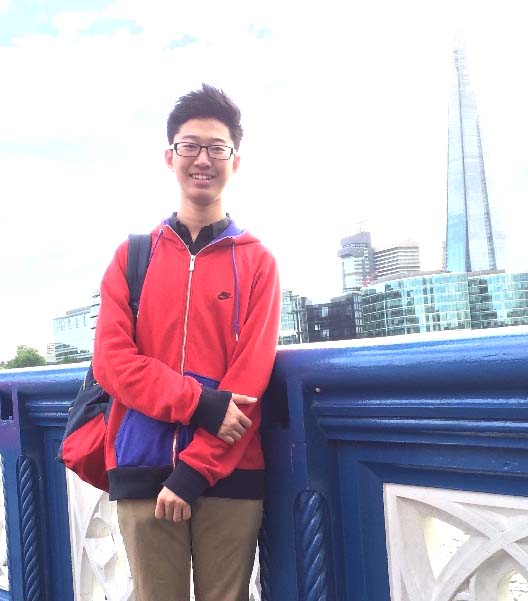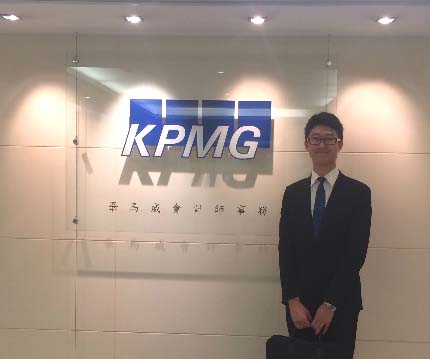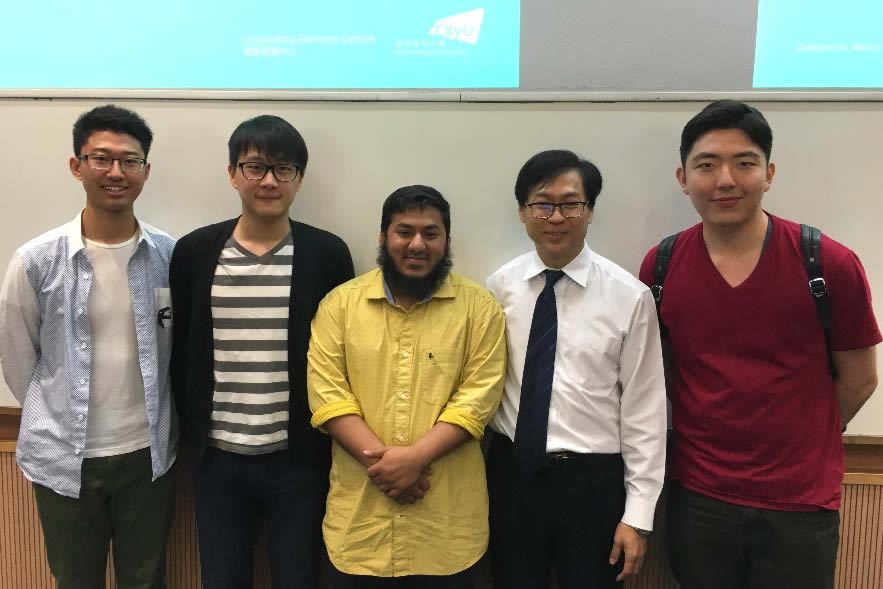 Unforgettable Experiences
For example, throughout my study, I joined the departmental study tour and spent a summer vacation in mainland China and had a taste of university life there. I also went to a great school in the USA for an exchange, and I was even selected to visit the UK, Germany and Luxemburg for 7 days! Needless to say, my spoken English improved rapidly. Additionally, the culture, food, and scenery in those countries and my encounters during my travels have all become discussion topics in my subsequent networking events and interviews.

Another life-changing activity that I want to share is my experience in the 2015 CIMA Global Business Challenge with three other brilliant teammates. Although it has been a year since then, I can still remember those days and nights four of us rehearsed for the presentation, revised our slides and prepared for the Q&A. The thing that moved me the most was the support I received from my teachers. Our mentors, Mr. David Yip and Dr. Stephanie Tsui worked extra hours late at night to give us feedback and comments. Mr. Yip also invited professors from the English Department and College of Business to do a mock Q&A with us. To me, it felt like the whole Department, and even the whole university, was working together to help us achieve our best. When we finally got to the Hong Kong Championship, we sincerely believed that without the assistance from different parties, we would never have had a chance to represent Hong Kong and compete on the global stage.

Useful Tips for Readers
If I were asked to give advice to my readers (other than choosing the AC Department as your home department), it would be "Be proactive! College is very different from high school." As I mentioned before, there are many opportunities for you to seize, but you need to plan wisely and start early. If you manage things well, you can do an extra minor (even a double major), attend study tours, go for exchanges, join internships at Big-4 accounting firms, be an active volunteer, join your favorite student club and shine in open competitions—all at the same time! The best part about the AC Department is that you are always encouraged to learn outside the classroom. There are many resources for you to utilize, and everyone in the department is there to be your advocate. Find your own potential here and keep challenging yourself. When you graduate, you will find yourself equipped with state-of-the-art business knowledge, a mature mindset and strong soft skills. At that time, you will have successfully differentiated yourself from all other graduates and a prospective career is waiting for you. Good luck!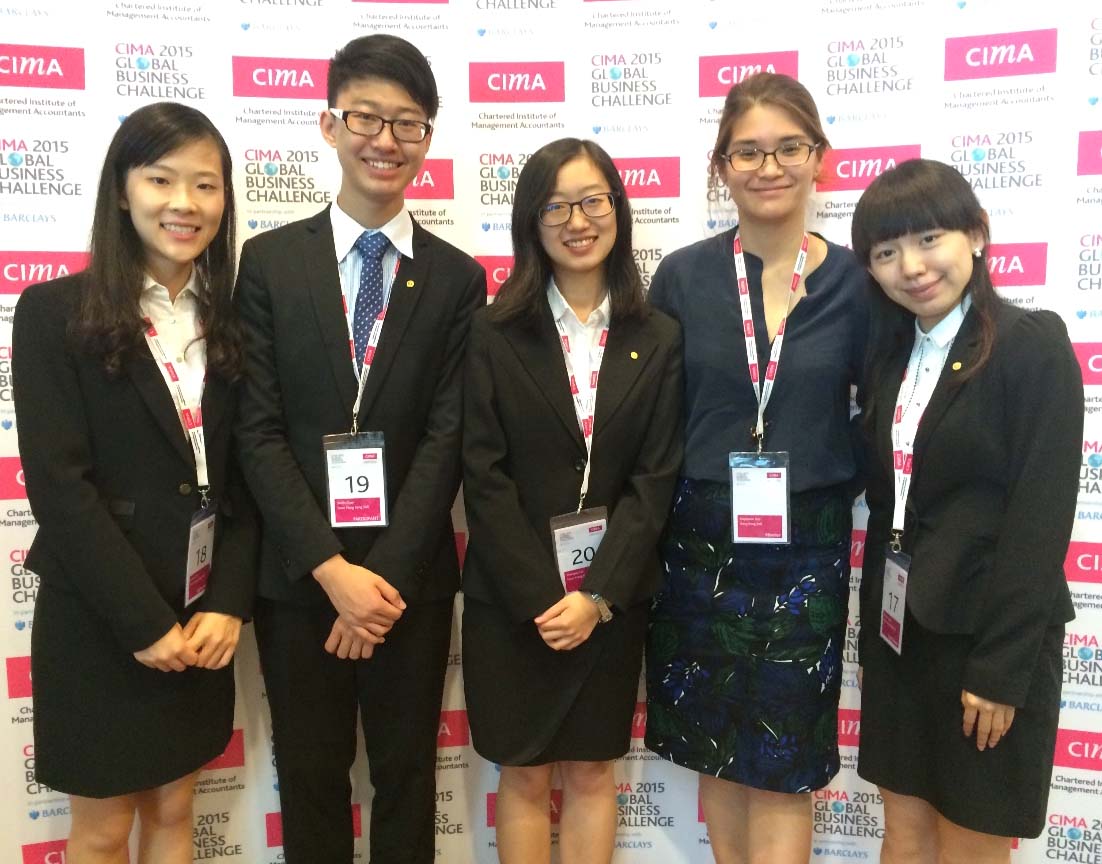 YEUNG Sz Wing, Louise | Year 2 (2015 cohort)
From Inspiration to Innovation
My name is Louise Yeung. I am a committed person who loves to pursue excellence and application of academia. That's why I participated in the ACCA case competition, so I could learn through teamwork and apply what I have learned in class.
In November 2015, I joined the ACCA Hong Kong Business Competition. Each team had to suggest a sustainable business model to build a better society for a particular group of beneficiaries. Our team was required to put our business model into practice. This was the first time that most of my teammates had taken part in a business competition. When participating in this case competition, we spent most time on brainstorming ideas. After all, we had to come up with a creative business model that was sustainable for social well-being. During the competition, we were so glad that we had the support of AC professors.

We proposed to set up the Empowered Advisory Services from Youth Limited (EASY), a non-profit company limited by guarantee. We were inspired by the difficulties faced by low and low-middle income people looking for efficient help with public administration, legal and accounting issues. These difficulties include prolonged, complicated application procedures, the long wait for government legal aid and the short duration of booths set up by accounting firms to give tax advice.

YIP Yan Yi, Phoebe | Year 4 (2012 cohort)
Gains from Competitions

My name is Phoebe. I am one of the first batch students to study the Joint Bachelor's Degree Programme in Accountancy with National Taiwan University (NTU). I declared my major in Accountancy in Year 1 and studied in Taiwan in Years 2 and 3. I always love to take on new challenges for training and self-enhancement. In secondary school, I had already joined open competitions such as speech competitions. During my study in Taiwan, I also competed with Taiwanese students in presentation competitions. When the EY Young Tax Professional 2016 Competition was introduced, I wanted to take part in it as it was related to my accounting profession in taxation. I hoped to grab the opportunity to revise and examine my knowledge in tax.
The competition provided me with an opportunity to become more familiar with tax, tax-related business and current tax affairs. My professional skills and communication competencies have been enhanced. I was honored to be the champion in the competition final. This achievement has given me the opportunity to raise my consciousness of tax and to launch my career in the tax profession. The award also serves as a solid recognition of my efforts. Now, I am more confident and have the faith to achieve more in the future. Moreover, I was offered the chance to participate in the national competition in Shanghai. I engaged with excellent students in China. By sharing experiences with them, I gained insights into other students' learning practices, and the international development of the tax profession.

Despite being the champion in the competition, I did encounter obstacles in my studies. I remind myself not to give up and to strive for whatever it takes to accomplish my goal and dream. You will have your harvest.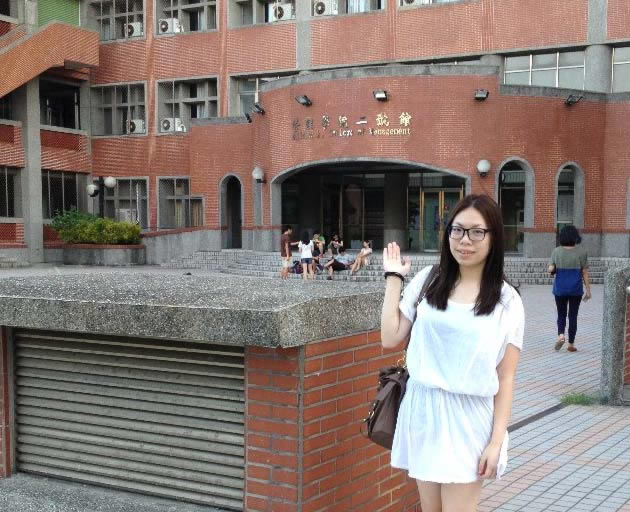 ZHAO Yiting, Tina | Year 3 (2013 cohort) | Accounting Scholars Programme (ASP) Member
Nicest Professors and Teachers in the AC Department
Hey! I am Tina. During my studies in the AC Department, I always had prompt and useful advice and responses from professors and officers in the Department. My friends and I believe that we really met a group of the nicest professors. They are caring and strongly support their students, so we never hesitated to turn to them for suggestions on either academic questions or career choices. Also, a variety of programmes in the Department, including internship programmes (LIP and SIP) and the training programme (ASP) are very attractive because they are invaluable for students' professional development.

I especially appreciated Dr. Yuyan Guan, our lecturer, who spent her lunchtime helping us despite her busy schedule. I also recall an information session about career choices hosted by Mr. David Yip, in which I was encouraged to take the initiative to gain necessary accounting skills. Ms. Mimi Lai, my internal mentor, took good care of my personal development, so that I was motivated to initiate activities and workshops in the student residence.

A Rewarding Life at CityU
Last year, I was awarded the Alumni Civility Hall Scholarship because I actively played my role as a hall artist to decorate the public area, acted as a representative for joint-hall sports competitions, and was an organiser for cultural experience activities. Although the work itself, together with preparation and training, consumed a lot of time and energy, it also improved my interpersonal skills so that I can get along with different people very well and even practice my Cantonese. This year, I further explored my leadership potential by holding a beauty workshop. The Outstanding Student Leader Award granted by the Student Residence Office also proves that I understand the diversified needs of my peers so I can suggest appropriate solutions to them. Apart from residence life, I participated in the exchange programme to McGill University in Canada in which I had to work on a research project on the luxury watch industry. I played a role as a consultant to provide strategic solutions to the firms. Thanks to the opportunity provided by the exchange, I have learned to adapt quickly to new environments. I treasure all learning opportunities and experiences as an AC major as they are essential for my short-term career preparation and long-term personal development.
| | |
| --- | --- |
| | |