[ 中文版本 ]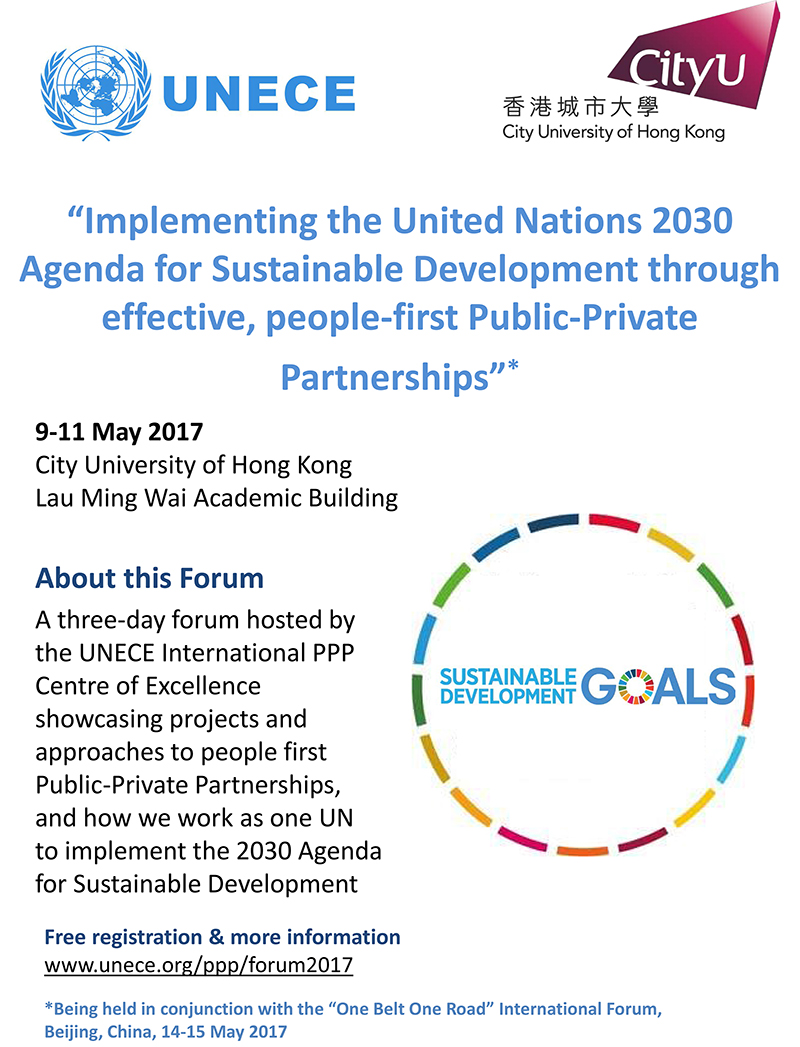 Organizer
United Nations Economic Commission for Europe (UNECE)
Collaborating organization
City University of Hong Kong (CityU)
Date
9-11 May 2017
Venue
WCLHY Hall, 5/F, Lau Ming Wai Academic Building, CityU
Objective
One Belt One Road is a development strategy and framework launched by the Chinese government in 2013 that focuses on enhancing connectivity and cooperation among some sixty countries along the Belt and Road routes. Under this goal, the investment on infrastructure such as cross-border railroads and ports lies at the centre of the OBOR initiative, and PPPs emerge as a natural choice for such large-scale infrastructure projects. Therefore, a profound understanding of PPPs is vital to the success of the OBOR initiative.
This three-day forum hosted by the UNECE aims to promote international PPP standards and best practice, exchange PPP experiences, and showcase projects and approaches to people-first PPPs across different SDG related sectors, in support of UN's Sustainable Development Goals.
The Forum will also serve as a platform for teams and government officials to meet and find ways to enhance the implementation of PPP projects in their countries.
Main Topics
The Forum will discuss:
The ways and means of implementing its existing standards , such as Zero Tolerance to Corruption in PPP procurement and finalizing the ones still to be completed, such as the Standards on PPP in renewable energy, water & sanitation, and in rail.
Looking into how the PPP can foster other critical programs in the 2030 development Agenda. A special session will be devoted to the role of PPP in the Empowerment of Women.
Special High Level Debate / Topics
The Forum will feature a Special High Level Debate entitled "How can the international community support China to operationalize its OBOR initiative and develop best practice on People-First PPPs?" to explore the role of PPPs in promoting China's One Belt One Road (OBOR) initiative.
Speakers and audiences
UNECE officials, government officials from 56 UNECE member countries, academics from higher education institutes and professionals from public organizations and private enterprises worldwide who have an academic interest or professional needs to learn more about international PPP standards, PPP operational issues and other substantial related topics, and develop a network with PPP personnel for idea exchange and possible collaborations.
Free Registration
This Forum will be held in conjunction with the Belt and Road Forum for International Cooperation, Beijing, China on 14-15 May 2017, under the auspices of the UNECE.
---