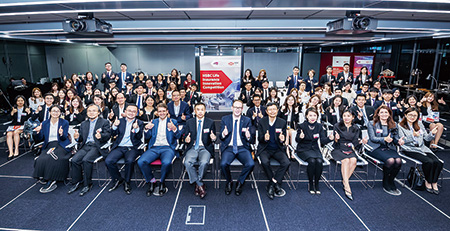 The first ever HSBC Life Insurance Competition, in early January, gave students a chance to showcase their innovative ideas for insurance products and services, ultimately aimed to increase customer satisfaction.
Ten shortlisted teams with a total of 47 students from various universities competed for prizes in the Innovation and InsurTech categories. Apart from cash prizes, HSBC Life also offered ten internship opportunities to qualified winners and would consider implementing outstanding ideas from students.
Professor Houmin Yan, Acting Dean of the College, said, "This competition offers students an interdisciplinary learning opportunity and encourages them to unleash their creativity for original discoveries. What will be the biggest innovation in the next ten years? We are counting on you (students) to make it happen."
Kelvin Cheung, Business Operations Management student from the College, joined his fellow members from other universities to form Team M.O., which won the Innovation stream. He said that the competition was a valuable opportunity to learn about proposal composition, idea-pitching and working in a rather diversified team, which included students with different backgrounds and fields of study.
Sponsored by HSBC Life, the competition was jointly organised by the Business Career Development team, the Department of Information Systems and the Department of Economics and Finance of the College of Business.