Richard Li Tzar-kai, is a leading Hong Kong business person who founded Pacific Century Group, an Asia-based private investment group with interests in financial services, technology, media & telecommunications and property in 1993. Mr Li visited the College of Business in November 2019, and talked on "Life as an entrepreneur in Asia" to students of the EMBA+MPA programme.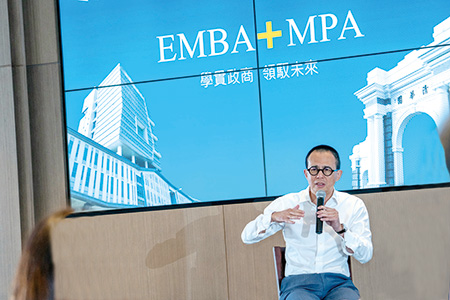 You started Pacific Century Group back in 1993. What gave you this belief in Asia?
In terms of GDP per capita compared to the many countries, at that time Asia was way behind. I felt Asia with all its energy and institutional reforms would catch up with the rest of the world. That was my belief back in 1993.
How do you pick industries and countries for your ventures?
Back in the nineties, if you looked at the whole of Asia and if you drew a poverty line, you would see a big sand dune of people just under the line of subsistence and wanting to get past that line. So, we chose to go into media. We collect advertising revenue, and the distributor collects subscription fees based on their infrastructure distribution. The cost to the consumer was about 70 cents US$ per month, enabling a rise from a very small amount of entertainment choices to gain access to roughly three times their average TV choices. We were offering a first taste of international entertainment at a very affordable price.
Fast forward to the second phase after the millennium, we saw central bankers around the world raising interest rates, and tightening monetary policy in the late 80s but reversing the actions after the 1997 Asian financial crisis. In an inflation-led economy, real estate infrastructure was the name of the game. It was not very difficult to execute, the barrier of entry was very low although in different places you had a non-level playing field. So we were exposed but never head over heels on real estate investments.
In the third phase we moved into insurance. Throughout south east Asia you have a very young population with a huge burgeoning middle class. When that sand dune comes up above the subsistence line, you have enormous buying potential. So, we thought insurance was one of the many items that this middle class would like to have for their families.
Is there such a thing as a Hong Kong spirit of entrepreneurship?
In most countries when GDP rises to a certain level, unfortunately entrepreneurship and risk-taking get slower. There are exceptions in some areas with very high disposable income. In Switzerland, Singapore, and the US you still see high GDP along with an active culture of entrepreneurship. It is related to safety nets. In the US or in China if you fail in the cities, there is always countryside that you can move into with much lower cost of living. In Hong Kong I still see a lot of entrepreneurs, a lot of drive, but I think the cost of living is a big deterrence factor here.
How to plan the best way to grow or sell a business?
I have had the luck of purchasing companies with normal growth, where with the replacement of two or three key members out of a team of say 20, the company could be transformed within 12 months. I have also had the experience of purchasing companies with a company culture that I estimated would take three years to fix, and in the end took more than double. So I think that it is virtually impossible to do due diligence on corporate culture, especially if they are old enterprises. I think mergers and acquisitions are overrated. If you have people on hand that you trust at the time of an M&A who had been working in the target company for a while, then you have just done three years of due diligence, that is good but it is hard to come by. I am not offering an answer, just sounding a risk warning!
You own diverse businesses from telecom, to media, and insurance. What is your vision for the future?
With the telephone company there are two components, retail and wholesale. In the latter we are very competitive, we are top five in the business worldwide. In the retail business, which is very much localised businesses within most countries, you would put in the capital and spend it. Then the country may come back to you and change the rules and the investment may be lost. So our strategy on onshore telecom infrastructure, unlike others areas, is that we do not believe it should be a regional business. With insurance, apart from Japan we are growing at over 25% compound pretty much every year for the past five years.
How competitive is Hong Kong in nurturing entrepreneurship compared to other Asian cities?
I feel we focus too much on entrepreneurship. We should look more closely at local human resources. I believe, with the exception of Japan and China, companies in Asia struggle to identify good managers in senior management who have the ability to manage, say, 5,000 people to 20,000 or more. That level of senior management is really lacking. We have them but not enough.
Can you share some examples of long-term thinking?
If you look at private equity, it is believed that the trend changes every five to seven years. But when you have a change of industry or strategy the friction is very costly.
So, if you can find a product or service that is good for the next 20 years, I believe that is where everyone should be aiming. The friction cost of buying or selling companies, changing industry, recruiting new teams has been far higher than one would expect. If you can grow at 15% compound growth per annum, compared to variable growth of say 30% one year and zero the next, you will see that the 15% compound growth is not a bad result.
Can you share your opinion on symbiosis?
You have symbiosis within an industry, in the insurance business or in banking. Of course, within every ecology you wish that everybody would have a high hope of making good money, so that they can distribute a greater number of products. But it is difficult to control. An example is the insurance business in Japan. One of the crucial sales channels is independent financial advisors, so called IFAs, but how they behave is uncertain. They may behave more aggressively than the population would wish and then the regulator may step in. We can only advise but not control.
If you were starting out as an entrepreneur nowadays, which sector would you choose?
If I were 30 years old, I would start up a human resources company, and I would like to do it to scale. The business model would be similar but different to the current head hunter firms. To hire someone wrong and then have to let them go, is an expensive situation. Nowadays human resources is a more difficult element to manage than, say, getting access to capital. I believe there is a much more equitable model available than the current practises of head hunting firms, but the stick and candy for that role would have to be a lot higher than it is today.