Champion Team in Chuang Qing Chu National Entrepreneurship Competition 2016

CHAN Yin Lam, Eli
BBA4 (2014 Cohort)
An Unexpected Journey

There is a saying that "you never know if you never try," and I now know that an unexpected journey can take you out of your comfort zone and straight into new frontiers.

The Chuang Qing Chun National Entrepreneurship Competition held in Chengdu was truly an unexpected journey. Thanks to the encouragement of our professors, as well as the support and advice from AC Department, we summoned the courage to enter the contest with the aim of promoting a harmonious neighborhood, and providing solutions to a current social problem in Hong Kong.
We named our project "Nanbor", an integration of "nanny" and "Neighbor". As many working parents have little time to look after their children while many retirees have more free time, we were inspired to develop an online platform to provide working families with babysitting services.
During the competition, we used a personal story that everyone could relate to, and we incorporated trending terms to show that our proposal concept was both novel and feasible in the current ever-changing market. That successfully made us stand out from others.
We drew inspiration from the other teams' projects and innovative ideas. The time we spent exchanging knowledge with other teams from various Chinese universities motivated us to improve by helping us realize our own shortcomings in the competition.
HUNG Sze Ying, Cherissa
BBA4 (2014 Cohort)
From Ordinary to Innovative

The majority of students think that entering a competition is a way to win a certificate and to enhance their CV. However, I believe that the process of generating innovative ideas, then planning and pitching the project results in something more valuable than a mere certificate.

I have to thank my Professor, Yanto who encouraged us to enter various competitions and eventually our group's idea was well recognized by professionals from various fields.

My fundamental advice to students who wish to participate in upcoming competitions is never simply repeat a school assignment. Unlike school assignments, innovation is not only about personal achievement, it is also about the ideas you can bring to society. If you treat your competition proposal as a business that is going to be launched in the market, you will discover the incredible potential of your idea.

Dare to dream. Treasure every opportunity to showcase your idea, and you will learn and grow during the process.
Champion Team in HSBC/HKU Asia Pacific Business Case
Competition 2017

LAU Tsz Ching, Joyce
BBA4 (2012 Cohort)
Challenging but Enjoyable Experience

Participating in the HSBC/HKU Asia-Pacific Business Case Competition was one of the best experiences of my university life. It was challenging but very enjoyable. We had the chance to meet elite teams from all over the world and share our thoughts. What I enjoyed most was solving the cases together with my teammates and continuously learning from our coach and from other teams.
During the competition, we experienced significant stress and time pressure. We had only 2.5 hours to read each case, analyze the real-life problem faced by the company, and propose a strategic plan to solve those problems without the aid of any electronic materials. We were then required to make a 20-minute presentation to a team of three judges.
We worked extremely hard throughout the semester. We practiced on our own in a small classroom and presented our proposals to the professors. We reviewed our performance with the trainers and identified areas in which we could improve. Hard work and continuous improvement have helped us triumph over some of the best teams in the world.

I would like to take this opportunity to express my sincere thanks to our coach, Dr. LEUNG Ngai Hang Zachary and all of the other trainers. I definitely recommend that AC students join this competition next year!
Top 10 Team in World Asian Case Competition 2017 (WACC 2017)

MOK Tsz Kwan, Rannia
BBA4 (2014 Cohort)
Success in the World Asian Case Competition 2017
As an accounting student at City University of Hong Kong, I have been given many excellent opportunities in joining extra-curricular activities. Inspired by the career workshops organized by the Department of Accountancy, I have been determined to get more exposure in the business field. After receiving an e-mail from the Department promoting the World Asian Case Competition 2017, Sharon and I decided to take up the challenge.
Put simply, the competition focuses on research into soaring Asian brands. Participants are required to provide several suggestions for a chosen Asian brand by analyzing how the brand overcame its hard and critical moment. Hence, analytic skill is of the utmost significance in the competition. I cannot describe the competition as difficult, but it was definitely time-consuming. For my team, one of the biggest challenges was time management—we conducted deep-dive research into various Asian brands, studied their histories and picked the most remarkable one as our topic. We found many renowned corporations and firms and got to know more about their strategies, such as marketing and crisis management. We considered not only Hong Kong brands, but also Chinese and even Korean ones. We found that the business environment is ever-changing; to stand out in the market, we have to keep ourselves updated with timely business news.
Sharon and I had a wonderful experience sharing our thoughts and the story of a time-honored local Hong Kong brand on an international stage. I strongly recommend that CityU students join this competition, as it is a rare chance to speak in front of people from different countries and to share and exchange ideas.
Last but not least, I would like to thank the Department of Accountancy and my advisor, Mr. David Yip, for providing our team with constant guidance and support and always offering students many opportunities to enrich their university life and develop portfolios for their future career success.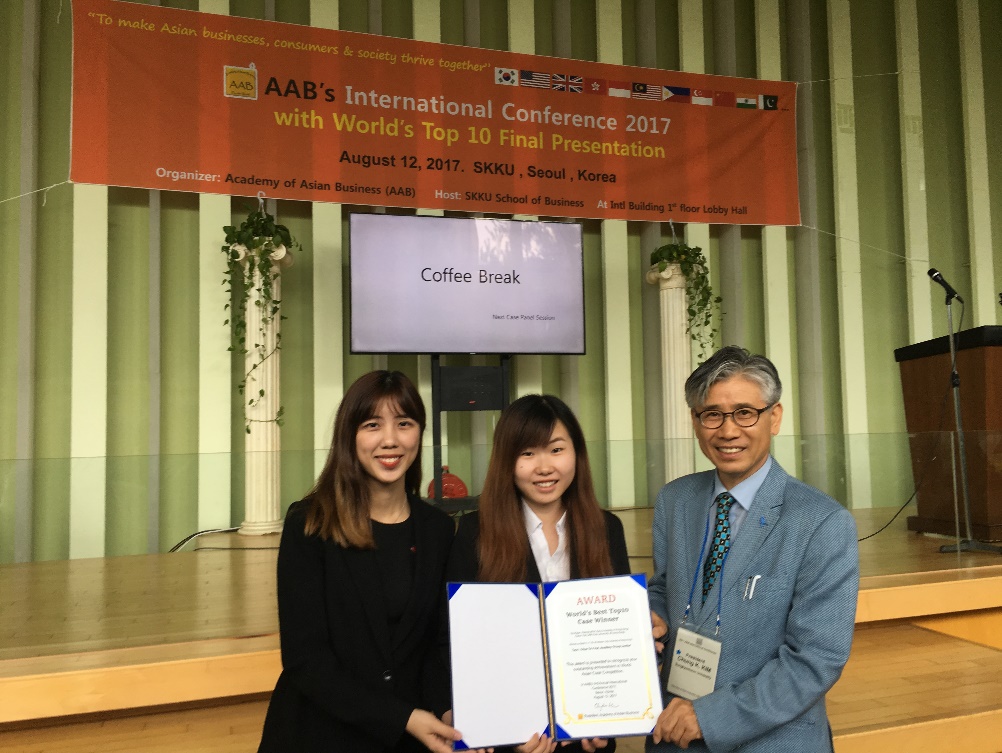 LAM Cheuk Yuk, Sharon
BBA4 (2014 Cohort)
Be Supportive

Given the influx of tourists, luxury goods have become a necessity in shopping malls.
We chose Chow Tai Fook Jewellery (CTF) as our topic in the competition so we could analyze how an unrecognized local Hong Kong brand soared after 90 years of striving. With the use of SWOT analysis, we have determined that an online-to-offline (O2O) strategy, an integrated business model and e-commerce are the key elements of CTF's success.
It was unexpected that we would reach the final and be pitted against students from well-know universities such as the University of Cambridge. The competition was stressful, particularly because we were up against strong opponents. Soft skills are critical to solving puzzles but stress can make things worse and create an unfriendly working atmosphere. I told jokes or shared interesting things with my teammate to maintain a harmonious working environment. We shared lots of laughter and joy, and I now miss those delightful days!
Although we only made the Top 10, the competition broadened our horizons. With the support of the AC Department we had the opportunity to attend the competition conference in Seoul, Korea. That was a great opportunity for us not only to learn about the company we chose but also to experience the competition.
I would like to thank the organizer, the Academy of Asian Business, and City University of Hong Kong, in addition to Mr. David S O Yip of the AC Department for the advice given. I would also like to thank the AC Department for partially financing our project. Finally, I would thank my teammate Rannia for helping to finish our project and rounding off our day in Seoul.