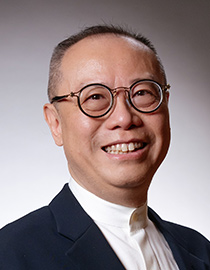 Prof. CHAN Lambert Lap Yip
陳立業教授
Adjunct Professor
12-256, Lau Ming Wai Academic Building, City University of Hong Kong
Biography
Lambert is a seasoned CEO with expertise in branding, strategic marketing, business development and operations management with over 35 years of proven track record in diverse range of highly competitive industries including luxury retail, telecom, tourism, banking and charitable organisations.
Prior to joining the CityU, Lambert had been the Chief Executive of UNICEF HK, accountable for fundraising for the needy children around the world as well as advocating the protection of children's rights and family friendly policies with the Government and various stakeholders in Hong Kong.
He had previously served on the Board of TSL Jewellery Group as the Executive Director and Deputy CEO where he strategised the repositioning and revitalisation of the 50-year old brand.
Before that Lambert was the Managing Director, Cards and Unsecured Loans at the DBS Bank (Hong Kong), winning two Gold and Silver awards from the EFFIE Marketing Award.
Lambert also contributed to the post-SARS V-shaped rebound of the Hong Kong economy, by orchestrating the various destination attractions and events promotion under the Global Tourism Revival Campaign when he served as the General Manager, Destination Marketing at the Hong Kong Tourism Board.
Lambert has been renowned for his creativity and strategic vision in brand building by launching and managing two award-winning businesses, "1010" and One2Free during his days at the Hong Kong Telecom (currently renamed as PCCW). He was also the youngest General Manager in the telecom sector in Hong Kong.
Besides holding a professorship in CityU, he also taught in the University of Hong Kong, the Hong Kong Polytechnic University and the HKU SPACE, Hong Kong Productivity Council and the PolyU Hong Kong Community College. He was also the Program Director, Asia Pacific Communication and Marketing Council of The Conference Board.
He is currently a Council Member of the Gerson Lehrman Group providing business management consultancy services to MNCs and corporate clients around the world. He is also serving as the Chairman of the Board of the Youth Global Network as well as being a Consultant in Enhancement for the New York Theological Education Centre.
Having a "Slash career", Lambert has been a columnist for Ming Pao, Hong Kong Economic Times and Capital Entrepreneur Magazine for many years. He has also been a part time radio host at D100 and Metro Radio Broadcast. In addition he is a well known Gospel singer-songwriter for over 30 years, having published over 10 albums and held many concerts in Hong Kong, Canada, USA and Australia.
Lambert graduated from the University of Toronto and furthered his studies at a number of world renowned academic institutions including INSEAD in France, Tsinghua University in China and Baptist College in Hong Kong.
Teaching Activities (past 6 academic years)
| Academic Year | Level | Title |
| --- | --- | --- |
| 2023-2024 | Bachelor's Degree | Global Business Consultancy Project |
| 2022-2023 | Bachelor's Degree | Business Case Analysis and Communication |
| | | Business Consultancy Project |
| | | Global Business Consultancy Project |
| 2021-2022 | Bachelor's Degree | Business Consultancy Project |
| | | Global Business Consultancy Project |
| 2020-2021 | Bachelor's Degree | Business Consultancy Project |
| | | Global Business Consultancy Project |
Administrative Assignments
| Period | Name | Position |
| --- | --- | --- |
| 10/2021 - Now | Global Business Programme | Deputy Major Leader |