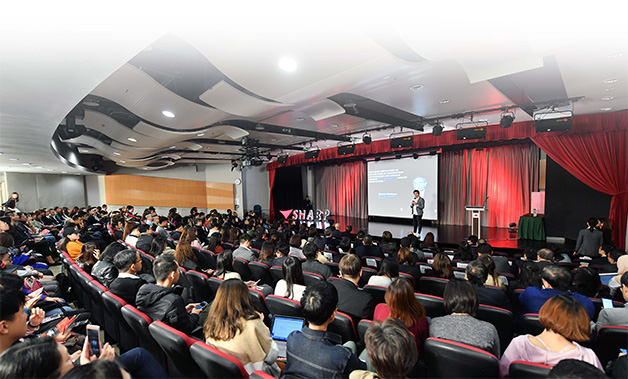 SHARP Forum is a thought-provoking platform where leading business experts are invited to:
Spread innovative insights;
Stretch beyond boundaries.
Upcoming Forum
Managing through Supply Chain Disruptions:
Innovative Solutions for Business Resilience
17 June 2021 (Thursday)
Preventing deliveries of the right products to the right customer at the right place in the right quantity at the right time in the right condition at the right cost, supply chain disruptions caused by unforeseen events (e.g., Suez Canal blockage) or catastrophes (e.g., COVID-19 pandemic) often pose substantial operational and financial consequences. How might companies mitigate the disruption risks with innovative strategies and smart technologies? Corporate leaders from various industries will share their experiences and advice.

Speakers: Bobby Liu, Co Co-founder & CEO, Milton Holdings; Ronald Iu, CE, Airstar Bank; Keith Ip, CMO, SF Express Hong Kong

Moderator: Henry Ko, Managing Director, Asia of Flexport

[More]
Past Forums
Catching the Digital Wave:
The Burgeoning Challenges and Opportunities for FinTech Talent Development
3 June 2021 (Thursday)
As a global hotbed for FinTech startups and scaleups, Hong Kong has seen a talent gap wherein supply for a myriad of skills required for digital transformation is not meeting demand. To prevent talent shortage, what are essential strategic imperatives for corporates? How should individual talents develop relevant core competencies to align with the resulting opportunities for advancement? Leading experts are invited to address these questions.

Speakers: Dr. Lucas Hui, Acting Co-CEO cum CTO, ASTRI; Jeff Tang, Partner, EY; Fred Ngan, Co-Founder and Co-CEO, Bowtie; Philip Tam, Founder, CryptoSX

Moderator: San Lee, Head of Talent Acquisition, ASTRI

[More]

[

Forum Video - Full Version]
---
Consumers and the New Reality:
Boosting Immunity against Competitive Threats with Digital Innovation
6 May 2021 (Thursday)
The restricted social lives amidst COVID-19 have prompted companies in service-oriented sectors, including retailing and banking, to stretch their digital capabilities to engage, enable and delight customers with minimum direct contacts. The capabilities, in turn, have increased consumers' reliance on digital channels, rapidly reshaping their behavior. Will such a reliance be long-lasting or ephemeral? Industry experts will discuss how to develop innovative and competitive channel strategies that align with new normal consumer behavior trends.

Speakers: Anson Bailey, Partner, Head of Consumer & Retail, ASPAC, KPMG; Calvin Ng, Alternate Chief Executive,Co-Head of Retail Banking, ZA Bank; Plato Wai, General Manager, SHOPLINE Hong Kong

Moderator: Luke Chu, Chairman, Hong Kong Internet & Ecommerce Association

[More]

[

Forum Video - Full Version]
---
Working Smart ATAWADAC:
The Emerging Trends of Our Future Workplace
11 Mar 2021 (Thursday)
Standing for "Any Time, Any Where, Any Device, Any Content," ATAWADAC is known to be the digital future of our office. For many corporations, upskilling employees to work ATAWADAC while maintaining effective collaboration and efficient productivity was desirable, but not a necessity until after the onset of COVID-19. Such a necessity has accelerated the development and adoption of smart office solutions. This forum invites leading industry experts to share their views on how to take full advantage of smart workspace toward the halcyon post-pandemic days.

Speakers: Aaron Yim, Managing Director, Ricoh Hong Kong; Guru Balasubramaniam Operations Director, Rentokil Initial HK; Jordan Kostelac, Director - Asia Pacific, JLL

Moderator: Mr. Eric Yeung, CEO and Co-founder, Skyzer VC Group

[More]

[

Forum Video - Full Version]
---
Turning Bugs into Buck$
Booming Opportunities of Farming and Eating Insects
11 Dec 2020 (Friday)
Is it true that insects can provide a solution to food shortage, malnutrition, and waste problems while creating economical and environmental benefits? To discover the answer and its implications to business venture opportunities and environmental sustainability in Hong Kong, industry and academic gurus will jointly share with you the bees-knees of insects. Don't miss out!

Speakers: Lucie Somé Founder Grazing Ltd.; Chan Ka Ming Director E Farm Biotech; Cristina Michelini COO Livin Farms

Moderator: Professor Olivier Sparagano Department of Infestious Diseases and Public Health City University of Hong Kong

[More] [Forum Video - Full Version]
---
Esports Ecosystem and Trends in Hong Kong
Win the Tournament in Business Arenas
26 Nov 2020 (Thursday)
Possessing enormous economic potentials with an unforeseen capability of connecting people from all over the world, esports have seen a rapid boom in Hong Kong. To harness the power of the virtual connectivity, industry experts are invited to discover the trends of esports ecosystem, explore the downstream business opportunities, and shed light on future development of streaming and tournament platforms.

Speakers: Terence Leung Senior Manager (Esports and Youth Team) Hong Kong Cyberport; Alwin Wong Head of Business Development & Partnership CAPSL; Tristan Lo Co-Founder and CEO Godzpeed Autosport

Moderator: Eric Yeung President Esports Association Hong Kong

[More] [Forum Video - Full Version]
2019-20 Past Forums
Thought-provoking cross-industry issues, e.g. KOL x AI, 5G x Smart City, Social Good x Blockchain, etc. Guest speakers like Chip Tsao, Broadcaster talked about KOL marketing and Tech gurus discussed opportunities in 5G and challenges in business applications…
[ More ]
2017-18 Past Forums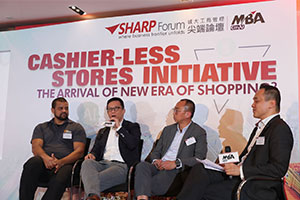 Insightful topics varies from technology, business, entrepreneurship and social issues. Guest speakers like Ricky Wong, CEO of HKTV Mall discussing how disruptive technologies influence retail business and Gigi Chao, Founder of Faith in Love sharing views on kindness…
[ More ]
2018 Digital Business Innovation Festival
Bridging Education, Technology and Business
The Festival, with the theme "One Health · Digital Society · Smart City", provides you with an interactive experience to explore innovations in digital business and mobile technology so as to improve well-being, increase social welfare, and enhance quality life.
[ More ]
2016-17 Past Forums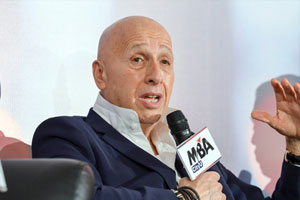 Unfolding business frontier across the areas of digital marketing, venture capital and more. Guest speakers like Dr. Allan Zeman, Chairman of LKF Group talked about his philosophy in business…
[ More ]
More Past Forums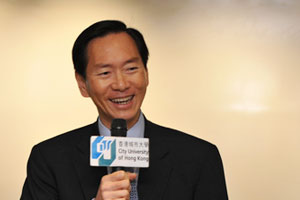 Prominent leaders from multinational organisations and government are invited to share their real-life experiences. Honorable speakers include Bernard Chan, Deputy to NPCC, James Thompson, Founder of Crown Worldwide, Poman Lo, Vice Chairman of Century City and…
[ More ]
SHARP Forum Advisory Board
Founder

Prof. Kevin CHIANG (MBA Director)

Advisors

Dr Thomas TANG
Cynthia HUI
Stephanie NG
Kam MARK
Henry KO
Circle HUEN