Our Target
BBA in Information management is an interdisciplinary major designed to provide students with an understanding of how information is organized, accessed, stored, distributed, and processed in today's business world. Recent years have seen an explosive growth of on-line information, with people of all ages making use of information over the Internet.
This major puts students at the forefront of the information revolution, studying how information influence all business sectors and change the way people do business. Organizations have large stores of in-house information that are crucial to their daily business operations. Today's information systems must enable quick access to relevant information, must ensure that confidential information is secure, and must enable new forms of communication among people.
The information management major has three streams, i.e., business intelligence, information systems auditing, Internet services and social networks.  Students can choose a stream with their preferred business sectors like financial services, auditing and O2O services.
BBA Information Management
Become A Smart Big Data Analyst Today
Drive better business decisions with an overview of how big data is organized, analyzed and interpreted.
BBA Information Management
Become A Smart IS Auditor Today
Help prevent fradulent tranactions to enable a fair, equitable and transparent economy.
BBA Information Management
Become A Smart O2O Service Manager Today
Excel in social and mobile applications to enable Internet + Business Innovation.
What You Will Be Studying
BBA in Information Management programme has three streams.
Major courses:
Techniques for Big Data
Data Visualization
Business Intelligence and Analytics
Advanced Business Intelligence and Analytics
Major courses:
Cybersecurity for Business
Governance and Regulatory Compliance for Financial Information Systems
Information Systems Audit
Risk Management and Information Systems Control
Major courses:
Social Media and Social Networks
Search Engine Optimization
Digital Marketing and Customer Relationship Management
O2O Services
Start Your Career Here
Hong Kong is a global business centre that connects China with rest of the world. Information management plays an important role in connecting people and business enterprises, and in changing the way people do business today.  This creates a great demand for business managers and professionals with competent knowledge and skills of applying Internet+ technologies (e.g., social networks, mobile applications, big data analytics and cloud services) for business innovations.
BBA in Information Management major prepares students for the careers of the future. Business Intelligence stream educates students to be smart FinTech experts; Information Systems Auditing stream prepares students to be smart IS auditors; and Internet Services and Social Networks stream nurtures students to be smart O2O service managers.  Our graduates find jobs in banking, accounting, and auditing departments of large organizations (e.g., HSBC, BOC, PWC, EY, Facebook, IBM, etc). They become data analysts, business analysts, systems analysts and e-business specialists with promotion opportunities to management roles.
Professional Qualifications
Some of the courses in the major are designed to prepare students for the following professional certification exams: Project Management Professional (PMP) of the Project Management Institute (PMI), Certified Information Systems Auditor (CISA), Certified Information Security Manager (CISM), Google Analytics, Google AdWords and big data analytics or data mining certificates.
Bonus Features
Student overseas exchange programmes
Internships at multinational corporations (MNCs)
Overseas study tours
Company visits
Alumni and industrial mentorship programme
IS Smart Business Scholarships Business etiquette and wine tasting workshops
Smart business leaders workshops (e.g., banking, Big4, digital marketing)
Various kinds of career-related workshops
Did You Know?
Internet and information over the Internet is changing the way we do business today. This can be evidenced by the fast growing Internet companies like Tencent, Facebook, Google.
You will learn modern information management(i.e., social media, mobile apps, big data and cloud services) with focus on Internet+ business innovations.
Scholarships and financial aids are available for qualified students to participate in overseas exchange studies.
Established in 1992, the Department of Information Systems is the largest in Hong Kong and one of the best IS departments in the world.
Our Graduates

Chan Chun Wa
2015 BBA IM ISSN
AXA
Chan Siu Pui, Samuel
2015 BBA IM BI
Ernst & Young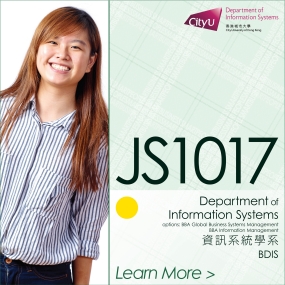 Cheng Mei Ling
2015 BBA IM
KPMG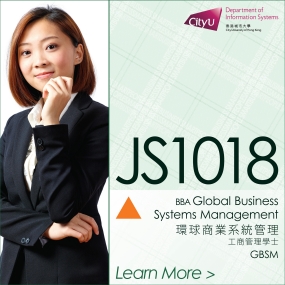 Fung Ka Chun, Allen
2015 BBA IM
Standard Chartered Bank

Ng Ki Him
2015 BBA IM BI
Hang Seng Bank
Wong Siu Lun
2015 BBA IM
International Bank
Leung Hoi Shun, Darren
2015 BBA IM
Deloitte
Leung Yiu Tung
2015 BBA IM BI
Nomura
Lin Wai Chi
2015 BBA IM BI
Wing Lung Bank
Yim Doris Wing Yan
2015 BBA IM BI
KPMG
keywords: BBA IS, BBA Information Systems, CityU IS, CityU Information Systems, BBA Global Business Systems Management, BBA Business Intelligence, BBA IS Auditing, BBA Internet Services Social Networks, financial services, O2O services, digital marketing, big data analytics, Internet+ Business Innovation, Careers of the future 香港城市大學, 資訊系統, 工商管理學士(資訊系統), 環球商業系統管理, 資訊管理, 商務智能, 資訊系統審計, 互聯網服務及社交網路, 信息系統, 大數據分析, 數碼營銷, 線上線下服務 , 互聯網+ 商業創新