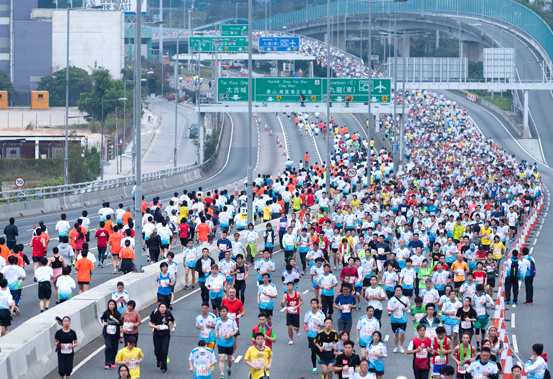 The signature annual international Hong Kong Marathon organised by The Hong Kong Amateur Athletic Association was held on 16th February. Under the theme Run for a reason, all enrollment fees were donated to charity. Over 170 CB faculty members and students joined the event and three awards were achieved by our runners:
Year 2 BBA Marketing student Fanka Fan Ka-king came second in both 10 KM Challenge Women's Senior and 10 KM Women's Overall with a finishing time of 39"16.
Year 1 BBA student Wing-chi Lai came third in the Half Marathon Challenge Men's Junior with a finishing time of 01:20:38.
The 2014 HK Marathon marked the fifth race Fanka had participated in since 2007. "My goal was to break my personal record which I succeeded in doing." Fanka also joined the CityU Delegation to the Gyeongju Cherry Marathon 2014, Korea in April and met athletes from all over the world.
Four MBA students teamed up and completed the full marathon. As they put it: "The Race united all CityU runners with the Hong Kong community." The race was a platform to promote the public's interest in sport as well as to arouse people's awareness of the physically challenged.