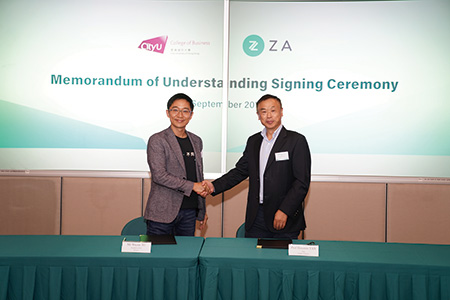 The College of Business of City University of Hong Kong and ZhongAn Technologies International Group Limited signed a Memorandum of Understanding to strengthen collaboration on talent development and research in September 2019.
Mr Wayne Xu, President of ZhongAn Technologies International Group, said, "Talent is important for a young tech company like ZhongAn. We are looking to hire young talents and bring them crossover opportunities in technology and finance fields."
Under the MOU, ZhongAn will engage in talent development activities with CityU such as internship and graduate programmes, career fairs, capstone projects, mentoring programmes, and fintech certificate programmes. Both parties will identify research topics of mutual interest and participate in one another's research activities, opening up new opportunities for faculty and students in the field of FinTech or InsurTech.
Founded in December 2017, ZhongAn Technologies International Group is a subsidiary of ZhongAn Online, an InsurTech company in China. In March 2019, ZhongAn International was granted a virtual banking license through its wholly-owned subsidiary ZA Bank Limited, as part of the first batch of licenses released by the Hong Kong Monetary Authority.