Undergraduate Programme
Major in Accountancy and Stream Information
The Major in Accountancy prepares students to practice the profession of accounting and to perform related business functions amid growing demand for accountants in Hong Kong and the Greater China region. Three streams of study are provided under the Major to fulfill the needs and targets of the students.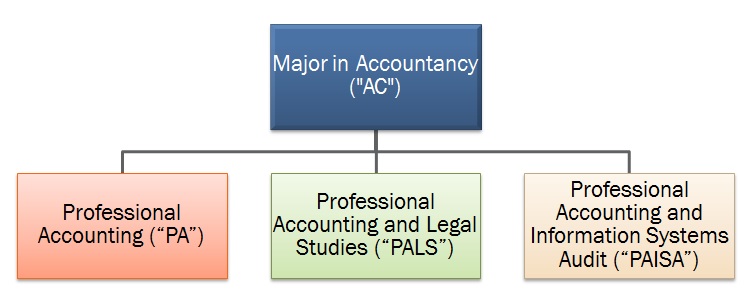 The maximum study period is 8 years. For details about this Major, please visit BBA Accountancy.
When students are admitted to the Major in Accountancy, they are automatically assigned to the PA stream. Those who want to choose either the PALS or PAISA stream must apply for the respective stream. Their applications will be subject to the approval of the Department.
Course Structure
The course structure is meticulously designed and organized, and incorporates a state-of-the-art curriculum that reflects the ever-changing modern business environment and challenges to accountants. Students are granted the flexibility to structure the study plan in a way that allows them to participate in a variety of learning activities such as internships and exchanges without prolonging completion of the Major.
Curriculum information can be found in the Undergraduate Catalogue. To view the Major's course requirements, please see the AC Course Information.
For BBA (4-year programme) students, the College Core can be found in the suggested study plan (for reference only).
With reference to the BBA Journey suggested by the College of Business, the advised path to a BBA with a Major in Accountancy is detailed as follows.
BBA Accountancy Journey (4-year Programme)
Year
Semester
Courses Taking
Activities
College-related
Major-related
Exchange
Internship
1
A
College Cores
B
S
2
A
Major Core & Major Electives
B
College Cores & College Electives
S
3
A
College Electives
Possible Exchange Period
Recommended Internship Period
B
S
4
A
B
College Core
Although students are encouraged to participate in various learning activities, these activities are optional. If a student is interested in joining an exchange or an internship, he or she is strongly advised to plan his or her study path well ahead of time. Exchanges and internships normally comprise a regular semester (i.e., either semester A or B). However, some internships (such as that provided by Hang Seng Bank) and exchange programs in the United Kingdom can last for 1 year.
Sample Plan of Study*
* The Department reserves the right to make adjustments to semester of course offerings whenever it deems necessary. Programme structure, course codes and course titles are subject to continuous review and changes.
[ Back to Undergraduate Programme ]