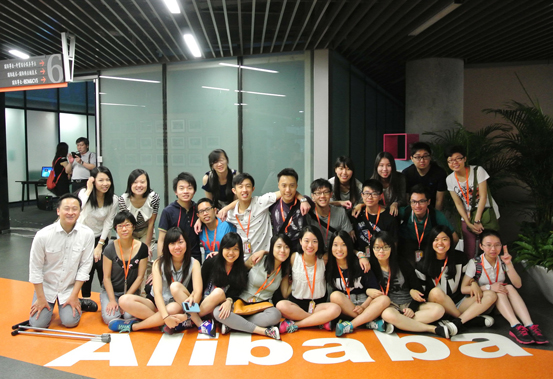 College of Business students were encouraged to think BIG during their Global Dreamers internship programme last summer. Organized by the Unleash Foundation, and supported and sponsored by Alibaba Group, the world's leading e-commerce company and Zhejiang University, the programme was held from June through August.
"This has inspired me to reinvent myself, to be more self-reliant and proactive," said Elton Lau one of six CB participants.
The students got an insight into what drives innovation in a new generation China company like Alibaba:
Alibaba Management are openminded and believed in freedom of expression
Leisure outlets such as bicycle lanes and playgrounds help inspire creativity
Expression of opinions on products and market development is actively encouraged
Communication between staff is supported - Aliway intranet for staff to post updates
The CB students experienced many different facets of the company's operation during their internship. Elton continued:
"We had exposure to the Cloud Computing and Big Data departments and its partner logistics company, Cainiao Network, all of which are considered to be the 'secret weapons' of Alibaba. We drafted proposals for the Taobao Customer Service Centre and AliExpress and took part in the running of Orange Sky, a TV business unit run by a department in charge of promoting Alibaba culture – I even made a guest appearance in a promotion video."
Competition for the eye-opening experience was hot, with 240 shortlisted candidates. The candidates went through two rounds of interviews and tests conducted by Unleash Foundation and Alibaba Group. On completing the programme, each student submitted a report summarizing their learning experiences and outcomes.
CB participant, Prajna Ho, sums up the AliSpirit:
"At work, we shall always be passionate. In life, we shall never give in. To our dreams, we shall never give up. Global dreamers, work hard to achieve our dreams! If not us, who? If not now, when?"
For more on internship: https://www.cb.cityu.edu.hk/media/news/details?id=2141