Dr Brian To, OBE, is a global strategist, Senior Practice Professor of Strategy and Leadership, Senior Fellow at the Wharton School of the University of Pennsylvania, and Adjunct Professor at the College of Business. He is an adviser and coach to Fortune 500 corporations, governments, and distinguished family owned enterprises in Asia, Europe and North America. Here Dr To discusses ethics in the new Chinese economy, management education, and the importance of leadership.
How would you characterise the Chinese economy?
As it is unfolding, clearly the economy is in a major transition. With double-digit growth for decades, it is moving from a hyperemerging economy to a more strategic positioning in the global economic landscape, with a comfortable GDP growth rate somewhere within the 6-8% range.
Further, in order to sustain economic growth, the Central Government has identified a necessity to align the leadership of state owned enterprises and corporate China through principled leadership and ethical management practices.
Understandably, this has caused the highlighting of gaps in management process, facilitation methods and leadership practices. Today the consequences of significant corruption are challenging, and past practice can no longer be the modus operandi for leaders in facilitating business growth and expansion. The new generation has to adopt principled and ethical leadership practices. And this needs to be deeply rooted in one's consciousness because under the present leadership of China, it is obviously not an invitation but more of a demand.
How is China performing, economically and environmentally?
Despite being the whipping boy of foreign leaders on various campaign platforms this year, the Chinese economy has performed well compared to other leading nations, where GDP growth has struggled to reach even 3%. Still, as chill winds blow across Asia, the challenges for China are mammoth in scope and consequence.
Whilst many who travel to Beijing and Shanghai have got used to the perpetual smog, pollution and dark skies, a government urbanisation plan unveiled earlier this year aims to increase residential and commercial density, reduce commuting distance, and accommodate the endless millions of people moving to the cities each year. It is a race against time to reduce pollution and prepare to accommodate the expected 100 million plus people moving into China's cities by 2020. The greatest migration on planet earth will undoubtedly continue.
What should we be expecting from China in the near future?
China, I believe, will push forward towards closer cooperation with countries not only within ASEAN, but with the EU, and almost all developing countries including those in Africa and America. For example, bilateral annual trade volume with the EU will reach US$1 trillion in a few years, and probably before the 2020 target. Despite a slowdown this year, the goal seems manageable if China maintains a 6-7% growth year on year. Similar opportunities also apply to both Central and Eastern Europe.
The impact of the recent global financial crisis and the migration of displaced refugees from the Middle East have created distractions, and even more debt in the Eurozone. France, Greece, Spain and even Turkey amongst others are being hit hard with increasing labour strikes. So issues in Europe may drag Sino- European trade goals down, particularly since the cost of labour overall has been rising in the EU for the last six years.
Another indication of China's rapidly rising role in global leadership is the Asian Infrastructure Investment Bank (AIIB), whose founding members included half the EU member states. Equally impressive is the recent agreement between the International Monetary Fund and the AIIB to consider joint process. Additional joint investments funds will follow to compliment the One Belt One Road initiative which features Chinese infrastructure projects. Despite the global economic slowdown, China will continue to forge new partnerships and explore new opportunities regionally and globally.
Why the emerging interest in ethical leadership?
This is how I look at it. As we are intently watching the global markets, both Fortune 500 and Inc. 500 companies continue to look at China and India as the key mega markets where opportunities for market expansion are exponentially increasing. On the other hand, Chinese businesses are eyeing ever more aggressively overseas companies in North America and Europe.
Looking back, whilst hospitality is still a key component of doing business in Asia, traditional ways have changed. Previously, companies relied heavily on relationships (Guanxi) and facilitation, and now the budget for this appears to be more modest. Moving forward, the focus has shifted to stricter corporate transparency requirements, dual listings, more special audits and independent overseers, thus creating a sharp demand for more ethical leadership not only in China but in the global business environment.
With recent notable leadership practical challenges in Malaysia, Philippines, South Korea, Brazil and Taiwan, it's becoming evident that both country and corporate leadership must become more principled and ethical if business sustainability is to be achieved. The recent cases of Volkswagen and Mitsubishi in corporate and consumer disclosures clearly show that the challenge exists not only in China but in the global arena as well.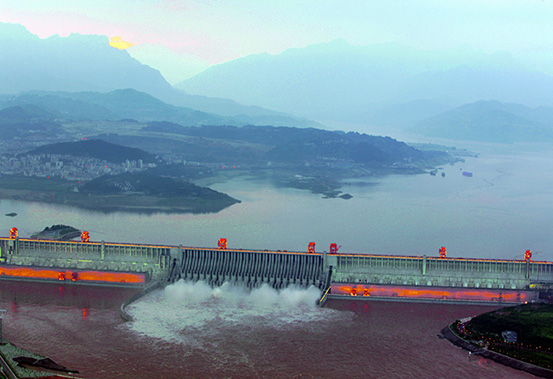 Massive Chinese infrastructure projects. The Three Gorges dam, located in Hubei province, is the largest hydroelectric dam and largest generator of electricity in the world
© VCG/Getty Images
Why study management?
Hyper-competition and economic turbulence have caused all of us to be focused around growth and change in the midst of increasing shrinking profitability. In this era of rapid innovation, we are charged with managing value whilst globalisation and technology shape a radically different future.
As we continue to devote ourselves to serving the global community through education in both management and business programmes through DBA, PhD, EMBA and MBA and other offerings, we must recognise that our study together is based on a conviction that good leadership and management can indeed make countries, companies and societies more capable and more vibrant.
Whilst a growth in enrolment in management education has been noticed in recent years, one curiously observes that motivation for candidacy varies. Some treasure the opportunity to advance their standing in a business career. Others are looking to fill space on an office wall, or for a conversation piece on the golf course. Some are instrumentally motivated to gain skills and do a better job at work. Others are more intrinsically motivated to understand their work in new contexts. Despite these varying motivations, the opportunity is really about advancing ones "intellectual ambition" and advancing our "organisation's inclusion" in the global marketplace.
What are the shaping forces for management education nowadays?
Foremost, let's understand that China has made education a national priority. Some 40% of the world's engineering and technical graduates are minted each year in China, and by 2020 it is expected to be around 60%. The results are compelling: the number of patents filed each year on the mainland has been growing dramatically over the past eight years. Information overload threatens, with the Library of Congress showing exponential increases in size. Therefore, management and business degree programmes must be relevant and practical. It is ever more important that graduate business education be taught by leading practitioners together with experienced faculty. In recent years, many EMBA programmes have come under heavy criticism as participants allegedly enrol for the purpose of networking and future access. I believe this analysis to be unfair. We should not forget the many significant learning outcomes of these programmes. In applying newly learned skills, participants have built business development initiatives in many key cities in the Asia Pacific region.
How does this impact on the teaching of leadership?
Obviously, leadership education is not effective if it happens once every twenty years. Study of leadership should not be restricted to a discussion about the latest fads and models but must go deeper into the anatomy of leadership coupled with a profound understanding of behavioural science. All too often nowadays, leaders are promoted within corporations not because of their innovative or motivational skills, but because of their political savvy and manoeuvring. In the present teaching era where competition is getting tougher every day and there are unavoidable economic changes, education is imperative. Moreover, leadership is needed to maintain balance between an increasingly chaotic environment and corporate functionality.
Hong Kong and Singapore parents have traditionally encouraged their children to enrol in medicine, engineering, and professional disciplines such as law and business. While these programmes have their merits, it is my belief that without the study of human interaction, behaviour and communications, students will find themselves increasingly marginalised and professionally ineffective. These days when fresh graduates do job interviews, many are unable to piece together a complete and comprehensible sentence. In fact, a considerable number of graduates utterly lack social skills and an even basic understanding of human behaviour. Even those armed with five years' work experience can show unease in interviews and group settings. This is, to say the least, troubling to those of us working in management education.
How can we advance leadership?
With courage. All CEOs, managing directors, managers intuitively know that we have a responsibility to advocate leadership and decisiveness throughout an organisation regardless of size or shape. In this hypercompetitive environment, there are many challenges. Some we may not be particularly prepared for. Leadership requires courage and superior interpersonal skills, a passion for human performance and a focus on inclusion. Having a vision of what should be done – and inspiring others to greater involvement – remains one of our greatest opportunities. Clearly by understanding ourselves and others better, we can best prepare for competition and change – both ethically and productively.
Your parting words?
Be courageous and remember, it's better to be kind than always right.