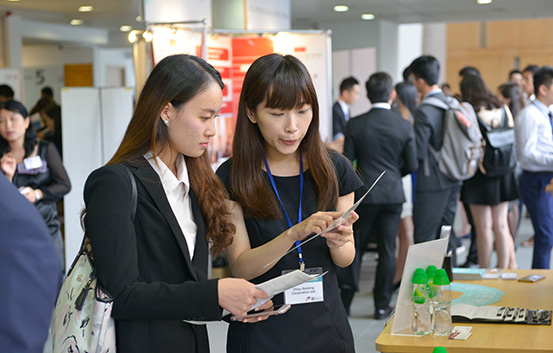 College of Business students had a valuable opportunity to explore future career options and meet with potential employers at a Business Career Fair held in September 2016. The fair, organised by the College Career Services Team, served as a platform for students to learn about the latest market information and job opportunities from industry professionals and company representatives.
Professor William Wan, Associate Dean (Research and Faculty), thanked all the business partners for participating in the fair. He hoped that the event could allow potential employers to meet with students, and to learn about the recent developments of the College. From their side, the students could understand more about the various companies, and how best to present themselves to potential employers.
The College would like to express its gratitude to all those who participated. These included the Bank of China (Hong Kong) Limited, BDO Limited, China Construction Bank (Asia) Corporation Limited, Chiyu Banking Corporation Ltd., Citibank Hong Kong, Ernst & Young, Hang Seng Bank Limited, Standard Chartered Hong Kong, The Bank of East Asia, Limited, and the Hong Kong and Shanghai Banking Corporation Limited. Participating technology companies included Hong Kong Broadband Network Limited, and Accenture Technology Solutions (HK) Limited. The retail sector was represented by A.S. Watson Group (HK) Limited, McDonald's Restaurants (Hong Kong) Limited, Pret a Manger (Hong Kong) Limited, and Techtronic Industries Co. Ltd. Property sector companies included Hopewell Holdings Limited and New World Development Company Limited, and garment industry company Crystal Group.