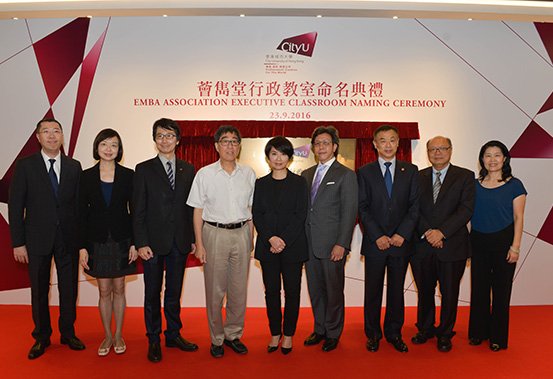 Ms Alvine Suen (fifth from left), Mr Aley Chang (fourth from right), University management, College Dean Houmin Yan and representatives
A College of Business executive classroom in Lau Ming Wai Academic Building has been named "EMBA Association Executive Classroom (薈雋堂行政教室)" in appreciation of the generous support and donations given by the EMBA Association to the University.
Supported by various members of the EMBA community, the naming ceremony held in September, was attended by Ms Alvine Suen Yeeming, Chairlady of the EMBA Association (2014-16); Mr Aley Chang Chi-hung, the newly elected Chairman of the EMBA Association; Professor Way Kuo, the University President; Professor Matthew Lee Kwok-on, Vice- President (Development and External Relations); and Professor Houmin Yan, Dean of the College of Business.
In his welcoming remarks, Professor Kuo thanked the EMBA Association for its continuous support and contributions to the University. In her speech, Ms Suen said that the primary aim of the EMBA Association Fundraising Campaign was to raise donations for the development of the EMBA programme and the College. Donations could also be used for student scholarships, and sponsoring their participation in various community projects. Ms Suen ended by explaining the meaning of the Chinese name of the executive classroom: 薈雋堂, which carries the hope of gathering all talents and experts, to work together in advancing the EMBA programme.