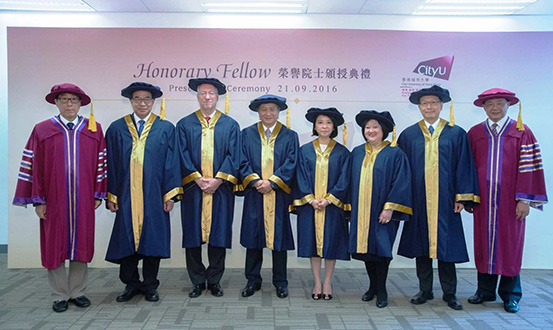 Dr Haywood Cheung (fourth from left), Ms Dilys Chau (fourth from right), other newly conferred Honorary Fellows, and presiding officers of the ceremony
Two College of Business alumni Ms Dilys Chau and Dr Haywood Cheung have been made Honorary Fellows of CityU in recognition of their distinctive contributions to the development of the University at a special presentation ceremony held in September 2016.
Ms Dilys Chau, Partner of Ernst & Young, obtained a BA (Hons) degree in Accountancy from CityU, and has since gained wide ranging experience in the accounting profession. Ms Chau is a former Court and Council member of the University, serving on a number of committees under the Council, and is now a Vice-Chairman of CityU Eminence Society. She is currently an Adjunct Professor of the College's Department of Accountancy. She received the CityU Chapter Honoree Award of the Beta Gamma Sigma Chapter in 2011/12 and Distinguished Alumni Award in 2011. Ms Chau is a practising member of the Hong Kong Institute of Certified Public Accountants and a Fellow of the Association of Chartered Certified Accountants (ACCA). She is currently the Chairman of the Association of Christian Accountants and a former President of ACCA Hong Kong. She serves as a member of the Education Commission and Quality Education Fund Steering Committee. She is also a member of the current Election Committee of the HKSAR Government, representing the Accountancy Subsector.
Dr Haywood Cheung, Chairman and Executive Director of Target Insurance (Holdings) Limited, is an expert in the financial sector with over 30 years'experiences in metals trading, securities and futures brokerage and forex dealing. He is a Permanent Honorary President of the Chinese Gold & Silver Exchange Society. After graduating from the College of Business with an Executive Master of Business Administration (EMBA), and Doctor of Business Administration (DBA), he has participated enthusiastically in alumni activities over the past few years, helping to boost alumni support for the University. He is a member of the Alumni Advancement Committee under the CityU Foundation, and has made generous donations to propel campus development. As Honorary Chairman of the EMBA Association Charity Trust, Dr Cheung has also taken the lead in soliciting donations for promoting the EMBA programme and funding students through scholarships. In appreciation of his longstanding support, Lecture Theatre 13 was named after the Cheungs as "Jennifer and Haywood Cheung Lecture Theatre".