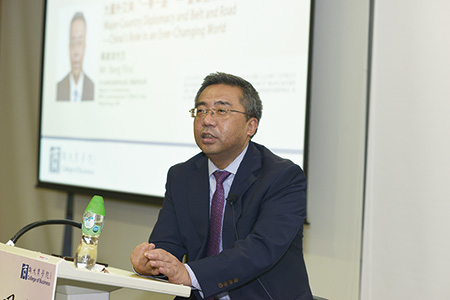 The College of Business organised the first episode of City Seminar in January 2019. Mr Yang Yirui, Deputy Commissioner, Commissioner's Office of China's Foreign Ministry in the Hong Kong SAR, shared his insights on the topic "Major-Country Diplomacy and Belt and Road – China's Roles in an Ever-Changing World".
Professor Houmin Yan, Dean of the College, kick started the seminar with warm welcome remarks. He said it was the College's great honour to have Mr Yang as the guest speaker and explained the aim of the City Seminar talk series – to discuss topics together ( 席 Xí ), to understand such topics in depth ( 明 Míng ), and to gain something of value from the discussions ( 納 Nà ).
In his talk, Mr Yang first commented on the current global political situation, as well as the changes and challenges faced by major countries. He then discussed China's diplomatic strategies, vision and goals. In the Q&A session, he shared insights on topics like China-US tension, crossstrait relations, Hong Kong-Zhuhai-Macao Bridge and the development of the Greater Bay Area etc.
Mr Yang graduated with a Master's Degree in Economics, and joined the Foreign Service in 1993. He has working experience in the Department of West European Affairs, Department of Policy Research and General Affairs Department, and was posted to Chinese embassies in the United Kingdom, United States and South Africa. He was also a visiting scholar at the University of Tokyo, Japan. From 1997 to 2000, Mr Yang worked in the Commissioner's Office of the Foreign Ministry in the Hong Kong SAR. He has been serving as the Deputy Commissioner of the Commissioner's Office since 2017.