Johnny Wong is CEO of Hotmob, a leader in mobile marketing in the Asia region. Here he reveals how he started out after graduating from the Department of Information Systems at CityU, his early work in SMS games, the launch of first generation apps in Hong Kong, and how we can collectively build a responsibly managed digital advertising environment.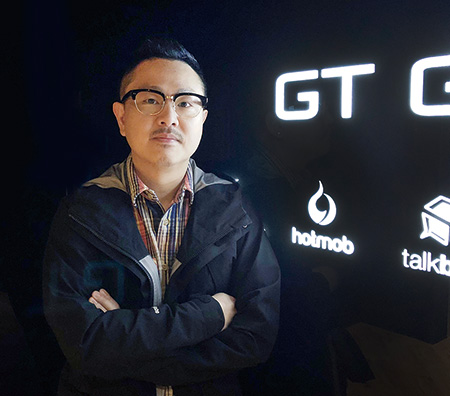 I graduated from CityU in 1995. My first job was an online research project to scan all the China laws and regulations and create a full text searchable Chinese language database. The programme was coordinated by The University of Hong Kong and Tsinghua University in Beijing. That was very new technology at the time. Broadband internet was in its infancy and people were just starting to realise the power of database search. The Law faculty at HKU wanted to commercialise the project. Our target audiences were university libraries and law firms. This was before the 1997 handover, so potentially lots of people needed to know about Chinese laws and regulations. But it proved to be a hard sell. Law firms were not very computerised. Decisions were made by the partners, and typically only the secretary had a computer in the office. I remember one lawyer asking me "What is a mouse?" They had no clue. So this was my introduction to marketing in the digital age, mid-1990s style.
Starting out
The first internet service providers were starting up and I was lucky to enter into a very fast flowing business. I was also lucky enough to meet my future partners, two being fellow graduates from the Information Systems department at CityU. Sunny was my classmate, and Benny was one year younger than us. Stephen, our current CTO we met in our first job. I remember after meeting our first client, we went to a pub in Tsim Sha Tsui and talked about our future. We had lots of ideas about starting a new venture in the internet industry. We believed we had lots of opportunities.
Our first venture in 1998 was an online service for form five secondary school students taking the then public exam, the HKCEE. We wanted to create a database of mock questions under a monthly subscription service. We invited a group of secondary school teachers to contribute papers or exam questions to put in our database. But writing the questions proved to be very time-intensive. The technical database was ready, but the teachers didn't see the future. They were set in their ways, and slowly the project ground to a halt.
Bubble and bust
I quit my job, but my three partners were still working in jobs to support me. My role was salesperson, looking for opportunities. We still had a lot of internet dreams. This was the time of the dot com bubble. There were lots of free internet services. We designed a free calendar which could be integrated into various portals. We failed, because the rules of the game meant that the only way to monetise was to get to IPO. People couldn't see how to commercialise the internet in other ways. Why was hongkong.com worth such a fabulous price? There was no income stream to back up the valuations. And then came the 2001 dot com bust.
I realised that it was not all about our products and services. Most of the CEOs or tech founders were from the US, educated in – and often dropouts from – Stanford, UCLA or Harvard. The game was theirs. We considered getting salaried jobs, but we were still 20 something. We didn't come from wealthy families but thankfully our parents were not giving us a lot of pressure. My dad said to me, "Just do what you want to do, don't worry about the family."
Internet + mobile
We still thought the internet had potential. Nokia had just invented their handset internet phone. So we thought maybe internet + mobile was the future. Our company launched the first interactive SMS game. It was very popular. I had a chance to go to China, and we thought why not? 6.6 million vs 1.2 billion. In 2000, we went to China and worked with local companies. The SMS business was the main form of entertainment for the people at that time, and proving very popular. Our local partners worked with China Mobile and it was a big business. A lot of millionaires were created during this period from 2000-2005, but for Hong Kong people it wasn't easy to set up companies in China. We saw that a lot of people copied our technology. After about five years, regulations were introduced to address issues in the market, for example subscriptions which were very difficult to unsubscribe from. At the peak there were some 20,000 companies but after the regulations came in, that decreased to about 2,000. A popular quiz game was "Who wants to be a millionaire?". You paid ten cents to answer each question. If you could answer all seven correctly, you won a million yuan. Then China Mobile and China Unicom started providing these businesses themselves.
When I came back from Guangzhou to Hong Kong in 2007, we were working with operators in China, Taiwan, and Singapore, and our international activity continues to this day. We still have about 40 employees working for us at our mobile application provider Green Tomato in Guangzhou. Then I met the partners who would become part of Hotmob, and we thought about what new things could be developed. We had the technological background, and my new partner, Andy Ann, was an advertising guy.
Apps
We bet on the marriage of digital advertising and mobile. On the US West Coast there was a company called AdMob, but nobody was working in that area locally. With the advent of the Smartphone and the development of apps, we believed that user behaviour would start to change. The previous generation of computer phones didn't have an easy way of installing programmes, or "apps" as they were becoming to be known. The Apple App Store in iPhone was a game changer. Our app, HKMovie, was the first app launched in the Hong Kong App Store. We worked with the first generation of apps in Hong Kong such as OpenRice, a platform to search restaurants. We provided the solution for what were then free apps to start charging, and we launched the first ad network in Asia.
We wanted to build a digital ecosystem. Before that expertise had been fragmented. Advertising, app development, customer relationship management, were in their separate silos. But in fact, they all belong to the same digital value chain. We started to integrate the operation. To this day we have many different companies catering to the various kinds of expertise, focusing on digital marketing, cinema apps, Timable, Storellet, tbc, you name it.
All of these were enabled by Apple. From the developer point of view, they created the standard. We loved Apple, trusting in their services and products. Android came a little later and in the early days was a little slower. Even today, there are lots of different brands of handsets. They all have their own specifications for developers, and it is very difficult to cater to them all. Developers had to duplicate their effort but it wasn't certain that you would double your income.
Brand-safe environment
Hotmob was looking for a niche and as the web expanded, we realised that large companies such as Google were amassing a huge inventory, but they couldn't easily control the quality of the apps. It was proving difficult to guarantee a safe environment for the display of ads. As brands started to look for exposure to digital advertising, the issue became crucial.
Hotmob started to deal with a small number of companies and websites, so we could carefully manage the way that ads were displayed. Prestigious brands did not want their ads to be displayed alongside undesirable materials. So we provided a brand-safe environment, a rare but necessary prerequisite in the programmatic advertising world. If I am a developer I simply care about the number of downloads, but as an advertiser I care about where I advertise and who I am associated with. So with Hotmob, advertisers select where they want to promote, and we systematically check for a brand-safe environment before every site is launched.
Managed services are Hotmob's other main offering. Google is fully automatic, but at Hotmob, we select the content providers. We will help advertisers place their ads. Sometimes advertisers have no understanding of how to advertise digitally. So our sales guys have a very important role. How can video be displayed to you at the right time, in the right place and right format? We use big data to understand people's habits. For instance, we understand that people are generally more receptive in their downtime after work. You are less likely to pay attention during work hours or whilst commuting. So we recommend that premium content is reserved for downtime hours.
Safety first
Facebook knows you better than any person. So much information is known about people. But what are the side effects of using technology, and how comfortable do users feel? The bigger question is how should the industry be regulated?
If you want to attract more people into the digital advertising environment, you need a safe, transparent environment. But how to deal with the personal data issue in Hong Kong? I became a member of the Hong Kong Association of Interactive Marketing, which attempts to identify appropriate standards and regulations, to try to answer these questions. I believe the industry needs to be regulated by a consensus of industry players, non-profit organisations, and the government, along with some professional bodies. This sort of combination should work. But at the moment it is proving difficult to work with the government.
Harmonious internet
I aspire to produce a fair environment where people understand how far their privacy is exposed on the internet. The "players" include us – individuals who use the internet. We are part of a community. I want you to know more about your rights as a user. Education is the starting point and this is not something that can be done overnight. I would like to create a harmonious environment for everyone using the internet. So we are talking about more than making money. We are talking about what the internet environment can do for you, and the downside in terms of potential negative exposure.
We need to be positive. We are not going to escape from the smartphone, tablets and computers. I have two daughters and I cannot stop them using these devices. But you can encourage them to use these devices in a positive way, for example as an educational tool. Addiction is never good. Even being addicted to exercise is no good. We need to find a balance in all things.
Monetising the internet has been a necessity since the earliest days. Now the question is "How can we make the internet more meaningful to you?" Perhaps today 90% of the advertising is not useful to you. That's why we want to use data to provide more relevant information. If I am looking for a new car, I am grateful if relevant information is pushed towards me. We need time to analyse and modify data streams and make the content more proactive to users. We need to get beyond reacting to completed purchases. We need to understand when someone has made a purchase, anticipate what they need next, and avoid pushing products or services to them that they have already bought.
Ambitions and advice
I got into the startup world before "startup" had a name. I am part of a generation that received everything from our parents. The thinking of young people today is quite different. Sometimes I feel that it is very difficult to transfer information to them, because they have their own ways of doing things. But I believe that we human beings share one experience in common: there are seldom shortcuts in life. It might seem that there are shortcuts to earning money quickly, but this is seldom the case. After graduation I wanted to buy a flat within five years. Impossible! I got my first flat when I was about forty. I have earned every cent I have. The first five or ten years is for you to accumulate, money and experience. Still, I suggest to the next generation: no matter what, follow your interests. That determines your choice of career.
My ambition for the future is to get the word out on the potential of digital advertising. I started a business in Japan four years ago, and the next will be in Vietnam. So we are expanding, looking to achieve long-lasting results. We want to show what small companies can do, and facilitate access to a responsibly managed digital advertising environment.