Edwin Pang is Associate Director of the Communications and Public Relations Team at the College of Business. For eleven-and-a-half years he worked at Huawei, much of the time as Global Head of Advertising. Edwin had a ringside seat as the company morphed from preeminent telecommunications equipment provider to the world's second largest builder of smartphones. Here is his story.
From humble origins as a reseller of telephone exchange switches back in 1987, Huawei has worked tirelessly to evolve into the global telecom equipment provider and smartphone manufacturing colossus that we know today. For years, the company enjoyed a steady if largely unheralded ascent, rolling out successive networks from 2G to 5G. Huawei gradually became the world's largest telecommunications equipment provider, working in over one hundred countries around the world. Then early in 2018, Huawei made headlines becoming the world's second largest smartphone manufacturer with some 54 million handsets per quarter. Currently the company finds itself in the spotlight for issues unrelated to its product offerings. Worldwide interest is probably at an all-time high.
I worked with Huawei for over ten years and had a ringside seat as the company went from being a preeminent telecommunications equipment provider to the world's second largest builder of smartphones. Responsible for global advertising, I witnessed dramatic growth. I was privileged to help orchestrate many advertising campaigns. And I helped leverage the company's technical lead to produce a world-beating product.
A brand-new start
My life with Huawei started back in 2006 when the company was mainly a B2B telecommunications equipment provider with a smaller business in mobile phones. Huawei provided the networks that supported customer-facing telecom companies such as Hutchison. I had some knowledge about this sector because I had worked at PCCW.
On my first day at work, I travelled by train across the border and then taxi to a distant suburb of Shenzhen. There I saw a crafted stone with "Huawei" written in traditional Chinese calligraphy at the entrance to a Silicon Valley-style campus. Gradually I found out that – although not originally named that way - my role was tantamount to "Global Head of Advertising". This was an amazing opportunity for me, because for Hongkongers it was difficult to achieve a global position in an international company, let alone one about to take the global telecommunications market by storm.
Chrysanthemum factory or sun in the east?
At that time Huawei was a well-known telecommunications equipment provider, but the leading names – Ericsson, Nokia, Motorola, Lucent, Alcatel – were all western companies with welldeveloped brands, products and services.
An important part of Huawei's revenue still came from mainland China, where the style of marketing was a little different to the rest of the world. Even the name "Huawei" was difficult to pronounce in English. So, there were branding issues, and questions about how to launch the company in the wider world. We needed to rejuvenate the brand, starting with the logo.
There is actually an interesting story about the logo. Telecom networks are by nature invisible. You do not see the network when you make a call. That's how we should read the space in the logo. And it also represents the sun rising from the sea horizon. "Sun in the east" has cultural meaning in China. The simplified logo had 7 rays, down from 14 on the older version. Some mistook it for a chrysanthemum and nicknamed Huawei "the chrysanthemum factory", and that included some young Huawei staff.
2006 – 2008 "Realize your potential" the rise of Huawei
By renewing the logo, we were making a statement to the world: We were internationalising, we were helping our partner companies to realize their potential – companies such as Vodafone, Telefonica and PCCW. What did that mean? We offered reliability, good products, good service, but more importantly, we help our partners achieve their growth potential.
Headquartered in Shenzhen, Huawei's labour costs were relatively low compared to other players in the market. We presented this through a concept known as "investment protection". This is how it worked: In the past 2G base stations were built throughout a city, but when 3G came along the telecom company had to dismantle the old base stations and build new ones alongside. In Huawei's case, we made the network so compact it was the size of a big computer. Each module from 2G, to 4G, even 5G could be simply slotted in. One person could go to the base station and plug in the module for the latest generation. That gave us a competitive advantage in this very competitive infrastructure market.
Fully half of the employees were in R&D. Huawei had a comprehensive portfolio featuring a complete range of technologies, so all-in-all we indeed had the ability to help companies realize their potential. We were particularly successful with fast-growing telcos. This segment was also the most attractive to invest time and effort in because, although they didn't have a big budget yet, they were pursuing growth. And Huawei was able to grab a lot of high-growth-potential telcos worldwide.
Huawei also served the customer better than its competitors. If, say, another telecom equipment company was pitching for a job with 20 people, Huawei would send 200. A customer-first approach, robust R&D, comprehensive product line, along with competitive HR costs made for a winning formula. This was the basis for the brand advertising campaign. From this I created a brand model to align customers' needs and our offerings, not a simple task. But the model was easy for everyone to understand, from CEO to advertising agency, and was distilled into a simple slogan: "Realize your potential". We launched the first "Realize your potential" advertising campaign worldwide in July 2006. The world started to know about Huawei. Then we developed a "Realize your potential" testimonial ad campaign by partnering with five telcos across five continents in 2007. And more people got to know that Huawei was helping telecos around the world to realize their potential.
The market responded well to Huawei's products and services through 3G onwards. Our success gradually changed the competitive landscape. And in 2008, Siemens merged with Nokia, and Alcatel with Lucent. Suddenly there were fewer players, more opportunities.
2008 – 2011 "We have found a way" from a rising star to leading the game
"Realize your potential" was talking to fast-growing telcos. In 2008 we evolved our slogan to "We have found a way". The message was bold – whatever you needed we will find a way. That was a display of confidence. Only if you have a full product line, the ability to innovate and to provide tailor-made customer solutions could you make such a claim. Huawei had all three. Less successful telecom equipment manufacturers could not afford all and had to bet on a narrower range of technologies. And that was usually the beginning of the end. In the telecom equipment market, the key to sustainability is that you don't bet on one particular technology, you offer everything.
2012 "Why pay first class for first class?" from network to mobile
There is a Chinese expression, "curved overtaking", meaning to overtake others in times of changes. Huawei did this with their 3G business. In 2007, Huawei was not the largest phone producer in China. It was only in 2011 that the company started to focus on smartphones, which by then had really taken off worldwide with the success of the iPhone 3. At that point, Huawei expanded the smartphone department to a business unit and I was transferred to take care of advertising for Huawei mobile.
To kick off, Huawei engaged Sir John Hegarty, and his company BBH, a London-based global creative agency. A campaign was produced for Huawei's smartphone, which to start out was a value-for-money model called Honor. Hegarty created the headline "Why pay first class for first class?". That turned out to be a winning campaign amidst value-for-money smartphone brands. The initial success of Huawei Honor in the market also paved the way to the future establishment of Honor as a value-for-money sub-brand of Huawei.
The P series the quest for super-premium smartphones
Huawei did not stop there but developed a strategy for the premium market. Starting from 2012, we had the vision to produce super-premium phones like the Apple iPhone and Samsung Galaxy. The "P series" was developed with product marketing to the fore from the get-go. The P6 was just 6mm thick; P7 was about craftsmanship. But Huawei hadn't yet landed on a signature feature. Samsung had the curved screen on the Galaxy Edge. Apple had iOS, their signature and unique operating system. And Huawei was in the quest to find its signature feature.
In this era of social media, photography was probably one of the most important factors in driving consumer choice in the smartphone market. The P8 was the precursor. It had a feature called "light painting", which was like drawing with a torch in the dark. It also had a powerful camera to capture detail in low light conditions. All this led to the P9.
2016 P9 co-engineered with Leica
The ground-breaking P9 was launched on 6 April 2016. The date will be forever emblazoned on my memory because the task was so tortuous! The P9 featured a dual camera system co-engineered with Leica, and carried the Leica lens code next to the lens. We positioned the phone around the two cameras. We produced a lot of amazing pre-launch ads playing on the idea of the two circles, without revealing that we were going to release a dual camera. And people started to speculate.
At launch we dramatised how light passed through the several lenses. We nick-named this "the journey of light". One lens captured maximum detail in black and white, the other vivid colour. The black and white lens captured five times as much detail as the colour. The processor then merged the two, revealing images in amazing detail and vivid colour. The dual lens also had the advantage of capturing depth-of-field. We launched five months ahead of the iPhone 7, the first Apple product with a dual camera. And for the first time, Huawei was leading the smartphone game.
P9 "Redefining smartphone photography"
Leica was famous for their "Bokeh" effect – a depth-of-field effect that conveys the trademark Leica style. Portrait photography with bokeh justified our strapline: "Redefining smartphone photography". The launch, endorsed by Hollywood stars such as Henry Cavill and Scarlett Johansson was a huge success.
P9 remained the leader in dual camera smartphone when iPhone 7 was launched later in the year. Apple later produced a series of videos teaching users how to shoot good photos with their dual cameras. And to add to the moment, Samsung was in the midst of its handling of the Galaxy Note 7 issues in the market.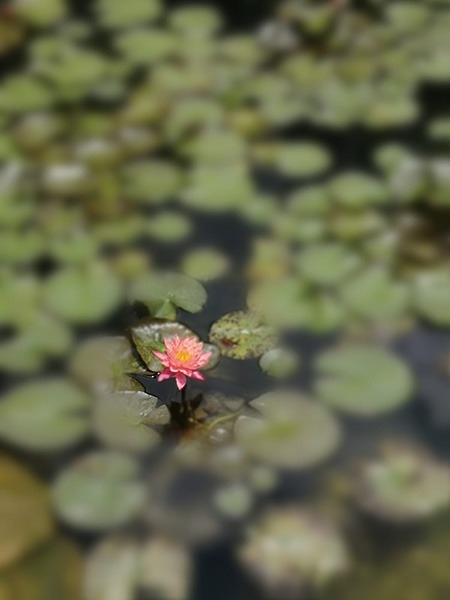 Water lily in focus with Leica-style bokeh background, photo taken with Huawei mobile (Photo courtesy of Mr Wing Ko)
P10 "Change the way the world sees you"
The P10 was about taking portrait photography to an artistic level – "Every shot was a cover shot". I flew to Europe in the dead of winter. We worked outside in freezing conditions photographing a girl in the snow with the Bokeh effect. With this camera when you zoom, the detail is no longer lost. We rented a place as large as a football stadium, and built a threestorey high spiral staircase. A girl with a long dress was photographed walking up a staircase, zooming in at a distance by P10. This was a great artistic dramatisation of no-loss zooming. The campaign was a huge success and consolidated our position as one of the three premium smartphone brands. Superior product marketing and communications was the key to the rise of Huawei mobile.
The intriguing brand journey continues
The Huawei brand journey was as intriguing as life itself. Every day is a new day. I just devoted myself and walked along with best endeavour. But I am grateful to life that I played my part in these brand marketing campaigns – that added value, and helped Huawei become a world-class brand.
Now I am with the College of Business, City University of Hong Kong. And I will keep working for exciting things to happen!