Students and teacher talk about their shared case competition journey
This article is an edited and condensed version of a conversation that took place on 26 January 2021.
List of acronyms
CB = The College of Business at City University
BCC = Business Case Competition
ICC = International Case Competition
CB3045 = A case consulting course offered by CB, which was developed and taught by Dr Zachary Leung
Could you introduce yourselves briefly for the benefit of our readers?
Ms Frances Fung (FF)
BBA Business Operations Management (2019)

I'm from Hong Kong, and I'm working as a Digital Senior Analyst at Accenture.

Ms Martyna Chmielewska (MC)
BBA Business Economics (final year)

I'm from Poland, and I'm working part-time as a junior marketing executive at Oxygen Inbound.

Dr Zachary Leung (ZL)
PhD Operations Research from MIT (2014)

I'm from Singapore, and I've been working as an Assistant Professor in the Department of Management Sciences since 2015.

Jessie Cheng (JC)
BBA Accountancy (2020)

I'm from China, and I'm working as a financial analyst at J.P. Morgan.

Mr Ronny Torres (RT)
BBA Global Business (second year)

I'm from Colombia, and I'm working as a teaching assistant for Dr Leung in the course CB3045.
What are the eight competitions in your global journey?
ZL : They are: (1) the HSBC/HKU BCC that we're invited to each year; (2) the BBICC 2018 in Belgrade, Serbia; (3) the AUBCC 2018 in Sydney, Australia; (4) the ICC@M 2019 in Maastricht, The Netherlands; (5) the NHHICC 2019 in Bergen, Norway; (6) the MBSC 2020 in Washington DC, USA; (7) the UNICC 2020 in Navarra, Spain, which was cancelled due to COVID-19; and (8) the VCC 2020 which was run virtually and organised by Universidad Panamericana in Guadalajara, Mexico.
That's quite amazing — how did CityU get invited to these case competitions?
ZL : I became the advisor/coach CityU's case competition team in 2017. I was introduced to the advisor of the University of Belgrade case competition team when our team participated in the 2017 HSBC/HKU Asia Pacific BCC. She graciously invited us to their university's ICC, where I met other advisors, which led to invitations to their case competitions, and the rest is history.
Dr Leung – Let's go back to the beginning, what motivated you to develop the course CB3045 and to coach our case competition team?
ZL : Initially, CB would send a team to participate in the HSBC/HKU BCC each year, and it would arrange one faculty member from each CB department to form a committee to train the team for the competition. I felt that this was a "too many cooks spoil the broth" situation, because it was difficult for six busy faculty members to coordinate how to best teach students. I therefore decided to take upon the responsibility of being the "main" coach for the case competition team. I also decided to establish a formal university course CB3045, because this would lead to a higher level of commitment from students, as well as awarding them with academic credit for their work and their skills gained in the course.
Students – What attracted you to CB3045 and case competitions?
JC : I met Dr Leung during the interview for the CB Young Scholars Program. He encouraged me to take CB3045, and I signed up because I wanted to try something new.
FF : CB3045 sounded really interesting because students were required to work in teams to solve challenging real-life business case studies.
MC : When I was a student in CB3045, one of my classmates was an exchange student who was a member of the Queensland University of Technology's case competition team. I was impressed and inspired by how well she was able to present her ideas.
What was your experience in CB3045?
JC : I found CB3045 to be a challenging but rewarding experience. The format of the course was very different from other courses; for example, we had tight deadlines (one week per case) to solve a business case study with our team.
FF : I had the opportunity to work with classmates who had different backgrounds and different working styles.
MC : I was surprised at how much public speaking was required in CB3045. I used to feel very nervous when speaking in public, but giving case presentations in class and in competitions has helped me become more comfortable with public speaking.
ZL : I had never taken a case competition course as a student, so at the beginning, it was quite challenging for me to teach CB3045. Over the years, I've gotten more experienced and the structure of the course has improved as a result. I'm also grateful for the support of CB colleagues such as Dr Chak-fu Lam (Management), Dr Alvin Leung (Information Systems), and Dr Huazhong Zhao (Marketing), who have participated in CB3045 as guest lecturers, helping us with cases related to their areas of expertise.
How do you prepare to take part in an ICC?
FF : After we were selected into the case competition team, we would spend our weekends together to train and prepare for the upcoming ICC. We would work together to solve various cases, and discuss how to improve our time management and slide-making. We would also learn from the top global teams by watching and analysing their case presentations, and incorporating some of the things they did into our own playbook.
MC : The HSBC/HKU BCC uses a very diverse set of cases, covering topics from marketing to HR to crisis management, so solving a variety of cases during the training sessions really broadened our general business knowledge.
What happens during an international case competition?
ZL : In an ICC, teams of 4 from top global business schools travel to the organising university. Teams are given a case study about a client company, and the goal is deliver the most persuasive recommendation for the client via an oral presentation, supported by PPT slides. A key feature of ICCs is the short casesolving time: 3–6 hours for short cases; and 24 hours for long cases. Most ICCs take place over 5 calendar days, so the schedule is really packed – for example, there could be 4 full days allocated to case-solving and presentations, leaving only evenings and one full day for socialising and recreation. It also takes two full days that we spend travelling to the competition location and back to HK; but we try to arrive a day or two early to get over the jet lag, and to spend some extra time doing touristy things.
MC : Although the primary goal of an ICC is working hard and competing, it's also a great place to network with students from top global business schools, and to learn about their culture.
International travel sounds fun but also expensive – how much does it cost students to participate in an ICC? Does CB provide any financial support?
ZL : We're really grateful for CB's generous financial support, which covers all competition-related expenses. The students don't have to pay for anything, except their own meals.
What did you learn from interacting with students from the world's top business schools?
MC : I learnt from Copenhagen Business School students that we need to be more decisive in zeroing in on our solution.
JC : I heard from some teams that they're forced to learn on their own because their advisors are too busy to give them guidance. I realised that the CityU teams are really fortunate to have Dr Leung, who is able to spend a lot of time teaching and training us.
RT : I used to think the students at top business schools were super geniuses; but after speaking with them, I realised that they're just like us – we all find the cases challenging, and we all have similar abilities and opportunities to succeed, regardless of university ranking or country of origin.
ZL : Our students definitely have the smarts and the drive to succeed! We won the HSBC/HKU Asia Pacific BCC in 2017, the HSBC/HKU Hong Kong BCC in 2019, and placed third in the Universidad Panamericana VCC in 2020.
What is your favorite memory from an ICC?
JC : I was proud of how our team at AUBCC 2018 was able to stay positive despite adversity. There were three rounds of competition, and our team at the time was quite inexperienced, so we came in fourth out of four teams in our division for rounds 1 and 2. For the third and final round, we trusted our gut and went for an out-of-the-box solution, which earned us second place!
FF : We became really good friends during the competition in Maastricht, and we still find time to hang out nowadays.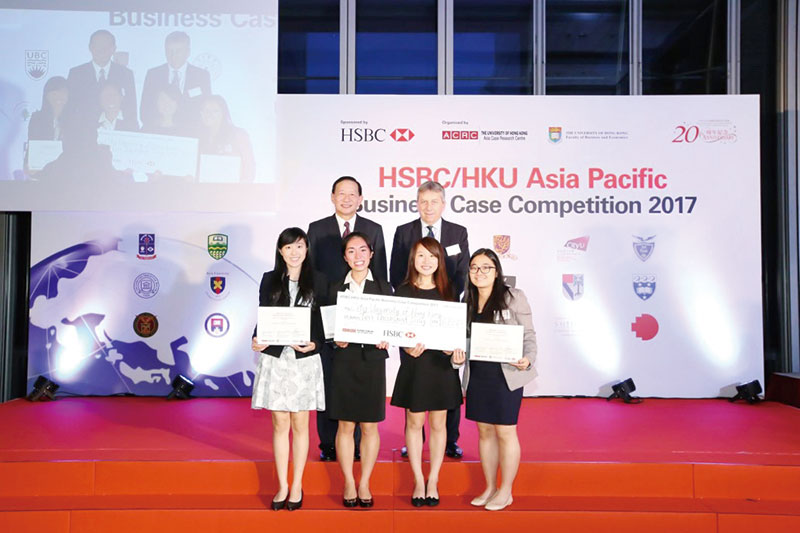 The CityU team won US$ 10,000 as the champion of the HSBC/HKU Asia Pacific Business Case Competition 2017
What is the most difficult part of an ICC?
ZL : During an ICC, students are required to solve a complex case within a very short period of time, usually around 24 hours, so students are super stressed and exhausted. It's not surprising that interpersonal conflicts can arise, like a reality TV show. I have heard from several teams where students found it frustrating to work with a teammate who was stubborn or unable to take criticism.
Has participating in case competitions been helpful to your career?
FF : It was really helpful. I use case-solving frameworks everyday in my work as a consultant. My colleagues are often surprised that I'm a fresh graduate, as I demonstrate a deeper business sense compared to my peers. I'm also confident about my ability to speak off the cuff; for example, there was an occasion when I had to give a presentation in place of my manager who was suddenly unable to attend, and I hit it out of the park.
JC : It has helped me especially in how I organise my ideas, and how it's essential to have a good understanding of the bigger picture. If you need to solve a problem, and communicate your solution to others, you'll definitely benefit from CB3045.
ZL : Teaching CB3045 and working with students for ICCs has helped me develop into a more effective communicator and teacher. I've learnt how to structure my ideas better, and also how to arouse the interest of students by presenting course material in an engaging manner.
Case-solving sounds like an amazing experience! Would you recommend CB3045 and ICCs to all CB undergraduate students?
FF : It's not all fun and games – you do need to be extremely motivated, and put in the time and energy for weekend training sessions.
ZL : Case-solving is really meaningful and fun, but it's also hard. I've found that not all students are comfortable with the complex and open-ended situations that they encounter in business case studies.
Any final advice for students who are interested in CB3045 and/or ICCs?
MC : You can feel overwhelmed at first, but don't despair. All of us started with zero experience in case solving, and practice makes perfect!
FF : Having a growth mindset is essential. Do listen to feedback from your peers and Dr Leung.
JC : Don't be afraid to ask questions!
ZL : Try to make it easy for your audience to understand your ideas by putting yourself into their shoes.