This summer the College of Business sent six BBA students to the Contemporary Women's Leadership programme at Wellesley College in the United States as part of the Study Abroad programme. In the first three of the following articles, our students Ray Yue Mingrui, Catherine Tsui Tsz-ching, and Sharon Poon Hui-wa portray - from their perspectives - some of the main achievements of prominent Wellesley graduates. Victoria Sze Yeukning, Camille Zheng Chuhang, and Yuki Zhang Hao then follow with reflections on their Wellesley experience this summer.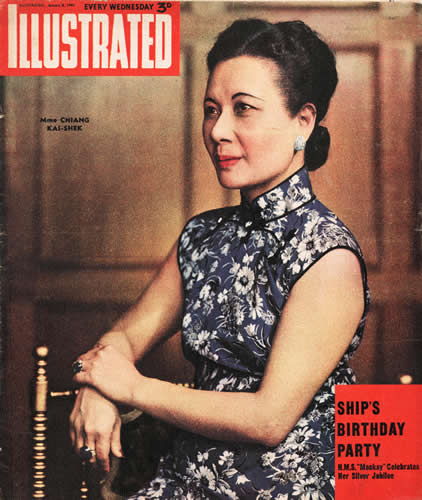 Soong Mei-ling on the cover of Illustrated Magazine, January 1944
©John Frost Newspapers/Alamy Stock Photo
Soong Mei-ling
By Ray Yue, BBA Finance student
Soong Mei-ling was the first lady of the Republic of China from 1948 to 1975. Partly due to the lack of reportage in China, her achievements as a woman have been undervalued yet she contributed greatly to the prosperity of her nation. Soong Mei-ling encountered many obstacles after her graduation from Wellesley College in 1917 but gradually became active in the civic life of her country. Her ambitions were not recognized by her father, but after his death she was encouraged by her sister to progress her career. During the Second Sino-Japanese War she rallied her people against the Japanese invasion and in 1942 conducted a speaking tour in the US to obtain support.
Back home she set up a report and supervising system, encouraged transparent government and praised the reporting of corruption, contributing to the better governance of the country. In addition to outstanding English skills, Soong Mei-ling could speak six languages, was accomplished at piano, chess, writing and painting. As diplomatic assistant to her husband Chiang Kai-shek, Soong took an active role in woman's leadership, and explored new possibilities as a woman in the community.
Soong Mei-ling's life was an extraordinary exception to the prevailing culture and atmosphere in China, a patriarchal society where women were the subject and men the ruler. Women were barely allowed a voice in political and military affairs at that time. Wellesley College has a history of encouraging women to stand out in a male dominated world. Soong Mei-ling benefited from that education and seized the social capital. Building on her own abilities, she blazed a pioneering role in woman's leadership, and opened up new possibilities for women in Asian.
Shirley Young
By Catherine Tsui, BBA Marketing studen
Shirley Young, formerly Corporate Vice President of General Motors Corp, is an entrepreneur, social activist, and Wellesley graduate. She founded and leads the Committee of 100, an independent nonprofit group of prominent Chinese-Americans based in New York.
In her childhood, Shirley Young had a hard time in World War II. The capture and death of her father, who was a diplomat, changed her life dramatically. After several years in Manila sharing a home with six families, her family received help to start a new life in the US. She went to Wellesley College on a scholarship.
After graduation, initially she could not find a job because women were expected to do jobs such as secretary, but her aspiration was higher than that. She dreamed to make a contribution to the world. Despite voicing her aspirations, all initial prospective employers turned her down. Finally, a Wellesley College senior offered her a market research job, which led to her career in the marketing and advertising industry.
However, she did not forget her dream to become a diplomat and finally she founded an association with the Chinese elites to promote relationships between the people and leaders of the US and China.
What impresses me most about Shirley Young is not just her achievements in business, but her dedication to voluntary work. She left China when she was only two years old. She spent most of her lifetime in the US but she did not forget her Chinese identity. She took a big step forward to help other Chinese-Americans and promote their full participation in the society
Shirley once mentioned that Wellesley College taught her to "connect the dots", which reflects my own experience this summer. Meetings with women leaders, gave us opportunities to build networks. There is a saying that "Knowing more people is better than knowing more about stuff". Relationships will come in handy someday. For my future career, I will place much focus in building and maintaining relationships.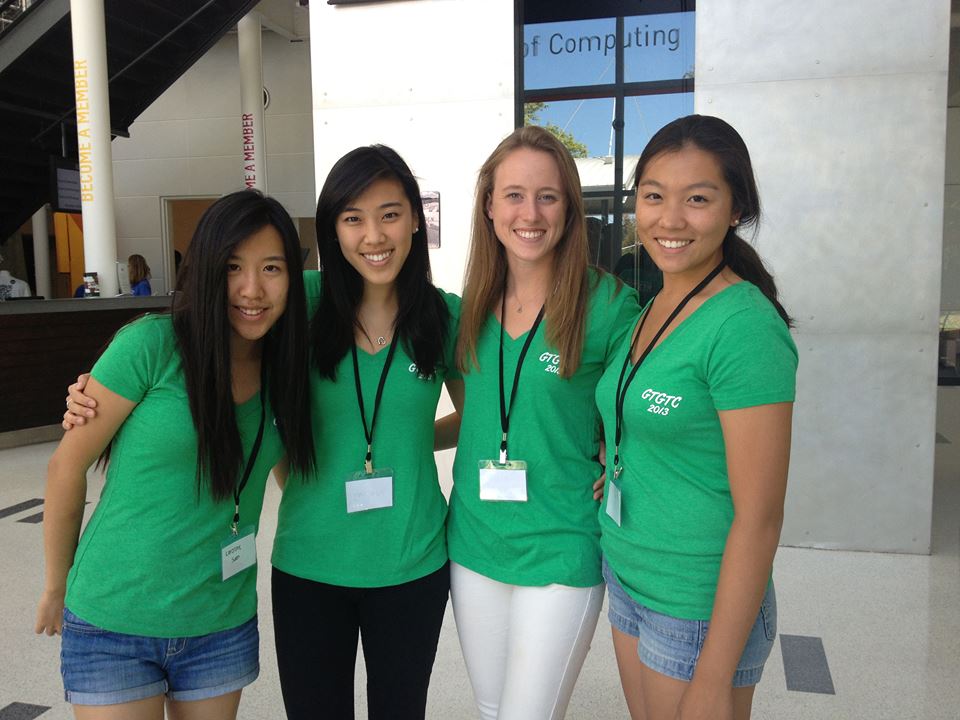 Heidi Wang, second left, with co-founders of Girls Teaching Girls to Code
Photo courtesy of Heidi Wang
Heidi Wang - Girls Teaching Girls to Code
By Sharon Poon, BBA Marketing student
Software engineering seems to be dominated by male in most organizations. This was also true of Heidi Wang's internship in a small startup in San Francisco. When she first attended an all-staff meeting, she was shocked that she was the only woman engineer in the firm. The situation of gender imbalance triggered her thought of teaching girls computer science. During her master's degree in Stanford University, she collaborated with three female classmates to invent Girls Teaching Girls To Code (GTGTC). Their proposal was to organize a one-day code camp for high school girls, and gather help from computer science and math teachers from all high schools nearby. The camp originally was set to accommodate 120 participants, however, with overwhelming popularity, they received many more enrollments then they expected. Therefore, the problem of insufficient funds emerged.
They sought support from local businesses, and of course, they encountered setbacks and discouragements. With determination and persistence, they made GTGTC a great success by collecting extra funding to offer a wide variety of courses such as web design, computational biology, and cryptography. More than 1,000 girls joined GTGTC, and the camp continues to develop by adding more elements like workshops, events, and company tours (Wellesley College, 2016).
Gender inequality still exists in the workplace, for instance, just 14.5% of engineers are women. Wang's internship experience in the computer science firm reflected the gender imbalance situation, inspiring her to empower girls through education. Reflecting Wellesley College's commitment to women, Wang's innovative idea intended to improve young women's competitiveness, especially in the science, math, and engineering areas.
Referring to what I learned in the organizational psychology class in Wellesley College, women's career path is like a labyrinth, meaning that it takes considerably more time and effort for them to be promoted to leadership positions in organizations. Finding yourself a mentor is essential to provide you with more opportunities in the workplace that can facilitate your personal growth and utilize your full potentials.
Challenging people's ideas is OK
By Victoria Sze, BBA International Business student
The Contemporary Women's Leadership classes at Wellesley are small and discussion-based. For me one big change was that I became more confident in presenting and expressing my ideas in front of people. In the first week, I was shocked that classes were so interactive! Students would express their opinions and share their experiences with all of us. They would relate the class topic to their personal experiences and share it with people.
At first, I was not very confident in speaking in front of the whole class. Since participation counts as part of the course grade, I talked in class a little but most of my contributions were short. As the days went by, I became used to these heavily discussion-based lessons, and less afraid to raise my hand up and talk. And I did not think of the grading criteria every time! I become more willing to share and exchange my ideas with others.
I used to believe that challenging people's ideas was not a polite act. However, after this summer, I see that these challenges are ways to learn and absorb knowledge from more sources other than the teaching materials prepared by teachers and from the internet. It is always important to learn from people next to you. Not only do you learn to think from multiple perspectives, you also learn to think from the opposite stance.
People's comments made me think how to defend my point of view and to see if my thoughts were well grounded or not. Wellesley College is such a prestigious school and the students are intelligent and eloquent. Being well-prepared for classes is key to keeping your edge and impressing your teachers.
A sense of fulfillment
By Camille Zheng, BBA Business Economics student
The Contemporary Women's Leadership programme contains participants of different nationalities, offering a platform to meet people with diverse cultural backgrounds. It is a precious gift for me to make friends with all these girls. They are all warm, kind, and helpful. Through all these five weeks, I feel like we have become a big family.
I would recommend this programme as it could be a valuable experience to every female college student. It offers an insight into how women could be successful in a male-dominant environment and how women should deal with potential gender discrimination. Before entering society as a woman employee, it is of great importance to know what dilemma you might be trapped in and in what ways you might be able to overcome the obstacles. This programme contains a regular four-week summer course term and a oneweek business-related activities component.
You will be seated in the same class together with other Wellesley College students and enjoy classes taught by amiable professors. The courses are discussion-based, meaning that you will have plenty of opportunities to express your own points of view and have close interactions with your classmates and professors.
Although I would not say it is easy to deal with a pile of readings, assignments, and examinations, you can always find a way to manage all these tasks and gain a sense of fulfillment and achievement in the end. When you are done with the last paper, the following week's activities are more fantastic than you could ever imagine. Having an opportunity to share lunch, sitting face to face with the managers at the First Republic Bank, attending the speech given by Leeza Gibbons, a famous American talk show host, and doing voluntary work at Greater Boston Food Bank were all really exciting experiences.
In conclusion...
By Yuki Zhang, BBA Accountancy student
We took two fascinating courses, amongst many others focussing on feminist history and the organizational psychology including gender perspectives. We obtained a great deal of knowledge including understanding of the current situation of women in the workplace and useful skills to deal with the stereotypes of women. Besides, conversations with successful and wonderful women have given us a lot of precious experiences, helping us to prepare well before entering organizations. Although on a daily basis the workload was heavy, the professors were very kind and gave us a lot of explanatory feedback when grading. So, especially if you have a positive attitude, the study side can be extraordinary beneficial.
As for leisure time, we experienced various colourful and rewarding activities: We visited the museum in Boston to appreciate beautiful paintings. We went to famous universities to soak up the academic atmosphere. We hung out in Boston to go shopping and taste American food. We took a trip to visit Charles River by Duck Boat which was a very exciting experience. On weekdays, we might not go out but we had nice meals in school and we could relax by visiting different places in the school which has a long history. In conclusion, this programme was not only a study experience but also a multifaceted cultural trip to Boston. It was very enjoyable. I feel very lucky to have joined it!