Jenny Chow is Chief Compliance Officer of the United Nations Social Impact Fund, an investment platform which bridges private capital with economically viable socially beneficial projects. Jenny is also Chairman of the Nanyang Entrepreneur Foundation, a networking organization in China, Hong Kong and South East Asia. The Foundation was established to promote and develop effective entrepreneur-investor relations. Jenny is currently completing an EMBA programme at City University of Hong Kong.
The United Nations Sustainable Development Goals (SDGs) are designed to address deep-seated societal issues such as increasing inequality, secure food supply, provision of inclusive education, and access to clean water and sustainable energy. SDGs are necessarily pitched at a global level and have the potential to transform our society for the better. On the ground however they can be challenging to operationalize. With a professional background which embraces law and compliance, Jenny Chow has the strength and experience to help bring the grand vision to fruition, and is working towards this goal in various societies in South Asia.
"My role is to determine the feasibility, viability and commercial potential of many diverse projects. I must consider each project in the context of SDG values and then try to find investors to fund these projects."
Jenny's background in compliance helps to build investor confidence. In a previous role, she worked as Chief Compliance Officer for the China Renaissance Group, a leading business incubation and angel investment company. The experience gained in this role inspired her to explore new business initiatives in emerging sectors that could generate economic returns and create positive solutions for the next generation.
"The patrons I introduce to the United Nations Social Impact Fund (UNSIF) may also at some point decide to invest. So, while a donation does not offer any return, an investment in an SDG project may. Therefore, the project must be sufficiently viable commercially to attract and encourage this type of investment."
From Charity to Commerce
Bangladesh - the country which gave birth to microfinancing - is the kind of environment where SDG projects have thrived and become sustainable.
Jenny gives the example of a village centres project in Bangladesh.
"When it started, it was more a charitable than a commercial project in nature. So, I had to think of a way to make this commercially viable."
"As there was a network of village centres, this implied a payment gateway to the government. So, I suggested the promotion of financial services technologies. As a result, an e-payment platform became the commercial aspect of this particular project."
"People often ask, are you working for a charitable or commercial project? But really there is no contradiction, the question I ask is - Can you see the opportunity beyond the charitable work?"
"In Bangladesh, the NGO structure is well developed and there are large commercial groups such as the Build Bangladesh Fund and sometimes my input is strikingly simple. In this instance, my suggestion for impact investing was simply, why not cooperate and collaborate with the private sector?"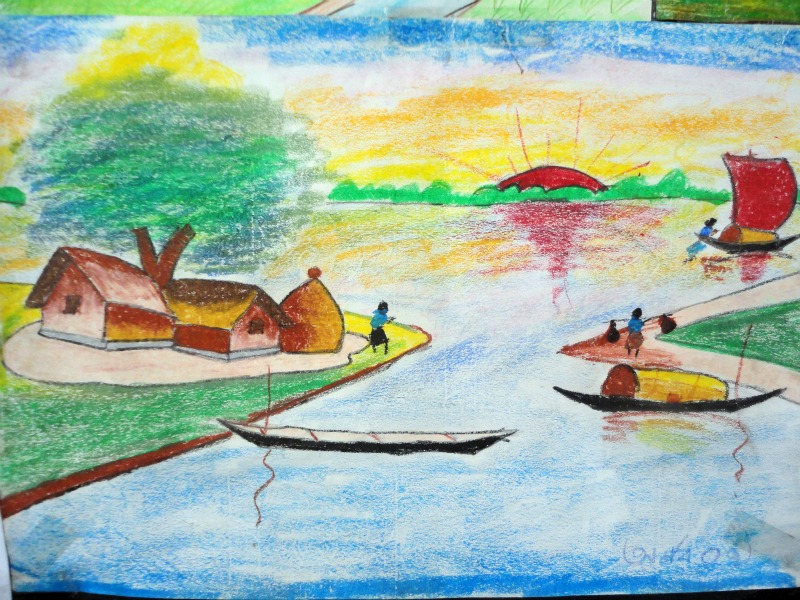 Dream and reality. Flooding is an annual problem in Bangladesh
Photo courtesy of Olinda Hassan / olindahassan.wordpress.com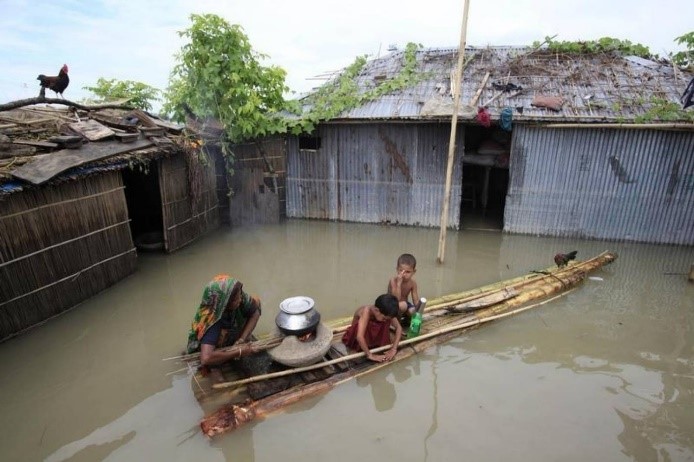 Dream and reality. Flooding is an annual problem in Bangladesh
Photo courtesy of Bangladesh Resource / Center for Indigenous Knowledge
Compliance
Unusually for someone working in compliance, Jenny is a practicing solicitor having obtained her qualifications from the University of Hong Kong.
"On graduating from HKU, I decided not to go into conveyancing despite the buoyant property market. Instead I applied for a position with the Securities and Future Commission (SFC) and became part of the first cohort of trainees. I was the only law student among them."
"We had to do audits for various investment banks and brokerage firms, and it was difficult for me as I didn't have an accountancy background."
"My schoolmates thought I was crazy! No one had even heard of the SFC at that stage, it was a very young institution, with the main function of the fledgling commission to monitor and regulate the market."
"After one year employed as their solicitor, I helped to draft the Securities and Futures Ordinance. This piece of legislation was challenging and indeed took more than ten years to finalize. The Hong Kong ordinance was based on a mix of the British, Australian and US ordinances and I helped translate it into a Chinese language version."
"We took a new approach with the development of this ordinance in Chinese, and rather than a straight word-for-word translation we tried to capture the underlying meaning and in the process the SFC had to create new concepts and terminologies in Chinese."
Legal background
In 2003, after several large cases were settled between various companies and the newly empowered SFC, larger companies started employing more solicitors as compliance officers, realizing that for this role more than an accountancy background was necessary; they needed to understand the law.
"My legal background proved invaluable as I had worked at the SFC drafting the ordinance and had also performed a lot of research in market manipulation. My services were in high demand."
"During the 2008 global financial crisis, I was working as Head of Compliance for Sun Hung Kai Financial Group and handled all the post-Lehmann Brothers issues and settling matters with the SFC. As more Chinese companies came to Hong Kong, they were very concerned about compliance and wanted to ensure they had no issues in this regard. This was a very typical order from the mainland head office."
"Currently I am very active in due diligence training and anti-money laundering practices. Generally, PRC firms have one central compliance department and in this regard, I am fortunate that I can handle the whole spectrum of compliance issues."
Not-for-profit
Jenny's work is not confined to compliance. She also works with a couple of not-for-profit organizations.
"I am currently Chairman of the Nanyang Entrepreneur Foundation. Sometimes, it takes time working through the UN and it's easier for me to respond quickly through the non-profit organizations."
Jenny also works with Made in Sample, a communityfocused sustainable upcycling company which uses surplus fabrics, wallpapers and carpets - that would otherwise have been dumped into reclamation areas - to create luxurious homeware.
"An important aim is to educate clients and fellow Hong Kongers to cut down on waste. Many governments support incubators, but how can we help them to create even more jobs? Personally, I bring in my commercial skills to make it more like a business. So, I provide support helping this group of young people to sustain the project so that people will invest in it."
How useful are the United Nations SDGs?
"The SDGs provide very helpful guidance, especially for newly developed countries. Look at China for example, economically powerful but there were many problems during the development process, such as the effects on the environment. Everything happened too fast! Developing countries need to be cautious. Investors will only invest in sustainable projects. Developing countries don't want to repeat the unhappy experience suffered by China, and other newly developed countries."
"Another issue with SDGs is that they are pitched at such a general and aspirational level. The challenge is to make them operational. With my legal background, I am prepared to take it one step further, not only to make them operational, but also - where relevant - legally enforceable."
Doing the right thing
Jenny Chow's early inspiration was her grandfather
"During the Second World War in war-torn China, my grandfather supported a lot of poor people in Guangzhou. Our family would have continued to help but after having to leave for Hong Kong were no longer able to provide for these people."
"Working in this new era of globalization, I am finally able to follow in my grandfather's footsteps and take a lead to help the less advantaged."
"At the nexus of East and West, I see a common approach in the work of the United Nations and a centuries-old tradition in China. In ancient Chinese culture, there was always an aspiration to share and a concern for the common good. Everyone was encouraged to enjoy their role and to do well. Everyone could express their potential. Virtues such as generosity, courage and wisdom were all promoted. So nowadays, in keeping with this tradition, SDGs are something we are looking into very seriously, we are not just interested in profit!"
Jenny sees that universities can play an important part in working towards the UN Sustainable Development Goals.
"The CityU EMBA programme also has a potential role. UNSIF has suggested a mission trip to Cambodia, and the College of Business may be involved in an advisory capacity alongside the United Nations while in Cambodia."