Despite the accession of Hong Kong SAR's first female Chief Executive, the region's highest leadership office, just 12% of Hong Kong boardroom members are women. Dr Mary Pang, Associate Dean (Internationalization), describes the evolution of the Hong Kong job market, and how CB is working with Wellesley College in the United States - to help promote our female students into future leadership roles.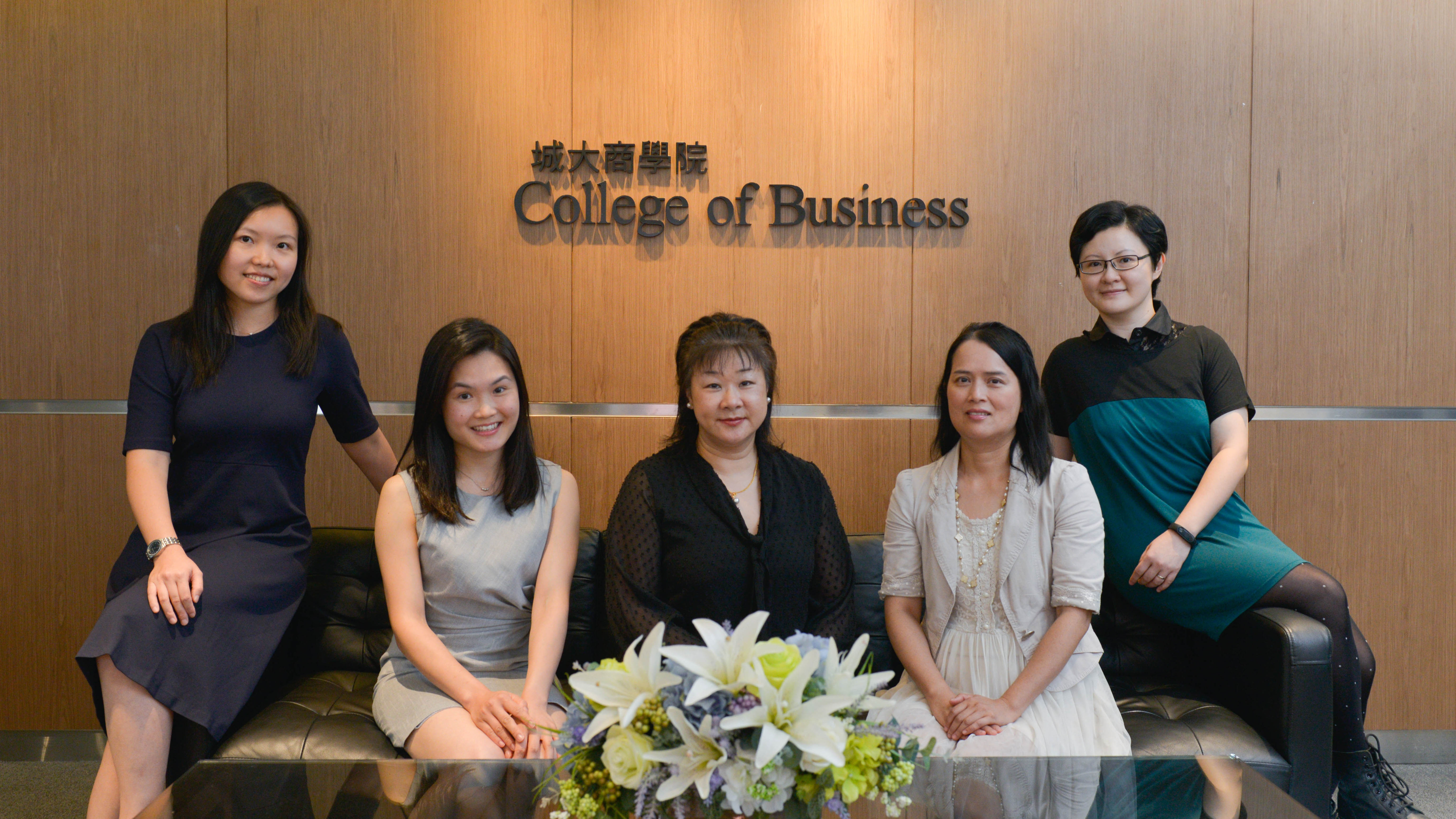 CB Internationalization team: (from left) Jasmine Wong, Connie Chan, Dr Mary Pang, Angie Cheung and Edna Yu
Amongst many achievements, Hong Kong has the distinction of being the undisputed holder of the title of the World's Freest Economy - for 23 consecutive years according to the Washington-based Heritage Foundation. Yet Hong Kong has few natural resources, and so the region's success and prosperity have been built on one main asset: its people.
Beneath the surface of this bustling, workaholic metropolis, lies a remarkable statistic. The city's gender imbalance is increasingly skewed. Hong Kong has just 876 males for every 1,000 females. It is no surprise, then, that women constitute a significant proportion of the labour force, 49% according to the latest Hong Kong Government Yearbook. But what sort of jobs are these women doing, and how prominent are women in leadership roles?
Toys, flowers, and jewelry
Female participation in the economy took off during Hong Kong's rapid industrialization in the 1960s, as the city's light manufacturing industries boomed. Women went to work producing plastic flowers, toys, jewelry and watches, textiles and garments, and electronics, whether in the flourishing home-based cottage industries or in factories located in industrial buildings in the urban areas.
Women at work in Hong Kong's post-war garment industry, a pillar of society at that time
Photo courtesy of Chicks, a brand of Chun Au Knitting Factory Ltd
With the equally rapid de-industrialization process that occurred from the late 1980s through the 1990 and the relocation of Hong Kong's factories and manufacturing base to the Shenzhen and other Special Economic Zones in PRC, some women retreated back to domesticity. Nevertheless, the employment doors had been opened, and the majority of female workers in Hong Kong remained in work. There was a huge demand for labour as a vibrant economy transitioned into the expanding services industries, that currently employs more than 80% of Hong Kong's workforce.
This high female participation rate in Hong Kong's labour market has long been facilitated by the importation of another group of female workers: the large numbers of foreign domestic helpers presently totaling over 350,000, primarily from the Philippines (54%) and Indonesia (44%). These live-in domestic helpers released the local Hong Kong women from their familial and household duties, thus enabling them to maintain an active role in the workplace.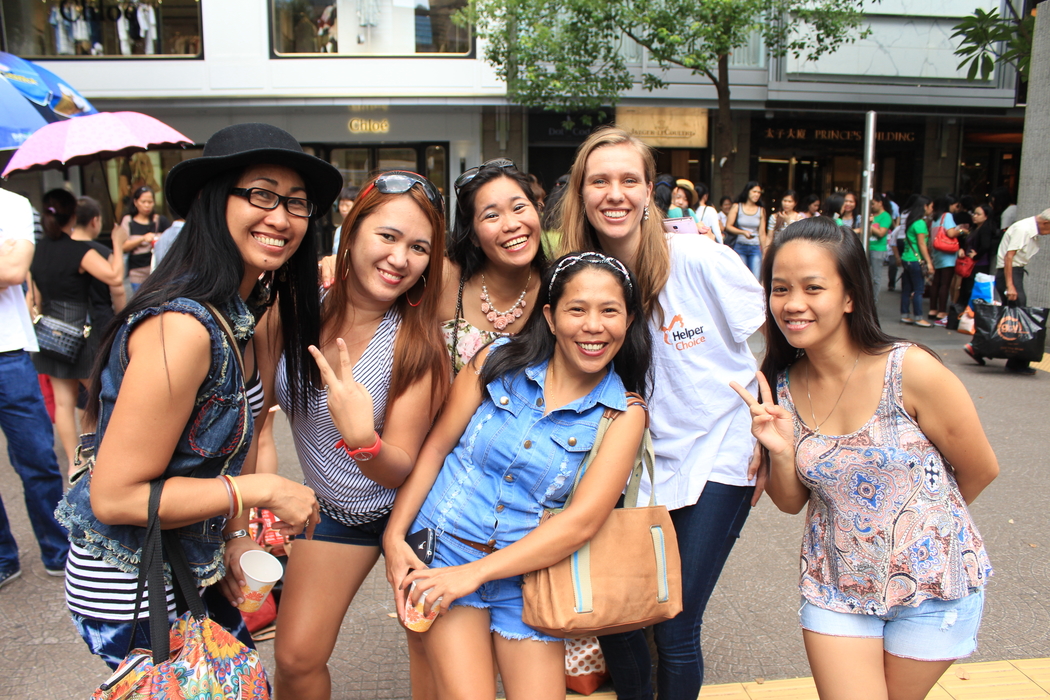 Large numbers of foreign domestic helpers enable Hong Kong women to join the workforce. HelperChoice is an ethical online platform that helps employers find the right domestic worker, and also helps to foster a fairer and happier working relationship
Photo courtesy of HelperChoice
Women on Boards
Despite women's laudable contributions to the economic growth and prosperity of Hong Kong during the past 60 years, as in most other societies, equality for women here has yet to be realized. For example, there is a woeful under-representation of women in the upper echelons of the corporate world. According to a recent 2017 study, Women on Boards published by the Hong Kong based NGO Community Business, just 12.4% of board members here are women. This lags far behind western countries such as Norway, leading the world with 41.6% female board membership, or the UK second at 26.8%.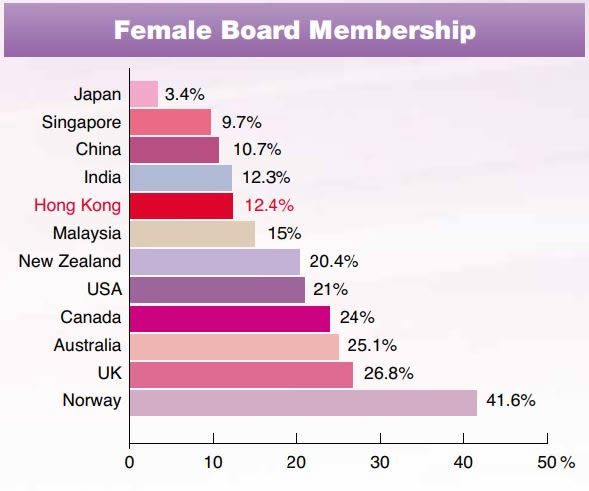 Female Board Membership 1
Role models and dreams
There appear to be few role models to inspire young women in corporate Hong Kong. However, the swearing in of Hong Kong's first female Chief Executive, Carrie Lam, on July 1st 2017 may provide a glimmer of hope in local society for women aspiring to reach the top of their career ladders, regardless of profession.
Being a sociologist who specialized in the areas of racism and discrimination for my doctoral studies, I am more than conscious of the issues of diversity, be they race, ethnicity or gender-related. And being one-third of the women represented in the Dean's management team in our College of Business, I am cognizant of the responsibilities I have to encourage our young female students to not set boundaries on their dreams.
Wellesley
So, it was surely a stroke of serendipity that I was introduced to Nancy Coleman, Associate Provost, Wellesley College, in the autumn of 2016. It became quickly apparent during the course of our conversation that this leading women's university in the United States was willing and able to craft a 5-week programme on Contemporary Women's Leadership for our College of Business BBA students. And by Summer 2017, six of our young women BBA candidates were attending the inaugural programme in Boston.
The future
The Contemporary Women's Leadership programme was a huge hit with our CB students, who rated all aspects of the programme highly. Following enthusiastic feedback from the participants, CB looks forward to sending a larger group to join the programme next summer, while Wellesley College also plans to recruit widely to increase the diversity of the attendees and further enrich the student learning programme.
From the following participant sharings, it is apparent that the programme succeeded in stimulating our students, to realize and aspire to the limitless possibilities from the precedents set by Wellesley alumni, but most crucially in shifting their mindsets.
About Wellesley College
Wellesley College is the top-ranked private women's college in the United States. It is a long-time incubator for socially-engaged leadership: Hillary Clinton, US Presidential candidate, is the College's most famous alumnae, though former Ambassador Madeleine Albright, the late director Nora Ephron, public health champion Ophelia Dahl, journalists Diane Sawyer and Cokie Roberts, and businesswoman Lulu Chow Wang are also highly noted alumnae.
Wellesley is known for the excellence of its education, the beauty of its setting, its gifted faculty, and the uniqueness of its campus culture. But most of all, Wellesley is known for the thousands of accomplished, thoughtful women it has sent out into the world for over 100 years-women who are committed to making a difference.
Contemporary Women's Leadership: Perspectives and Practices
A 5-week residential programme - Overview
Academic Courses
Introduction to Women's and Gender Studies
Breaking the Glass Ceiling - Women and the Workplace
Organizational Psychology
Experiential/Leadership Activities
Being a data informed leader
Contemplative practices in leadership
Career tips for professional women
Wellesley College alumnae panel: Leadership journeys
Using golf as a networking tool for business
Social Activities
Golf for business seminar
First Republic Bank
Greater Boston Food Bank
Mentoring workshop
^Source: Women On Boards Hong Kong 2017 Report