Martyn Strydom is a College of Business undergraduate studying on the Joint Bachelor's Degree Program in Business Economics with the Columbia University School of General Studies, and is currently in New York City. Here he writes about his passion for public speaking, challenges facing NGOs and the United Nations, and his rich learning experience at CityU.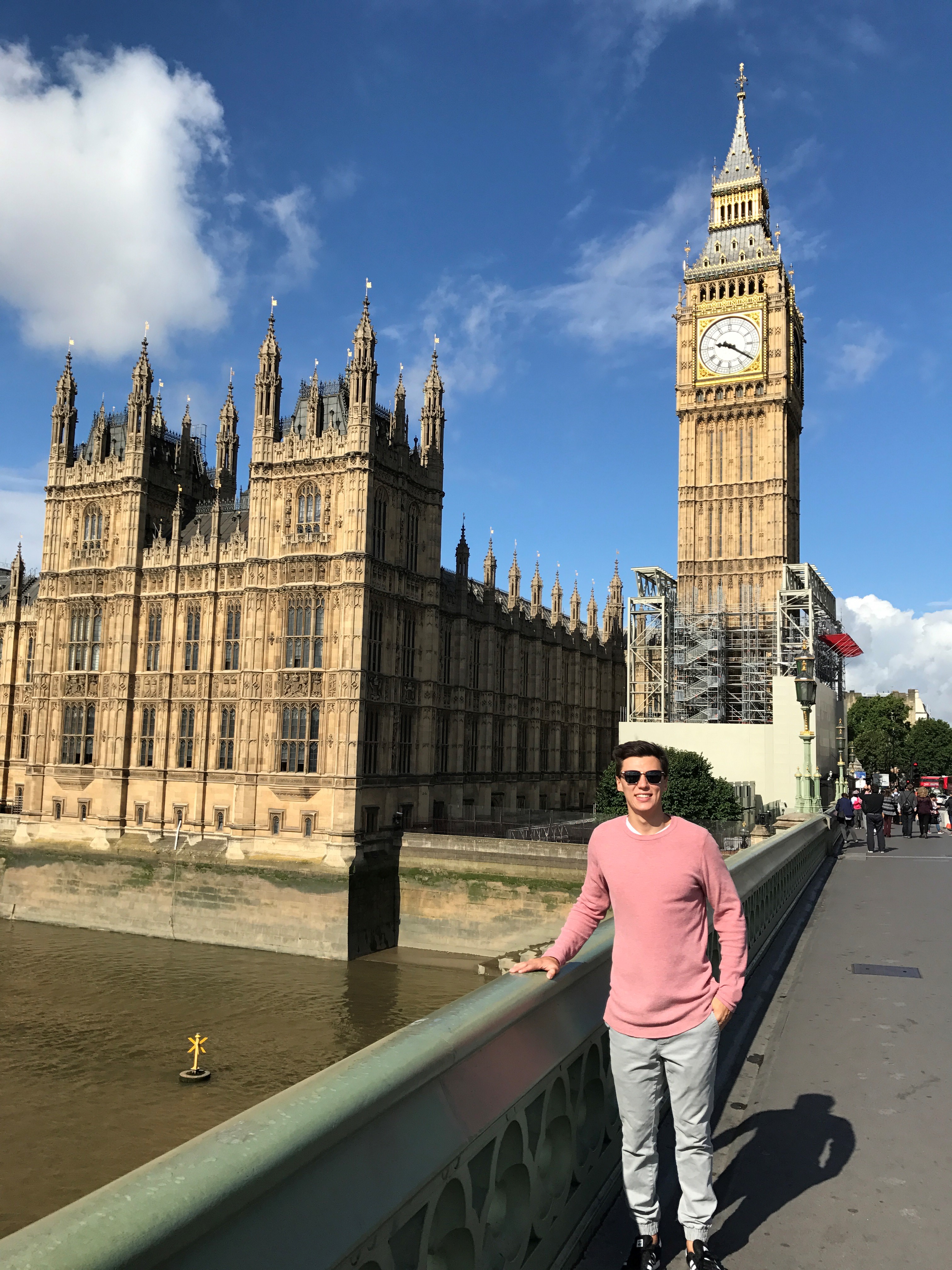 We are faced with a world of tension, instability and disparity. It appears as if there is only one thing the world can agree on - we are currently in a period of rapid transition and radical transformation. It is therefore of utmost importance that tertiary institutions around the world also evolve and act as the breeding ground for the future leaders of our society.
Getting to CityU
Fortunately, my life has taken me to one such ever-evolving institution - CityU. I often refer to CityU as a perfect microcosm of life in that it gives back to its students exactly what they put in. To proactive students, it is a field of bountiful opportunity. To those less enthusiastic, it may seem to be a somewhat less fruitful journey.
You may wonder how my path led me to Hong Kong and CityU. I was born and raised in Johannesburg, South Africa. I was fortunate enough to have the privilege of attending an elite private school. It was here where I was first introduced to the prospect of studying at CityU. At the age of 18, I decided to abandon my childhood dream of being a professional sportsman as I felt I could make a greater impact on society in more academic spheres.
Model United Nations
Upon starting at CityU in late 2015, I was introduced to the concept of Model United Nations (MUN). Simply stated, MUN is an academic simulation of the proceedings of the UN that generally takes the form of two to three-day conferences. It was love at first sight, as two of my life passions - public speaking and international affairs converged here. I am immensely proud of my journey with Model United Nations. I have travelled to Singapore and Germany for two prestigious conferences. In Germany, I was awarded Best Delegate for my representation of Greece in the ECOFIN (Economics and Finance) Committee and I have also had the honour of leading City University of Hong Kong Model United Nations as the Secretary General. These have all been experiences that have enriched my ever-growing collection of skills.
Speaking up
My public speaking has since taken new paths most notably being the master of ceremonies for TEDxCityUHongKong 2016, Global Festival Night, CityU Employers Luncheon and the UNECE International PPP Forum held at CityU in May. I believe that public speaking is one of the most crucial skills for success in the world today. Everyone has good ideas; it is those who are able to stand up, speak confidently and convince others that their ideas are the best that succeed in work and in life.
Growing up I had a very different mindset to what I have today. I grew up with a love for investing from a young age and believed that finance was my true calling. However, I faced a mental paradigm shift when I started researching and studying philosophical thinkers. Being exposed to non-conventional thoughts truly gave me a new perspective on life. To anyone who is unfamiliar with the concept of "The Veil of Ignorance" introduced by John Rawls in his work A Theory of Justice, do yourself a favour and research it. I assure you it will change the way you see the world.
The NGO challenge
I now aspire to someday work at a socio-economic development organization initiating the transformations I wish to see in the world. I believe that economic and social development in the Least Developed Countries should be a global priority. Education should be the foundations of these nations becoming sustainable and truly independent. I believe that education is the key to unlocking the potential of the over one billion people suffering from extreme poverty. Although we are seeing hundreds of Non-Government Organizations striving for change through education or other means, the results are not reflecting their efforts. NGOs should alter their approaches by focusing more on improving results through efficiency and not through increasing their inputs. This is the only way that corruption in NGOs and the developing world can end and economic and societal growth can be achieved.
Poverty redefined as inequality
The greatest problem I believe the world faces today is that poverty is redefining itself as inequality. Organizations such as the United Nations are constantly lifting those with almost nothing to a point marginally above the poverty line, but at the same time those already above the poverty line are increasing their wealth at a significantly greater rate. This occurrence is leading to growing inequality within our societies. I do not preach for humanity to strive for a "communist-like" society, but we should carefully monitor global inequality as I fear it will become an international security threat.
The United Nations undoubtedly possesses the potential to cure many of the problems within our society as outlined in the 17 Sustainable Development Goals (SDGs), however it has in my opinion not yet come close to realizing its full potential. I believe that only once the elite within our society stop serving their own need to help, and start serving the true needs of those in need, organizations such as the United Nations will become revolutionary.
UNECE International PPP Forum
As mentioned briefly earlier, I was fortunate enough to be involved at the UNECE International PPP Forum held at CityU in May. It was an incredible opportunity not only to network but to learn from the leaders of the industries of development and infrastructure. Knowledge gained at gatherings such as these is not something that classrooms can substitute for. I see it as a dynamic opportunity for learning where you can be curious and almost continually ask questions to those that know most.
On the topic of learning, I was extremely fortunate to attend summer school at the London School of Economics and Political Science over the past summer. Yet another door that CityU has opened for me. It was almost two months of being exposed to an entire new way of teaching that engaged me from the first day to the last. I now start the next stepping stone of my journey - two years at Columbia University in the City of New York. I am certain that it is going to be an adventure that will bring with it its own challenges.
In conclusion, my advice to everyone is to not be afraid to take the road less travelled. Do not be afraid to dive into the unknown, for if you do exactly what those around you are doing, wouldn't it be only ignorant to expect a better outcome? Albert Einstein stated this idea more fluently:
"The one who follows the crowd will usually get no further than the crowd"
The Joint Bachelor's Degree Program between City University of Hong Kong and Columbia University offers students an international undergraduate educational experience - a program spanning two continents, in cosmopolitan cities that allow students to engage directly with the world around them. The Program draws upon elements both traditional and innovative, combining the academic rigor of two world-renowned universities with an attention to the roles that social and cultural traditions play in a student's intellectual formation.
By offering two distinct learning environments, the Joint Bachelor's Degree Program seeks to present a variety of experiences that allow students to challenge themselves and develop a richly textured understanding of an increasingly globalized world. Students within the program will complete the undergraduate curricula of both City University of Hong Kong and Columbia University, alongside a uniquely diverse group of fellow students.