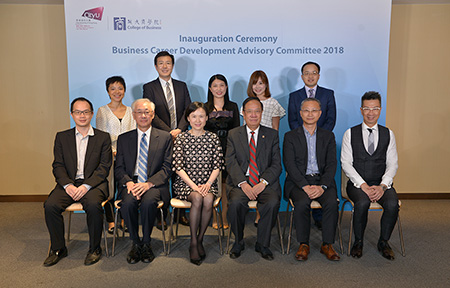 The College of Business has established a Business Career Development Advisory Committee with a group of leading corporate executives. A wide range of industries are represented including hospitality, banking, HR, telecommunication, global port, global manufacturing and apparel.
The committee comprises, Chairman Professor Albert Ip, CEO of Langham Hospitality Investments; Convenor Professor Houmin Yan, Dean of the College of Business; and members Ms Dora Cheung, Managing Director, UBS; Mr Edmund Ho, Managing Director, Standard Chartered Bank (HK) Limited; Mr William Ho, CEO, WE Solutions Ltd; Mr Bruce Lam, Chief Marketing Officer, CSL; Mr Timothy Lee, Managing Director, BNP Paribas; Mr Howard Lo, Senior Vice President, Crystal International Group; Mr Francis Tong, Former Group Human Resources Director, Hutchison Port Holdings; Professor Weiquan Wang, Associate Dean of Research and Faculty; Dr Raymond Wong, Associate Dean of Undergraduate Programmes; and Ms Ruby Chan, Assistant Director of Business Career Development. Assistant Dean and Head of Business Career Development Dr Isabel Yan is the Ex-Officio member.
The Committee will advise on the College's strategies to strengthen employment opportunities and career planning for students and graduates. Students will also have the opportunity to learn from the committee members on how to develop effective attributes and positive attitudes in career development.