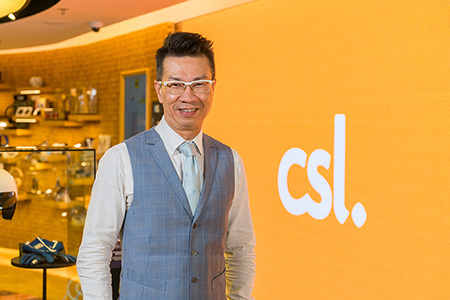 Bruce Lam Kwok Shing is Chief Marketing Officer of CSL Mobile Limited and CEO of The Club and a member of the College of Business Career Development Advisory Committee. Prior to joining HKT, Bruce worked for Nokia as General Manager Hong Kong and Macau. Here he talks about his career development, what CSL looks for in the employment market, and what loyalty may mean for the current generation entering the job market.
How did your career start?
I graduated in Economics from the University of Windsor in Canada, just over the border from Detroit. Windsor was tiny, whereas Detroit was a big city, and we used to head over for weekends. At that time mobile phones were just starting up, and the leading brand was Motorola. That was when I first saw an advert for Nokia, and I went into a Detroit department store and got familiar with their various models. When I came back to Hong Kong and was looking for a job, I saw Nokia was hiring people. I thought the company had big potential. I went into the interview and already knew quite a lot about Nokia, what their best sellers were etc., and the manager was quite surprised. Before I got home that day, my pager buzzed with the news that I had the job!
What was life like at Nokia?
I started out as a very junior clerk, but had lots of opportunities to rotate through logistics, regional sales in China for six years. At that moment China was the biggest market in the world, but I didn't want to move long-term to China, I loved Hong Kong so much. After less than a year I was promoted to Country Manager, Hong Kong and Macau. It felt like a miracle because this Finnish company was willing to give the opportunity to a local person.
I took up the General Manager role in 2002. I was in this country manager role for almost ten years, another miracle as the job is usually rotated. Nokia went from being unknown in Hong Kong to being the leader in those ten years. I experienced the development from analogue phone, to digital black and white, to colour display, and then through to smartphone. The last phone I launched was the Windows phone.
You stayed a long time in your jobs. Are careers still "for life"?
It all depends on your mentality. If you go to a good corporation you will have a lot of opportunities to develop. Of course, a lot of people say that if you don't move you will not get better pay. But in this I am quite a traditional Chinese, and I am very grateful to Nokia for giving me the opportunities to develop inside the group. They always emphasised job rotation, and taking on new roles.
It's the same at HKT CSL. After we acquired CSL from Telstra in 2014, we went overnight from being one of the smallest mobile providers, to the biggest in Hong Kong. Then I was assigned to a new project, The Club. This is the biggest loyalty programme in Hong Kong. I always think that if you are very committed to a company, they will give you the opportunities, and then there is no need to change jobs.
I play a role in appointments, and one thing I am always looking for is "career jumpers". I avoid people who are very jumpy and changing jobs every couple of years. They don't show company loyalty.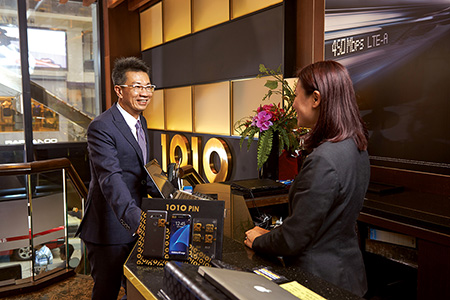 "I always think that if you are very committed to a company, you will get the opportunities"
How do you see yourself contributing to the new CB Career Development Advisory Committee?
I hope to help as I have a lot of connections. The Club is about to become the biggest ecosystem in Hong Kong with a lot of new partners coming in, so hopefully I can help with employment opportunities.
Ecosystems are still a buzz word
Yes, just looking at mobile payment systems, the Hong Kong Monetary Authority has issued 13 licences in the last year. HKT Payment Limited is the only player in the telecommunications sector, and we already have some 1.2 million subscribers.
In fixed line, mobile, broadband, payTV, we are the number one player. The Club has proved to be very valuable because it has gained members across all our business units, and it has enabled us to provide better customer service and improve customer retention. Our loyalty programme has been able to succeed where others have failed because of our scale. And we are increasing in size as we introduce new coalition partners into our ecosystem. The latest venture is a licenced travel agency providing air ticketing.
Do startups offer a viable career proposition these days?
I go back to my own experience. 10-15 years ago, I had plenty of opportunities to go to China, to go to Europe, but I didn't. Why not? Colleagues who moved to China eventually were inevitably replaced by local people. My USP is that I am a local Hong Kong person. What does that mean? The beauty of Hong Kong is that we are small, flexible and efficient. Also, we always come out with a lot of new ideas, so this is a very good place for startups. We are high end, high tech, and well connected – worldwide information sources are readily available. But one thing that is missing is implementation and execution. In my work life I have to produce many futures for coming brands, and I see the importance of execution. This is where the next generation needs support.
Is communication an issue with millennials?
The people who are willing to communicate will always succeed. This is a key success factor. Show your energy, your passion, your willingness to take risks and to contribute. We are looking for people who are willing to share ideas. Especially, the willingness to raise issues with solutions in mind.
Is overseas experience useful?
Definitely. To take my own example, if I hadn't gone to Detroit, if I hadn't gone to that department store, if I hadn't done a little research on Nokia… that's only a very tiny example, but it is telling. Hong Kong people have got their own core strengths, but those who have travelled have got a wide range of experience to add to that. Companies need to be very diversified in how they put teams together. The question is, how do you position and promote yourself to highlight your core value, your advantage?
How digital is marketing these days?
We are still not ready to go 100% digital. Two decades ago, if you ran a TV commercial for Nokia on TVB, the next day they would sell like hotcakes. Those days are over, but for the future you are going to know your customer even better through individual target marketing.
But we still do traditional, non-digital such as billboards, adverts on print media, especially free newspapers. Going digital doesn't guarantee success. The creativity of the content is the crucial factor.
To go back to the Nokia story, why didn't they become the world's no.1 smartphone maker?
Nokia is from Finland, a Nordic company with a very open culture, and good at accepting new ideas. They have a long innovative tradition, with over 150 years of history starting with making paper, then rubber for tyres, then submarine cables, electronic appliances, and computer monitors. In the late 1980s they decided to focus on communications technology, so they sold out of electronic appliances.
With phones, Nokia started with black and white, and then went to colour with a small screen, and they were leading in colour screen technology. Then they bought out all the manufacturing capacity for the 4,000-colour display. Unfortunately for them, other mobile phone makers were coming up, building their in-house display technology capacity at much higher levels: Samsung were building screens with 300,000 colours.
So, despite Nokia's early dominance with mobile phones, they were at a disadvantage?
Nokia had a problem. Let me use an analogy. Say, one company knows how to build bicycles. Another company builds cars very well. Then the market comes along with a new need: to build a motorbike. Which company is best positioned to move into the new market?
So, Nokia was building phones. Other companies were building computers. Of course, the computer companies were best placed to condense their offering into tablets, and then smartphones. Nokia had the supply chain advantage and they had the benefit of economy of scale – but that proved to be less important as the product changed.
"The beauty of Hong Kong is that we are small, flexible and efficient"
How important was the operating system?
Nokia had built a platform and here in Hong Kong we got apps with local content before Apple. We had apps for TVB, Apple Daily and so on. But the drawback was the operating system, Symbian. It proved to be less adaptable than Android. Each year Nokia launched 40 phones, with say 30 different screen sizes. If you wanted to build an app, it was necessary to build 30 different apps to fit the various screen sizes. The iPhone developers, on the other hand, only needed to design one app. So most of the content providers moved to iOS, because Apple's ecosystem was so accessible. In my last four years with Nokia, I tried everything to get local developers to write apps for Symbian, but everybody was moving to Apple and looking to build credibility on that platform. With hardware – cameras, memory, processing speed – you can always compete. But with ecosystems it is much more difficult.
How does the Nokia experience affect your work nowadays?
I think that it affects me to this day. Nokia was one of the first with mobile apps offering local content. These days, as a mobile operator I help to launch smartphones and offer a total solution in mobile experience. I still see myself as someone with smartphone expertise, and that's where I add value to the company.
If you were applying for your first job today, which sector would you look to join?
I am a firm believer in the communications sector. It's been going on for thousands of years, from pigeons, to horses and nowadays 5G. Look at the on-going interest in Apple. Each year there is something new. For both devices and network, transformation must be ongoing.
Another sector is mobile payment, and also, logistics is not going to go away. Let me tell you a short story. 15 years ago, I went to a meeting with the top management at Nokia. They said "Bruce, we have to get into online business." I said, "In Hong Kong it won't work because it is so small here. People like to go and touch and feel products for themselves."
Now I look back! The whole purchase behaviour of Hong Kong – and the world – has been transformed. And how is the online world supported? Through logistics. So, I would be looking at communications, mobile payment, and logistics.