In this fictional account of weddings, robots and space travel, Professor Julie Li, Department of Marketing, points to the ongoing revolution in marketing, and the proactive role that all of us can play.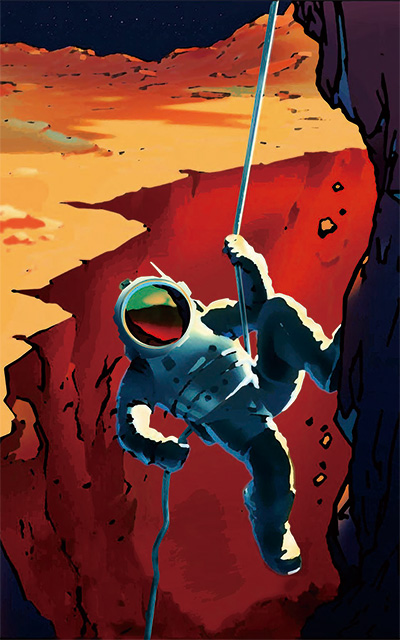 2030
As she looked out of her office window facing the canyons and volcanoes, Willa remembered that beautiful evening back on Earth just twelve years ago. Her family, classmates and favourite professors had gathered together to celebrate the love which she and Jason had for each other. What a stunning wedding – and all made possible by that first generation AI wedding planner.
Willa had always been creative and forward-looking. Marketing taught her that. Her mom still wondered how she had managed to plan such a fantastic wedding in such a short time. Before AI came along, planning a wedding was a year-long task. Doing it in six months or less was harder. One week was mission impossible.
Like most girls, Willa had many ideas for her dream wedding. But she also needed to be practical – to determine how many people she could entertain with the budget and space she had available, to decide on vendors – florists, photographers, wedding dresses, decorations, etc. All these tasks were assisted by a Watson-enabled AI, MEEKA, which helped her make that dream wedding come true. As Willa said to her mom, "We are now living in an AI age. AI and emerging technology are powering marketing and event marketing."
2020
From wedding to robots
It is a hazy Hong Kong evening when I meet Willa. After graduation back in 2012, she had started working with an artificial intelligence marketing company as a management trainee and seven years later became Chief Marketing Officer. Her first few months as CMO were quite unconventional and exciting.
"That wedding actually aroused my interest in event marketing. Now I spend most of my time working with robots. AI and machine learning have truly changed the landscape of marketing and the role of the marketer," she told me.
"We don't even recruit a copywriter for the event page anymore. AI does it all for us. I just feed in the keywords and the text is generated automatically, fully aligned with our event's goals and intentions."
"We utilise face recognition based on AI and biometrics for attendee identification. AI authenticates attendees and grants access to the event venue. We have developed chatbots for our events, which communicate efficiently with our customers and provide all the information they need."
The latest developments of the event marketing industry remind me of discussions in the 1968 science fiction film 2001: A Space Odyssey about intelligence, evolution and the future. The future is now. There are still arguments about the threats and opportunities AI brings to mankind between the likes of Mark Zuckerberg and Elon Musk. But in the marketing world AI is ubiquitous. It informs marketing research, advertising, buying and customer relationship management.
Already in 2017, more than 51% of marketing leaders were using AI1 and most marketers believed AI was creating more operational efficiency, allowing them to obtain big data and personalise marketing activities.
Just three years later, AI has substantially transformed the marketing industry, in particular in the areas of lead scoring, campaign analytics, hyper-personalisation of content, sentiment analysis, programmatic advertising and media buying, hyper-personalised product recommendations and customer segmentation.
Unique shopping experience
Willa now focuses on brand management. "Marketers need to be more creative than ever to design the brand. We now make the brand human-like, give it a face and enrich it with stories which reflects how consumers perceive themselves. The brand has human aspects which customers can associate with and feel that they can communicate with."
"We use chatbots to provide brands with human-like characteristics and engage with customers. Siri and Alexa were the first generation of chatbots in brand anthropomorphism working round-the-clock and providing instant replies. With chatbots, vast amount of personal data is generated which facilitates targeted advertising. As AI becomes the face of brands and a tool for brands to engage customers, we are developing advanced chatbots to gather insights from customers' feedback. Programmes are improving responses through deep learning. In essence, chatbots facilitate the personalising of media and responses, and marketers can achieve one-to-one marketing at scale. Of course, here we encounter ethical concerns, as always…"
"At the same time, we are creating unique and engaging customer experience to rejuvenate timehonoured brands. By integrating retail and customer experience, we creatively design experience shops to infuse energy into the brand and provide customers with unique shopping experiences."
"You know, the millennial generation, Generation Y, is our target. They have a strong desire for freshness and unique shopping environments. We are helping brands use virtual reality and in particular augmented reality to increase awareness, promote engagement and enhance the customer experience. AI-driven AR and visual discovery allow brands to create platforms and communities that far exceed the limitations posed by old fashioned media channels. With Apple creating Animojis Plus, customers can share content in interactive and creative ways. Yes, we are taking branding engagement to another level!"
I am very happy with Willa's strategic moves. AI, mobile AR from Apple (ARKit), Google (ARCore) and Facebook (Camera Effects) and computer vision/machine learning (CV/ML) are providing marketing with new platforms. A report from CISCO has predicted that 37 billion new things will be connected by 20202. Brand anthropomorphism and interactive customer experience are at the centre of brand management and immersive marketing.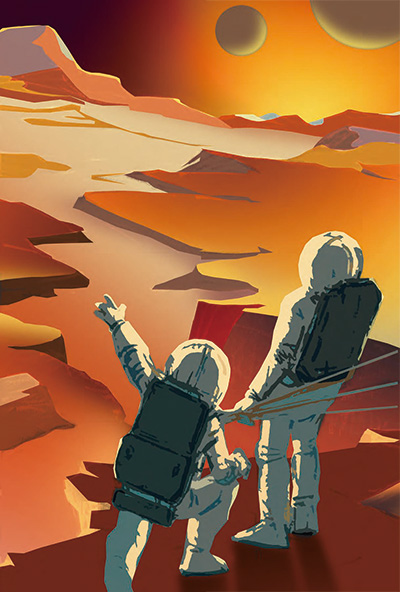 2024
The beginning of Fairytale
Time flies. Six years after their wedding, I see Willa and Jason again on November 30, 2024 at the CityU 40th anniversary alumni dinner. When she tells me that she is now an entrepreneur, I am not surprised at all. I've seen a lot of things change in the past four years: About one third of jobs have been replaced by robots. The same for automated examinations replacing doctor visits. And about one third of restaurants use a 3D food printer in their meal preparations. Driverless-vehicles are commonly seen on the roads…Chance favours the prepared mind. Willa and her husband have kept themselves on top of breaking technology trends, exploring new applications in marketing.
Willa and Jason's company is called Fairytale and its core business is programmatic advertising, which is related to data-driven and technology-enabled media planning and buying. Jason is an engineer and an expert in a computer technology based on the principles of quantum theory: quantum computing.
"While many jobs are automated, key marketing jobs are deeply artistic, creative and scientific. Our business integrates marketing analytics and design thinking. To manage more sites, diversified channels and touchpoints in this fragmented and complex market, we use quantum computing and machine learning to analyse past campaigns and recommend the optimal inventory and targeting based on customers' unique goals."
"Programmatic advertising helps make choices more objectively and efficiently and reach customers at the right moment with the right message. Marketing is cross-disciplinary in nature. Design connects creativity and innovation. Our company has a blend of mindsets, using design thinking in working and applying creativity in the pursuit of marketing innovation."
"Now AI technologies and computer technologies for data analytics are mature. We see advanced capabilities for capture and analysis and we can collect data based on a specific user action segment and then respond in real-time, which enables us to give consumers/firms more personalised/customised recommendations. This is need-based advertising."
Several years ago, a report from Market Research Future expected the global quantum computing market to grow to US$2,464 million by 20223. The pace is even faster than had been predicted. In 2017, GoGoVan became the first Hong Kong start-up valued at more than US$1 billion, making it the first "unicorn" in Hong Kong. In 2024, there are a number of "unicorns" in Hong Kong – admirable start-ups, private companies valued at US$1 billion or more. Fairytale is one of them.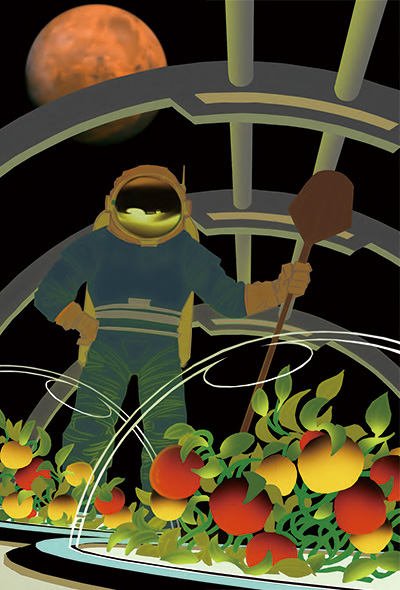 2030
From Earth to Mars
In the next six years, I witness the expansion of Fairytale to become a market leader in Hong Kong. I see the redrawn global economic power map in 2030: Asia-Pacific, Latin America and Africa have become the fastest growing markets. In 2029, Fairytale's strategic partner, a Chinese company, became the first to enter the space tourism industry and established regular flights to their space hotel on Mars. On January 5, 2030, I am invited by Willa and Jason to join a special trip, a trip to Mars.
Fairytale has been helping its clients to determine market characteristics, measure market potentials, and study tourism business trends and consumers' space travel decision-making. Over time, the traditional consumer segmentation by age or generation has become less significant. 85% of the world's productive population now comprises Generation Y and Generation Z. "Travel companies must understand the change of travel ecosystem as well as the drivers behind consumers' behaviors and emotions. Now we are using neuromarketing to help companies determine how to personalise offerings in ways that exactly meet or exceed consumers' needs and expectations and help minimise product and campaign failures."
"In essence, we focus on understanding how customers' brains actually work and what effects human emotion will have on a consumer's purchasing behaviour and decision-making. Neuromarketing is the integration of marketing, psychology and neuroscience. Way back in the 2010s, eurotechnologies such as electroencephalography (EEG), magnetoencephalography (MEG) and functional magnetic resonance imaging (fMRI) were used to learn how consumers respond and feel when presented with products or services. Now, using quantum computing and time reversal technologies, we provide models and theorisation of the emotional aspects of consumer behavior, consumer experience and decision-making on space travel. We are planning to set up a neuromarketing lab on Mars, a special project for our 12th anniversary!"
On the day we land on Mars, the wind is strong, blowing the red dust up into a raging storm. The Romans named this bright planet after their god of war, but I see peace on Mars. Peaceful minds are gathered here to create a beautiful future for mankind. Marketers are actively contributing to that mission. As the marketing industry evolves, the focus has moved from brand management to growth management. Marketing does not simply promote innovation. It has become innovation.
Tech as tool
In Willa's office on Mars, quantum light is casting a silver veil over the room, shimmering and dancing. Outside the window, robots are busy with new constructions and greenhouses grow plants for food. In 1969 Armstrong landed on the moon as commander of the Apollo 11 mission. In 2018, SpaceX rocket lifted off on its deep space mission, and in 2022 Elon Musk achieved his goal and landed a spaceship on Mars. Time and tide wait for no one. The future of marketing is now and the future depends on what we do in the present. The organisations who own the big data and leverage on AI, deep learning and quantum computing have a competitive advantage. Although some fear that AI, machine learning and deep learning concerns remove humans from the decision-making equation, I believe technology is and should be a tool.
This is an ever-changing world, but the fundamentals of marketing are always going to be the same. The ultimate goal of marketing is to create value for customers. What matters most now is how one activates the fundamentals by identifying current trends, settling an actionable marketing strategy, and leveraging on technologies to achieve better productivity, higher efficiency and higher customer value.
Smart marketers know that they need to prepare for these trends and challenges now. They will create their own success stories in the years to come.