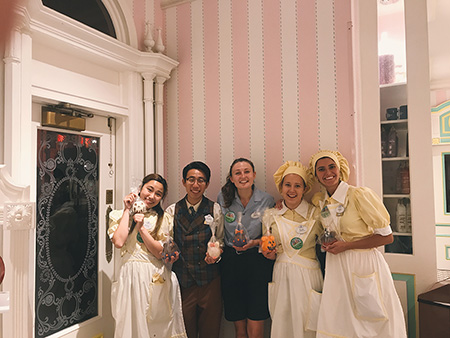 Apple Lee, a Year 4 BBA Marketing student, spent her summer at Orlando Disney – together with other 26 CB students – as part of the Disney Cultural Exchange Program at Walt Disney World. Here she talks about the highlights of her internship in Florida.
"Good evening, ladies and gentlemen, boys and girls, dreamers of all ages…" Every night at 9:10pm, the announcement of "Happily Ever After" echoes around the park, touching our dreams, reminding us of the desires in our deepest hearts. I watched that wonderful show all summer, and those two magical months seem like yesterday to me. I can still remember vividly the last show I saw, and how warm the tears were.
Thanks to the support from the College of Business for offering such a precious opportunity to us, and enabling us to participate in the Disney Cultural Exchange Program at Walt Disney World. It was certainly a valuable, resume-enhancing experience for me to gain work experience and share the WDW culture and heritage with guests from around the world. Becoming part of the magic that is known worldwide, this truly unique chance allowed me to network with leaders, take part in personal development classes, and build transferable skills such as problem solving, teamwork, guest service and effective communication.
Working in merchandising was such a fun job, providing me with enjoyment in interactions with guests of all ages, genders and nationalities. The loveliest thing for me was playing with the kids. Princesses and princes are all kind, innocent, yet familiar with all Disney stories – more than me. They were extremely excited with the characters, rides and lands. Every single thing here brings them joy.
I recall one time I was working in the Curtain Call Collectibles, the souvenir store next to the theatre meeting Tinker Bell. A little girl ran up to me with a Tinker Bell doll, forgetting her mum was right behind her and trying to check out by herself. The "happy birthday" pin on her cute pink dress twinkled and caught my attention. The magic thing on that day was me giving her the pixie dust on behalf of Tinker Bell. I told her, "Tinker Bell is so busy flying with Peter Pan today that she unfortunately forgot your birthday gift. But she asked me to transfer it to you."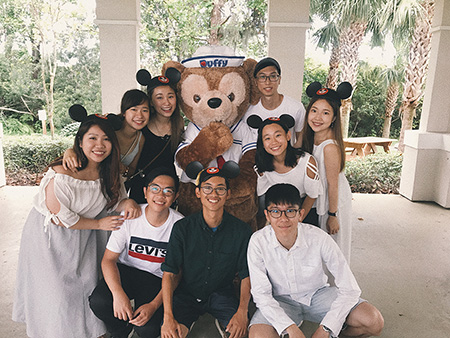 That big, happy smile on her face is a thing that I will never forget! I gave this birthday sweetie a magic moment and in return I created an unforgettable happiness.
Other than learning the practical skills such as handling registers or stocking the shelves, what inspired me most was my co-workers. They gave all their love to Disney, not only by exploring the park but working in the happiest place in the world. Their intentions were pure and simple and the courtesy plus care shown were direct from their hearts. They were all brave and bold enough to pursue the dream that will lead them on a journey to discover who they are meant to be. Finding a job where you feel competent, smart, valued and awesome is the best thing on earth and I genuinely appreciate that and truly wish I could do the same in the future. There are always people around you to push you and inspire you and a dull moment never appears. Encouragement and collaboration are all we have.
While gaining great exposure to the on-stage work, pull back the curtain on WDW and you will see the off-stage effort cannot be neglected. The caramel apples and crispy do not come from Mickey's magic in the Confectionery. The rubbish would not vanish by a Fairy Godmother using her wand to wave them away. Unseen by the public, these cast members deserve our respect. I would not have appreciated their hard work unless I had been in the program. The time in the internship sparked interest and has emboldened me to pursue a future career in Disney since further understanding is acquired.
And so, the nine-week journey came to an end – but actually it continues on. There were once so many challenges at the beginning. Getting used to the strange environment, speaking a second language, immersing into exotic cultures… But they were all good and seemed to be easy after all. Just grab hold of your dream, set out for a new tomorrow, make a choice that helps you to find your own way, and seek your true happiness.
The Disney Cultural Exchange Program – Summer Internship in Florida, USA
The College of Business partners with global entertainment leader Disney Worldwide Services, Inc., to give students an opportunity to participate in the Disney Cultural Exchange Program at Walt Disney World Resort. Students intern as a cast member in the role of merchandise, quick service food & beverage, attractions, character performer, costuming, recreation and more. Students joining the overseas internship have the opportunity to enhance their communication skills, cultural knowledge, and build globalised portfolio and professional networks. The nine-week program has been running in Orlando, Florida since 2003.