Ho Tze-Lok is a Hong Kong professional squash player and studies on the BBA in Human Resources Management. She recently won a gold medal for Hong Kong in Women's Team Squash at the Asian Games in Jakarta, and has a career high ranking of world number 43. Eric Collins interviewed Ho in late September 2018.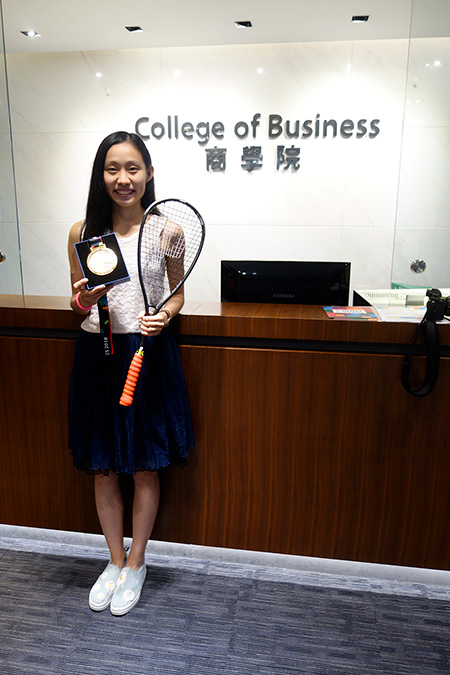 Congratulations on winning gold! You got Hong Kong off to a winning start. How difficult was that match?
It was unforgettable because I lost to the same opponent from India in the pool match two days before. Then my teammates and coach gave me confidence, and so I went in with the attitude that I could do it.
What changes did you make from the previous match?
It was a very fast court, and in the first match I hit the ball hard and played too fast. In the second match I slowed the ball down, waited for the chance in the middle and then attacked.
Was the gold beyond your expectations?
Hong Kong was seeded two. Perhaps we got a bit lucky as India defeated the top seed, Malaysia, in the semi-finals so that gave us more of a chance.
Hong Kong has got a nucleus of top performers in both the men's and women's game
Yes, last week in Dalian, Hong Kong won the Bronze medal for the Women's World Team Championships. And the men also won a Bronze medal for Hong Kong last year.
How important is team spirit?
Our number one and two women players are very experienced, this was their third Asian Games, and they helped teach me and I have learned many things from them.
What training techniques will bring the next great leap forward for yourself?
My coach always says I can make progress in fitness, because sometimes I drop my fitness standards in matches. So, it means extra training like tread mill and weights to improve endurance.
Are you planning a career as a professional squash player?
Yes, but I am also doing the BBA in Human Resources Management, so maybe after I retire from squash I can do HR.
How long does a squash career last?
Perhaps until the mid-thirties, but next week in the US Open I will play against a woman who is 40, a former world number one, and she is still a top ranked player, and very skillful.
What are your ambitions for the future?
I hope I can get to the level of the current top Hong Kong players in time for the next Asian Games in four years' time, and get into the world top ten.