Xi Zhinong is one of China's foremost wildlife photographers and conservationists. He has worked for Animal World, a documentary series at China Central Television, and subsequently captured extraordinary images of the scarcely known Yunnan snub-nosed monkey. Publicity from this work led to the preservation of the monkey's remote habitat in the mountainous regions of south west China. He has filmed other conservation issues, such as the plight of the Tibetan antelope which was on the verge of being poached to extinction. Mr Xi was named Wildlife Photographer of the Year in 2001 by BBC Wildlife Magazine, and is a senior fellow of the International League of Conservation Photographers. All photos courtesy of Xi Zhinong/WildChinaFilm.
The old monkey surveys devastation. This was his home. He was once part of a family. Now he is ill In the distance a chain saw starts up. The forest suffers still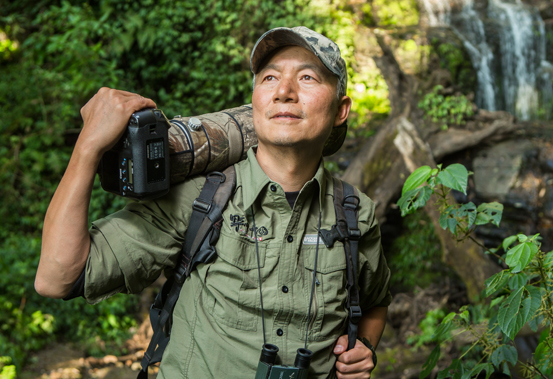 Xi Zhinong is one of China's foremost wildlife photographers and conservationists
Is the destroyed forest symbolic of wider environmental destruction?
Yes, this picture is very symbolic. The China economy has seen rapid development in the last 20 years and local governments have given priority to economic development. The natural environment has deteriorated very quickly.
Where did you take the picture and where is the monkey now?
The photo was taken in Laojun Mountain, Lijiang, Yunnan in 2000. The site had been deforested for the development of a tourist resort. This monkey, an older bachelor male, had become separated from his parent group, and had to leave his original area. There were originally 15 groups of monkey. They have become isolated from one another as the forest has been destroyed and the connection between the groups has been lost, Luckily the Laojun Mountains cover a large area, there are still many of them left.
The male snub-nosed monkey practises polygamy and has multiple wives. This mature male monkey found it hard to compete for a female, and was expelled by his peers. He will only join another group if he was successful in finding a partner. But most likely, this monkey will stay alone for the rest of his life.
Can these 15 groups of monkey survive?
The exercise to protect the snub-nosed monkey forced the central government to issue policies from 1996 to 1998 to protect wildlife, and save virgin forests. I believe most of the monkeys were saved and are now living in conservation areas. Meanwhile the public's awareness of protecting wildlife has increased. If there is no further big scale deforestation, I believe these monkeys can survive.
Is deforestation still happening?
Large scale deforestation had stopped but small scale deforestation is still hard to prevent, even to this day.
Is there a difference between the issuing of a policy in China and its implementation?
You might say this is a Chinese characteristic. Local governments tend to focus more on economic development and they may be unwilling to implement a policy initiated from the top. There is still a lot of room for improvement in this area.
What are the immediate environmental impacts of deforestation?
A large area of the world's forest disappears every year. Especially in mountains at high altitude it is hard to recover from deforestation because the regrowth is slow. For the wildlife living there, deforestation means a total destruction of their habitat, and it is nonreversible. This situation causes lots of problems such as loss of top soil, which in turn can cause catastrophic flooding at lower levels. The situation is different in tropical areas, where trees grow much faster.
What drew you to work with the Tibetan antelope?
I was involved first in the protection of the snub-nosed monkey. Later in 1997-98 I went to the Hoh Xil area in Golmud, Qinghai twice and photographed extensive Tibetan antelope poaching. New-born antelopes were starving to death beside their dead mothers, unborn baby antelopes dragged out from the mother's body by vultures. My heart was dripping blood.
Both the snub-nosed monkey and the Tibetan antelope became important in the history of conservation in China. In 1997 Newsweek magazine carried a cover story on the "China Green Revolutio". It featured the snub-nosed monkey conservation project. The magazine said it was the first "grass roots" exercise to gain widespread support from the media, and eventually influence the central government.
Are you optimistic that the green revolution can continue?
The influence of the monkey conservation project was huge 20 years ago. At that time, the public awareness of conservation issues was low, but fortunately there were some officials who did care. I sent a letter to the government which was reviewed by 16 officials. This resulted in forest of around 100 km2 being saved. An RMB11 million subsidy has been given annually to the local government of that forest up to the present, but unfortunately none of it has been used on the conservation of the monkey?
Do you see any change in attitudes in the younger generation in China?
Yes, the changes are very obvious, especially in the younger generation. Nowadays primary school students may be even more aware of conservation issues than university students. These changes are due to increased public awareness, the improvement of the social atmosphere as a whole, the efforts of the conservation groups, and the attention from the media.
The problems that these groups tackle have also become more serious. Pollution in major China cities has also made people change their attitudes. Fresh air, clean water, and safe food have become increasingly hard to get. The problems are serious and the people can no longer ignore the situation.
A number of non-governmental organizations (NGOs) have ramped up their activities. For example Friends of Nature has given strong support to the conservation of the monkey. It is one of the largest and longest surviving NGOs in China, and now other NGOs have been set up in China. With another environmental conservationist, I initiated the setting up of Green Camps for University Students in China to educate university students.
Do younger people need to make more direct interventions?
That monkey conservation letter was reviewed by the top officials at that time, so writing can work. Compared to the snub-nosed monkey, there are more serious issues to address in society nowadays. But our society has changed. Even if you write 10,000 letters, you may not be able to change the government. I find myself wondering if society is improving or regressing.
Is our human habitat being destroyed, for example the air pollution in Beijing?
Yes, that's why the public and the government have to face this problem seriously.
Many people are leaving for other parts of the world especially the Pacific Rim. How habitable are the cities?
It is a situation that makes you despair. The majority of Chinese people need to stay but the territory has been destroyed and the people can barely live here now.
Do you feel that history knocked on your door?
Well, no one is born a protector! I experienced a lot of freedom in my childhood, living in a wonderful natural environment. I became very attached to nature. And then I developed a strong interest in wild birds. But I knew it wasn't enough to just focus on birds, so I start focusing on the whole of nature. I began to learn from nature and from indigenous people. I also learned from the western experience in environmental protection. Gradually I become a person dedicated to the protection of the natural environment. In my early life environmental protection was a dream. Later, it becomes a responsibility.
Does Hong Kong do enough to protect the environment?
During my last visit to Hong Kong 14 years ago in 2001, I gave a media interview. At that time, the headline was "China environmentalist comments on Hongkongers overuse of airconditioners." After so many years, I still find Hongkongers are wasting energy. Now it is winter, but nearly all indoor areas such as shopping malls, classrooms on campuses and even various types of transport are still air-conditioned.
Can we learn from countries like Germany to use more renewable energy?
Yes. The use of renewable energy should be initiated by governments. Hong Kong people have a lot of room for improvement in terms of using energy. There is an old saying – it's easy to move from a simple life to luxury, but difficult to reverse. Think of the life of Hong Kong people or Beijing, Shanghai or Guangzhou people before the invention of air-conditioners. Now everywhere is air-conditioned. Modern people no longer experience the change of temperature and the change of seasons. It's a horrible, ridiculous situation.
Should we build more sustainable buildings?
The College of Business or CityU should conduct research on the amount of energy being wasted by Hong Kong people. I believe the results would be astonishing as Hong Kong people waste so much energy every day. This is the sort of applied research that we need. If we use the energy wisely, we may save 50% of our current energy usage. The power generation companies will not have the excuse to use our rivers and land to build new power stations.